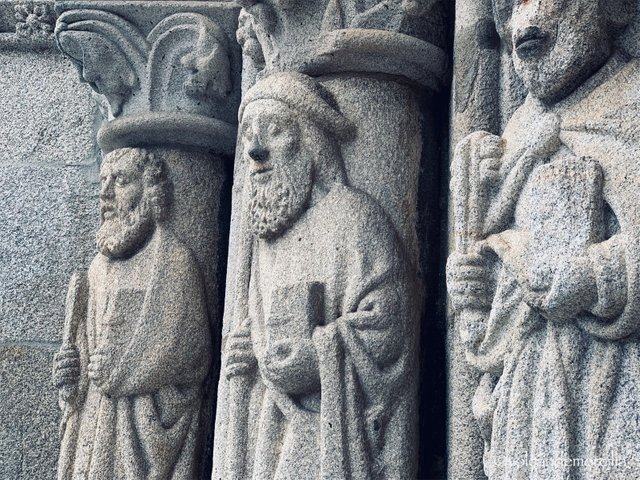 Cuando hacemos turismo siempre encontramos iglesias y catedrales donde hay figuras esculpidas. En muchas ocasiones no sabemos quiénes son estos personajes trascendentes.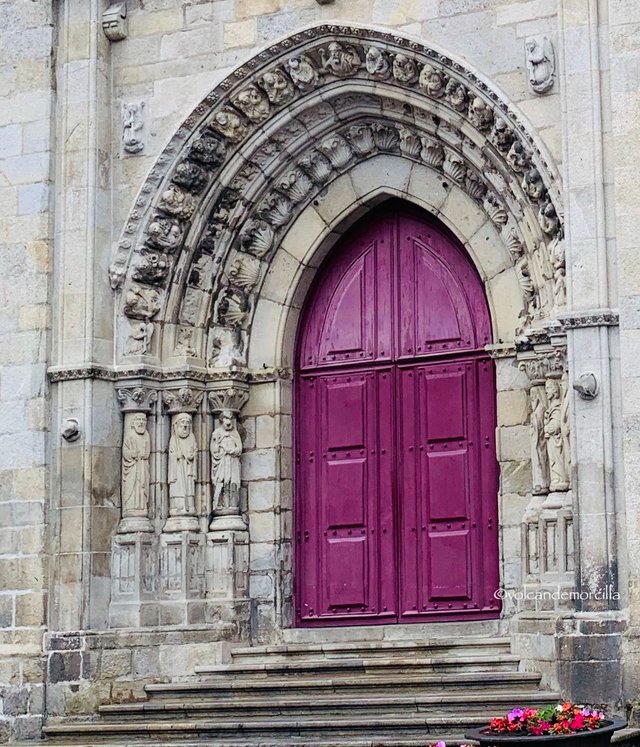 En el pórtico de la catedral de Viana do Castelo hay seis apóstoles esculpidos en él. De entrada, reconocí a dos: Santiago Apóstol y a San Pedro pero tenía dudas con el resto. Por eso he investigado al respecto y os indicaré cómo reconocerlos.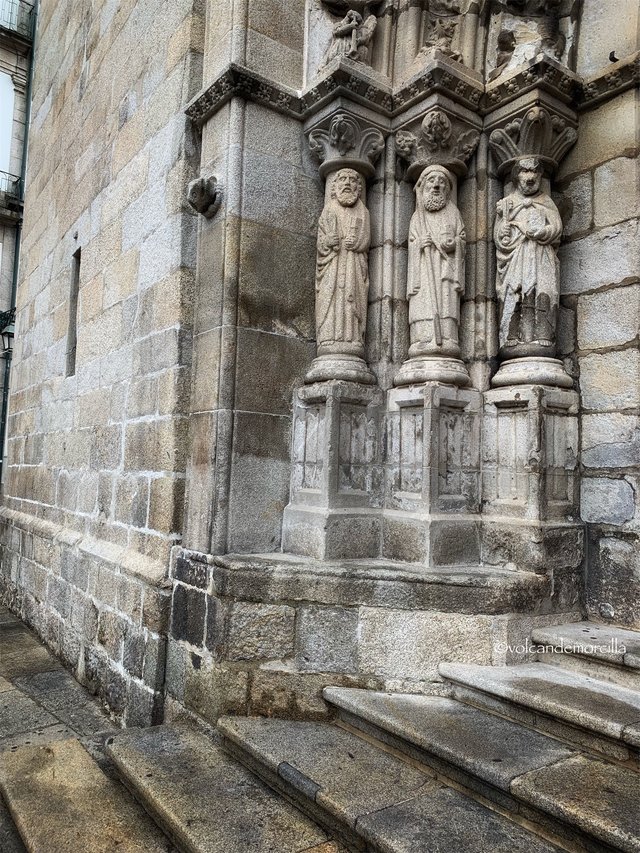 Todos los apóstoles están de pie y portan algunos objetos. Gracias a estos completos que portan somos capaces de reconocer y saber quién son. Os diré las claves.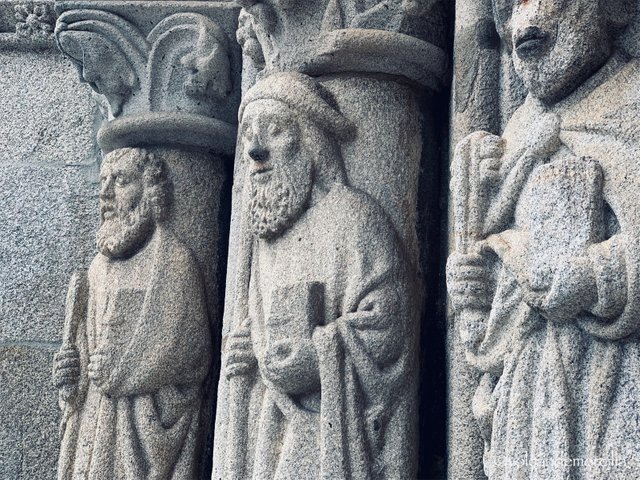 La escultura de San Pedro tiene la cara muy deteriorada pero se reconoce que es él por las llaves que porta. Las llaves simbolizan su elección como jefe de la Iglesia.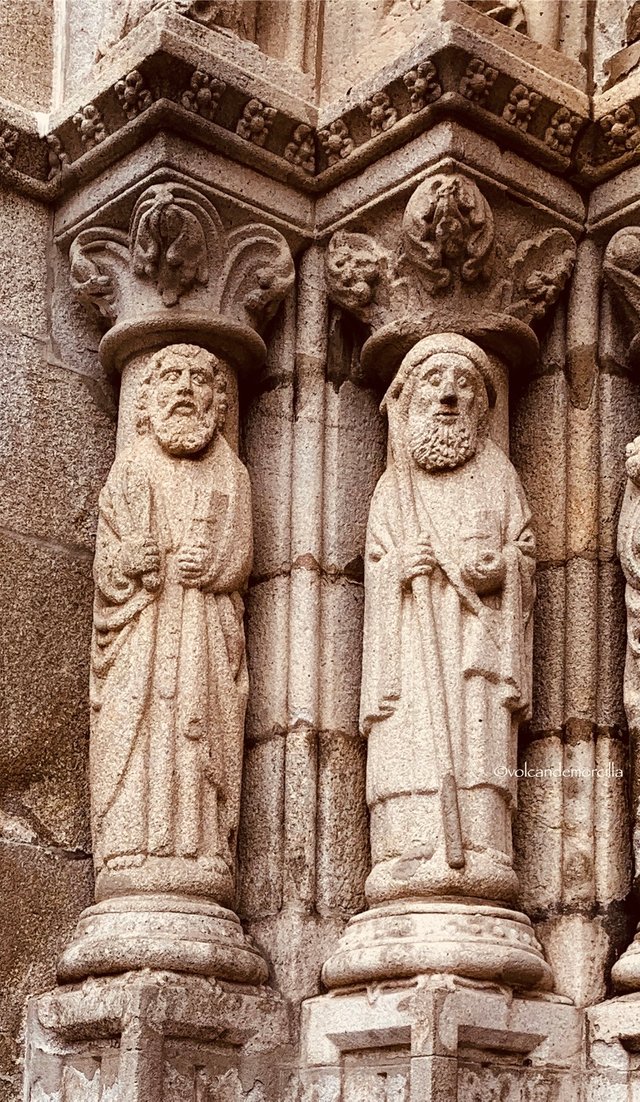 A su lado está el Apóstol Santiago fácilmente reconocible por su vestimenta y bordón de peregrino.
Mas hacia afuera está San Bartolomé que se suele representar con un gran cuchillo porque fue martirizado y murió desollado vivo. Precisamente por eso es el patrón de los curtidores.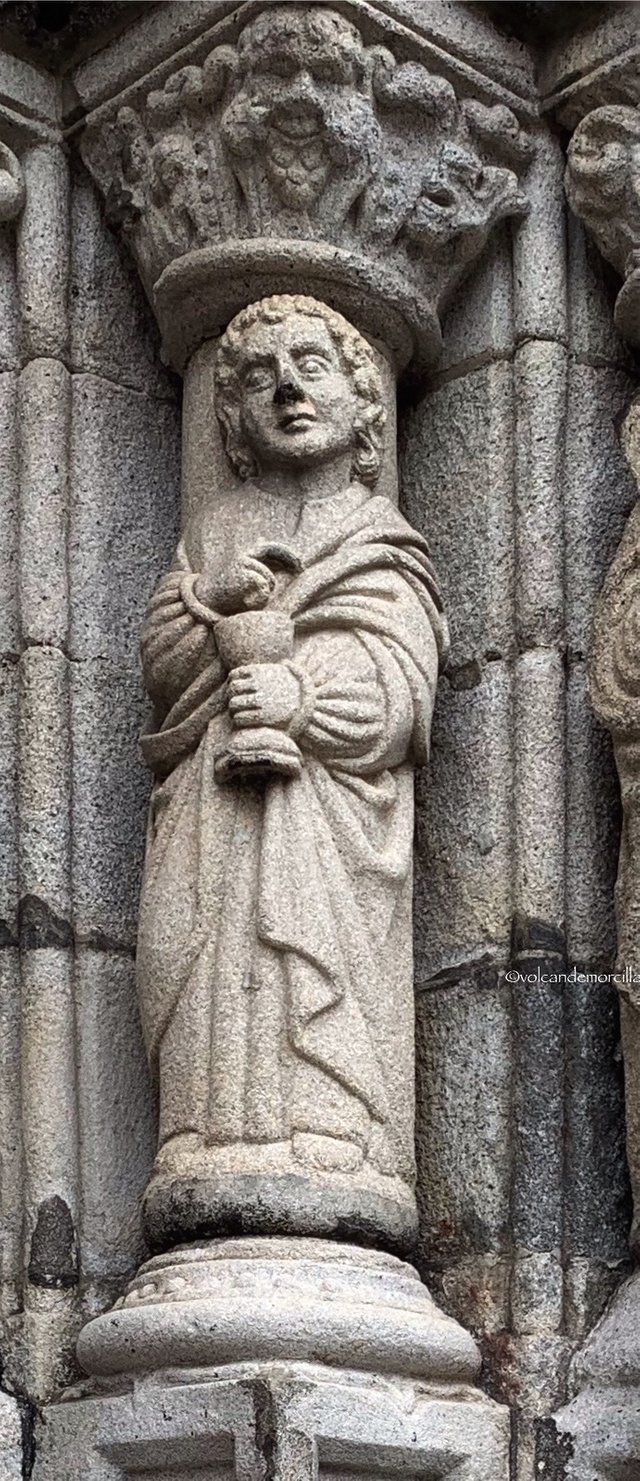 En el otro lado está el apóstol mas joven: San Juan y tiene una copa en la mano. Se le representa con ella porque, según cuenta la tradición, San Juan fue a Éfeso y allí el primer sacerdote del templo de Artemisa le obligó a beber una copa que contenía de vino envenenado. El apóstol, precavido y antes de beber, procedió a bendecir la bebida. Entonces, el veneno salió de la copa con la forma de una pequeña serpiente verde. Tras esto, el Apóstol San Juan bebió de la copa sin peligro y sin sufrir daño alguno. Por este motivo a San Juan se le representa como una persona joven, muchas veces sonriente y que tiene una copa en la mano.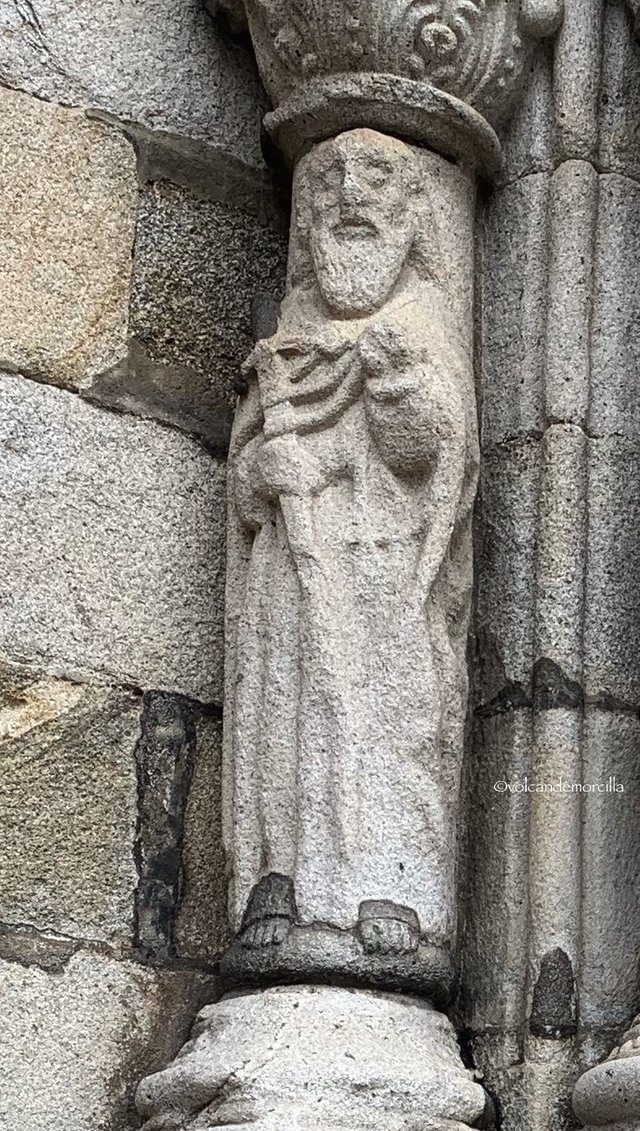 San Pablo suele ser representado calvo y con barba. En el pórtico lo observamos portando una gran espada que simboliza su martirio porque fue decapitado. Esta forma de morir fue, hasta cierto punto, un privilegio que se le otorgó puesto que era un ciudadano romano.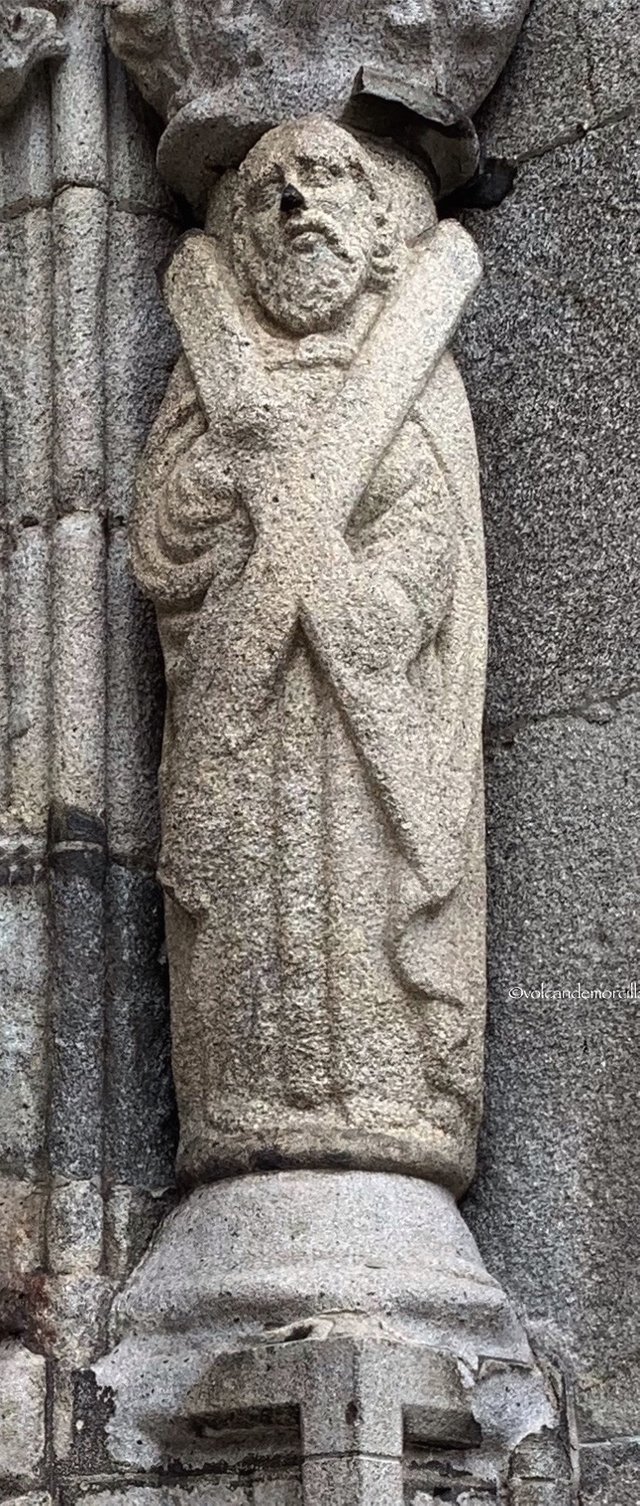 A San Andrés se le suele representar crucificado en una cruz en forma de X. Fue el primer apóstol de Cristo y el hermano mayor de San Pedro. Por eso lo observamos en el pórtico portando una aspa.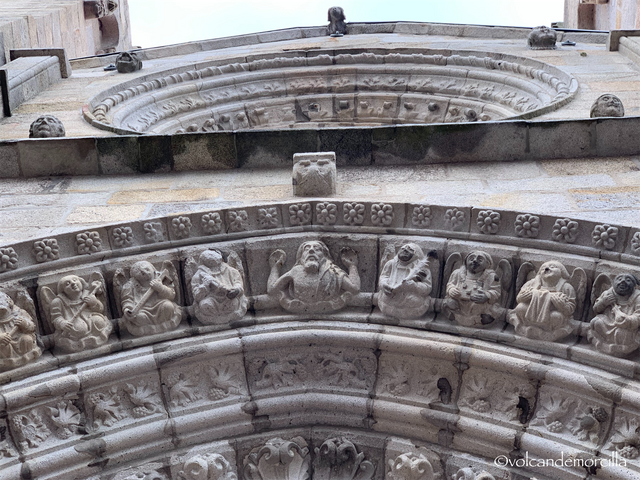 Finalmente, en el Pórtico, como es habitual, se encuentra en lo mas alto la figura de Cristo Rey que parece darnos la bienvenida y está acompañado por una línea de músicos que están a sus lados. Trasmiten una sensación de alegría y bienestar. Nos dan la bienvenida.
Espero que estas claves que he investigado y que aquí escribo os sean de utilidad, como a mi, para interpretar los monumentos eclesiásticos que, seguramente, encontrareis a vuestro paso cada vez que hagáis algo de turismo.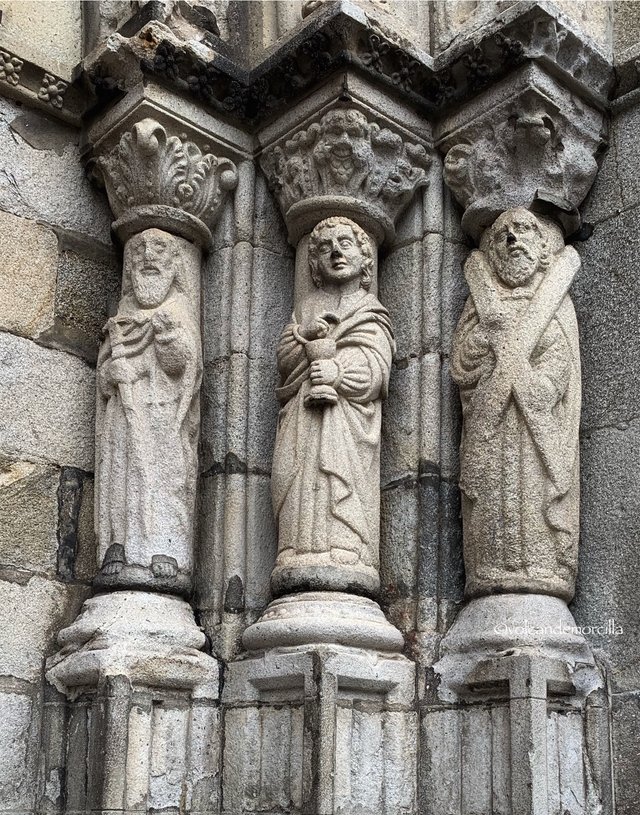 Who is who
When we do tourism we always find churches and cathedrals where there are sculpted figures.
On many occasions we do not know who these transcendent characters are.
On the porch of the cathedral of Viana do Castelo there are six apostles sculpted at the entrance.
From the outset, I recognized two: Santiago Apostle and San Pedro but I had doubts with the rest. That's why I researched about it and I will tell you how to recognize them.
All the apostles are standing and carrying some objects. Thanks to these complete ones, we are able to recognize and know who they are. I will tell you the keys.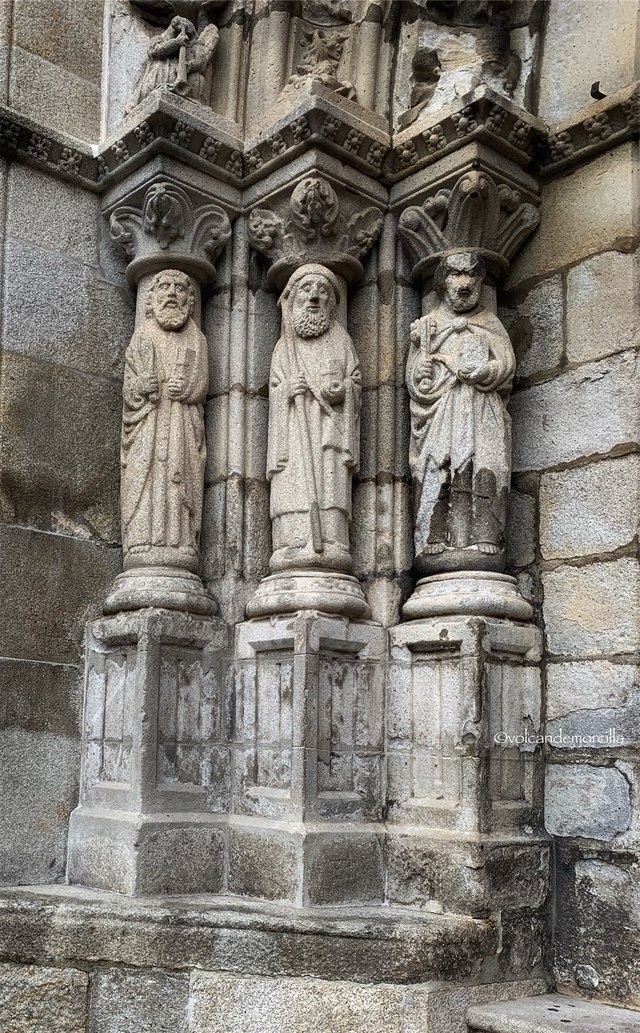 The sculpture of San Pedro has a very deteriorated face but it is recognized that he is by the keys he carries. The keys symbolize his election as head of the Church.
Next to him is the Apostle Santiago easily recognizable for his pilgrim clothes and staff.
Further out is St. Bartholomew who is usually depicted with a large knife because he was martyred and died skinned alive. That is precisely why he is the patron of tanners.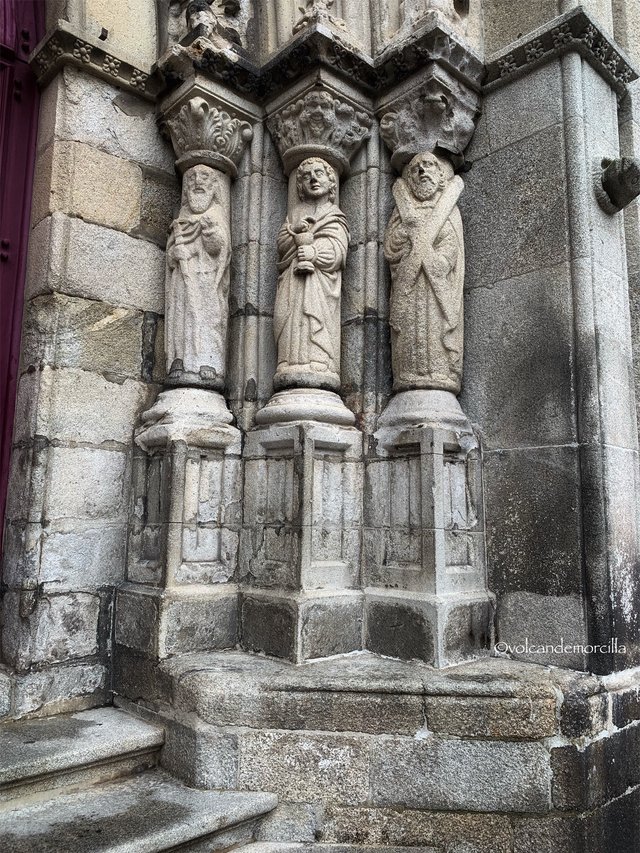 On the other side is the youngest apostle: Saint John and has a cup in his hand. He is represented with her because, according to tradition, St. John went to Ephesus and there the first priest of the Temple of Artemis forced him to drink a cup containing poisoned wine. The apostle, cautious and before drinking, proceeded to bless the drink. Then, the poison came out of the cup in the shape of a small green snake. After this, the Apostle San Juan drank from the cup without danger and without suffering any damage. For this reason, San Juan is represented as a young person, often smiling and having a drink in his hand.
Saint Paul is usually represented bald and bearded. In the porch we observe him carrying a great sword that symbolizes his martyrdom because he was beheaded. This way of dying was, to some extent, a privilege granted to him since he was a Roman citizen.
Saint Andrew is often represented crucified on an X-shaped cross. He was the first apostle of Christ and the elder brother of St. Peter. That is why we observe it on the porch carrying a blade.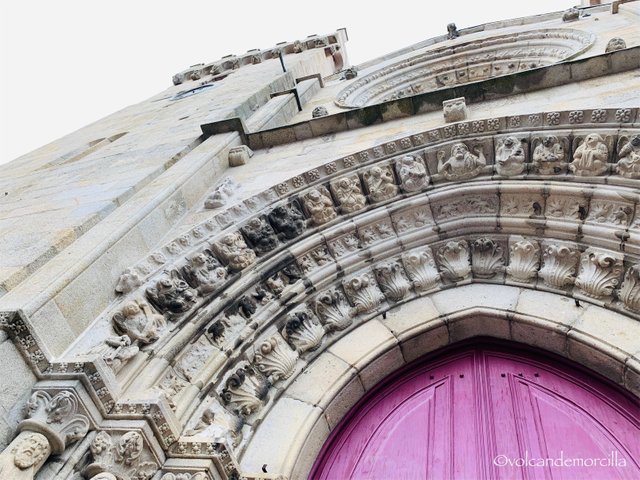 Finally, in the Portico, as usual, the figure of Christ the King who seems to welcome us is at the top and is accompanied by a line of musicians who are at his sides. They convey a feeling of joy and well-being. They welcome us.
I hope that these keys that I have investigated and that I write here will be useful to you, like me, to interpret the ecclesiastical monuments that, surely, you will find at your own pace every time you do some tourism.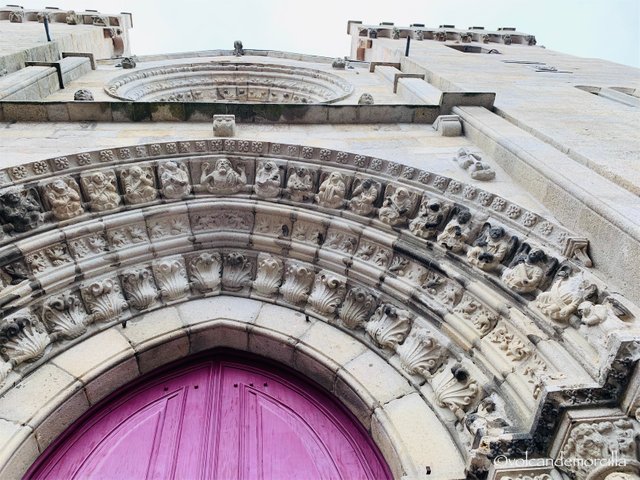 Bibliografía/Reference

Cómo lo hago
Hice las fotografías con mi iPhone X. Para la edición utilicé la aplicación Snapseed y para la firma digital usé la App Watermark.
Los dibujos los hice en el iPad con el programa Sketches.
For the photography I use my iPhone X. For edition I use the Snapseed application and for the digital signature the Watermark app.
Everything I did on my mobile phone, I did not use the computer at all.
For the drawings, I use the Sketches program and paint them on the tablet.
Si quieres ver como lo hago, visualiza estos tres enlaces de publicaciones previas.
If you want to see how I do it, visualize these three links from previous publications.

Las fotos son mías y originales. También, soy el autor del dibujo separador.
¡Espero tus comentarios!
The photos are originals and mine. Also, I am the author of the separator drawing.
I await your comments.
Buen Camino!