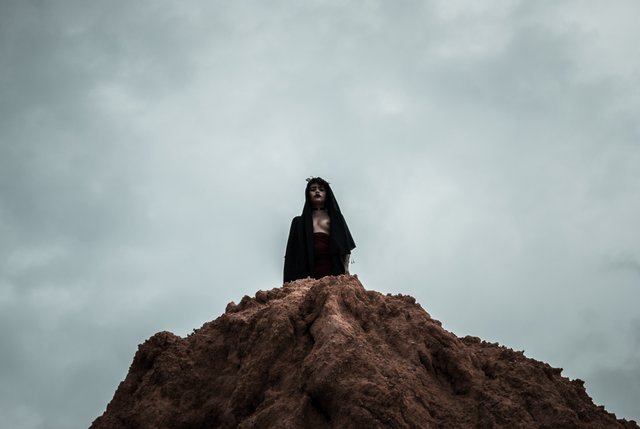 Curaduría por: Estefanie Franco @tefiefranco para @sra.antropofagia
(Curated by: Estefanie Franco for Sra. Antropofagia)
    Feminidad: concepto construido desde lo cultural y social, como acciones y hábitos propios de quienes poseen el sexo de la hembra, o como lo hemos designado socialmente: femenino. Un sexo que da vida y que concibe, crea. Saca a la luz lo bueno y lo malo. La construcción y la destrucción. Todo lo que conocemos y que es totalmente humano en la tierra.
    Entendemos que la naturaleza es fértil, y que al mismo tiempo da y quita. Entonces, la hemos conocido desde siempre como la madre. Una madre naturaleza, cuyo sexo –femenino- se monta desde la cima de la montaña en un plano contrapicado donde comprendemos finalmente la fuerza y el sentido de pequeñez. Un ente que denota y connota superioridad y que decide, como una hechicera, qué hacer. Pero este misticismo sólo nos ha dado a entender una sola dirección. Sin embargo, en esta exposición no podemos concebir que el origen, nuestro génesis sea distinto a como vemos y sabemos que es el cuerpo de la mujer. Y si la madre es hembra, capaz de crear y dar vida, entonces ¿Dios realmente es un hombre?   
    Femininity: concept constructed from culture and society, as actions and habits of those who own the sex of the female, or as we have designated socially: female. A sex that gives life and conceives, creates. Brings out the good and the bad. The construction and destruction. Everything we know and that is totally human on earth. 
    We understand that nature is fertile, and that at the same time, it gives and takes away. Then, we have always known her as the mother. A mother nature, whose sex - feminine - is mounted from the top of the mountain where we finally understand the strength and sense of smallness. An entity that denotes and connotes superiority and decides, as a sorceress, what to do. But this mysticism has only given us one direction. However, in this exhibition we cannot conceive that the origin, our genesis is different from what we see and know that it is the woman's body. And if the mother is female, capable of creating and giving life, then is God really male?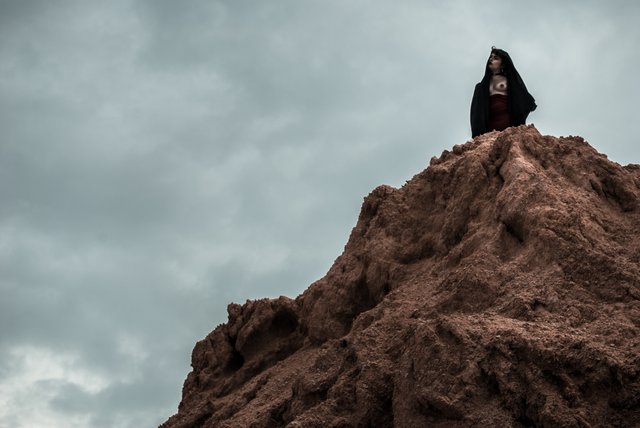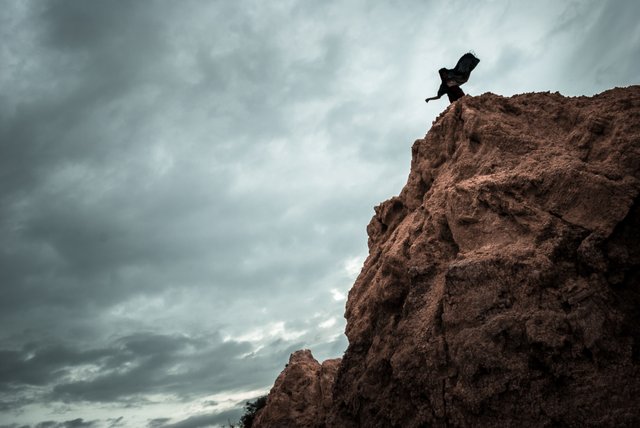 Entendemos entonces nuestra idea romántica, sensible del mundo de las cosas. Una madre naturaleza, hechicera, y que en momentos de oscuridad nos hace ver todo lúgubre, vacío y encerrado en sí mismo. Pero recordando las palabras de Moritz, cuando insiste en que no es la obra la que imita, sino el artista. Y en esta exposición nos encontramos con la idea, totalmente romántica y, al mismo tiempo postmoderna, de la personificación de la naturaleza.
     Lejos de todo raciocinio y buscando aquello que es sensible y nos da placer. Tal como lo expone Moritz -y que encontramos casualmente en esta obra- hay que diferenciar lo bello de lo útil. Cita el profesor Humberto Ortiz:
     "Aunque ambos son causas de placer, llamamos bello aquello que nos produce placer sin ser útil. Toda forma bella, natural o artística, causa placer no por una finalidad externa a ella, sino únicamente por su propia perfección interna. De este modo, el objeto bello debe ser algo abocado en sí mismo."
     We understand then our romantic, sensitive idea of ​​the world of things. A mother nature, sorceress, and that in moments of darkness makes us see everything dreary, empty and locked in itself. But remembering Moritz's words, when he insists that it is not the work that imitates, but the artist. And in this exhibition we find the idea, totally romantic and, at the same time postmodern, of the personification of nature.  
     Away from all reasoning and looking for what is sensitive and gives us pleasure. As Moritz explains - and that we find casually in this work - we must differentiate the beautiful from the useful. Quote Professor Humberto Ortiz:  
     "Although both are causes of pleasure, we call beautiful that which gives us pleasure without being useful. Every beautiful, natural or artistic form causes pleasure not for an external purpose, but only for its own internal perfection. In this way, the beautiful object must be something in itself."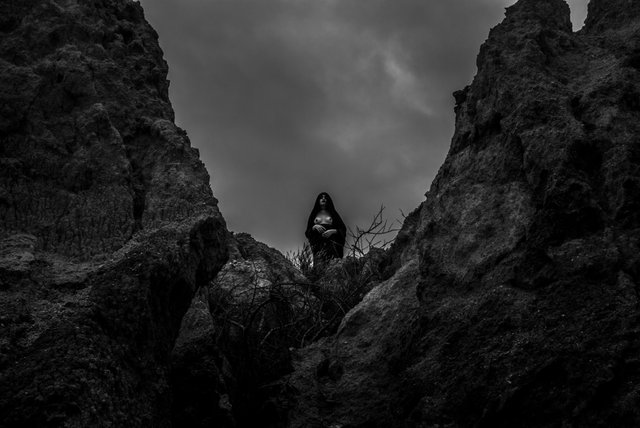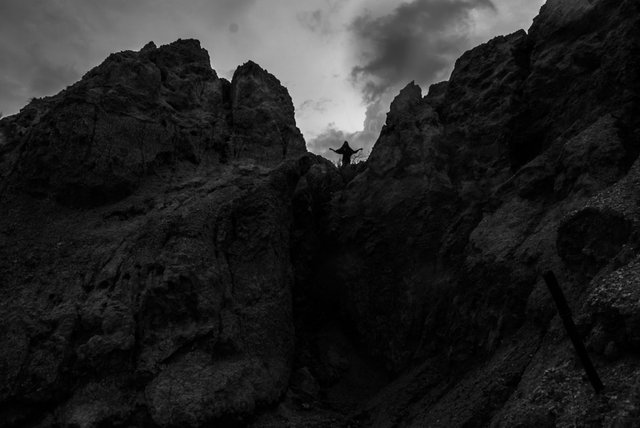 Así comenzó una idea que sería profundizada con "Ávila desnuda", con las vírgenes, las diosas míticas y las guerreras germánicas y nórdicas. Hablamos de fotografías cuya concepción romántica nos hace reflexionar en sentido contrario. Es la belleza como una voluntad de aparecer en la forma, en las apariencias de la naturaleza y el arte, "responde a una voluntad creadora anterior al hecho creado". Es decir, a una idea preconcebida y original del artista romántico y que sólo será reconocible mediante las formas bellas. De esta manera comprendemos que lo que imita el artista no son las apariencias naturales, sino las fuerzas creadoras de la naturaleza, ¿el artista imita a Dios, o simplemente ya es un espíritu creador? Un espíritu cuyo origen interno es lo que separa la concepción de la obra de arte de la naturaleza.
     Thus began an idea that would be deepened with "Naked Ávila", with virgins, mythical goddesses and Germanic and Nordic warriors. We talk about photographs whose romantic conception makes us reflect in the opposite direction. It is beauty as a will to appear in form, in the appearances of nature and art, "responds to a creative will prior to the created fact." That is, to a preconceived and original idea of ​​the romantic artist and that will only be recognizable through beautiful forms. In this way we understand that what the artist imitates is not natural appearances, but the creative forces of nature, does the artist imitate God, or is he simply a creative spirit? A spirit whose internal origin is what separates the conception of the work of art from nature.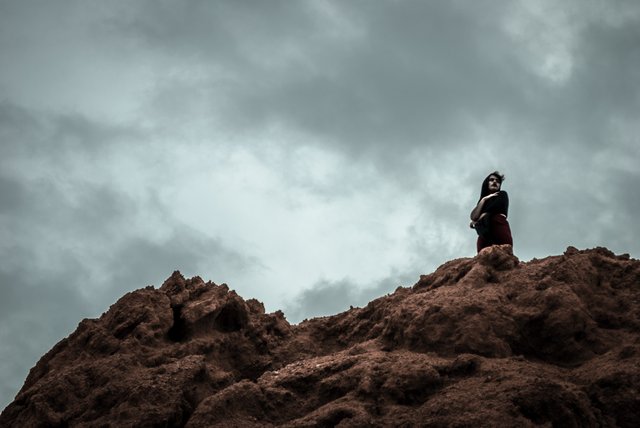 Esta serie fotográfica fue realizada en Cumaná, estado Sucre, Oriente de Venezuela. Durante una pequeña –y al mismo tiempo larga- estadía en casa de nuestros familiares en el año 2016. El poco entretenimiento, la lejanía de los centros y comercios, además de la falta de comunicación nos impulsó a trabajar con lo que teníamos: Una cámara compacta Sony Cyber Shot, de lente 15x y nuestros conocimientos con los programas de edición. A partir de aquí comenzó nuestra exploración con el cuerpo humano, la naturaleza, lo místico, religioso y mágico. Para nosotros es de suma importancia conocer la opinión del público, saber qué opinan y creen con respecto a este y otros trabajos. Iniciar, desde la obra de arte y nuestras exposiciones, debates y opiniones que nos permitan reflexionar acerca de nuestro propio trabajo e imagen.
     This photographic series was made in Cumaná, Sucre state, Eastern Venezuela. During a small - and at the same time long - stay at our relatives' house in 2016. The little entertainment, the remoteness of shopping malls and shops, in addition to the lack of communication prompted us to work with what we had: A Sony Cyber ​​Shot compact camara, 15x lens and our knowledge with editing programs. From here began our exploration with the human body, nature, the mystical, religious and magical. For us it is of the utmost importance to know the public's opinion, to know what you think and believe regarding this and other works. Start, from the work of art and our exhibitions, debates and opinions that allow us to reflect on our own work and image.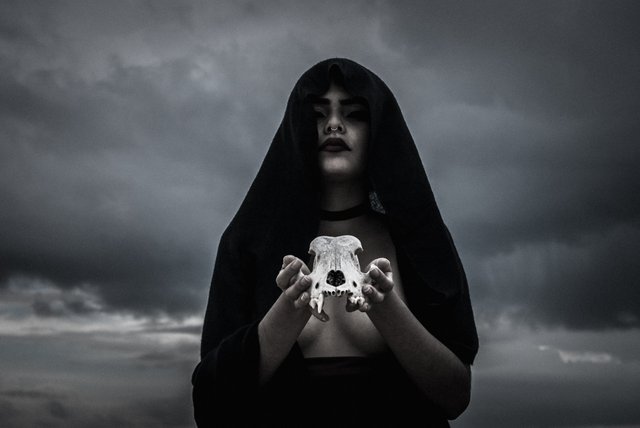 Photography, editing and makeup (Fotografía, edición y maquillaje):
Gerardo Arenas. & Genesis Ochoa.