Our Steem Introduction Video, ¡Viva México! ¡Viva Blockchain! Viva Steemit!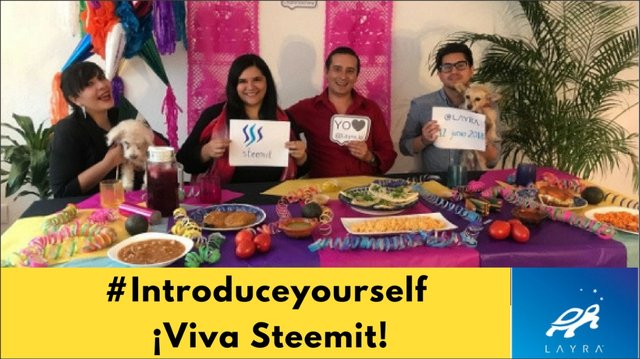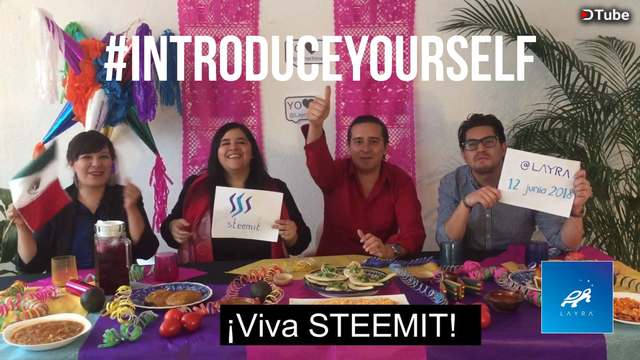 ---
Our Steem Introduction Video, ¡Viva México! ¡Viva Blockchain! Viva Steemit!
¡Hola amigos de Steemit!
Estamos de manteles largos y los recibimos con nuestra comida y bebida típica. A pesar de que hemos esperado un poco, ¡por fin les presentamos nuestro "Introduce Yourself"! Queremos conocerlos y que nos conozcan.
¡Nosotros somos Layra!, un equipo conformado por Estrella, Melhina, Dimitri y Germán.
Nos da mucho orgullo presentarles este medio educativo que es ¡100% mexicano!
Dedicado a todos aquellos que buscan una nueva perspectiva, contenido fácil, pero a su vez inteligente sobre el mundo fascinante de bitcoin, blockchain y las criptomonedas.
Empoderamos a las personas, Iluminamos el pensamiento e inspiramos a la acción. Lo que nos motiva es lograr un mundo justo y transparente, ¡bloque por bloque!
En Layra queremos que más personas se sumen de manera inteligente y segura a esta revolución tecnológica y financiera.
Estamos comprometidos con acercar el conocimiento y ser el puente hacia una comunidad que a través de esta tecnología quiera romper los paradigmas.
¡Recuerda que nuestra casa es tu casa!
Esperamos que disfruten nuestro contenido porque está hecho con mucha pasión y con mucho amor.
Seguinos @Layra
Hello Dear Steemit Community!
We are very happy to be here and to do our #introduceyourself video.
We are a Mexican media channel helping people in spanish understand and use blockchain, bitcoin, alt´s understand our world economy for their lives and businesses.
We focus on helping people create their own financial criteria and avoid scams and fraud in the crypto ecosystem.
Hope you enjoyed the video and we would love for you to Upvote, Comment and Follow us!
Saludos de México!
---
▶️ DTube
▶️ IPFS