Barrio is a small Twin Cities restaurant chain that got its start a decade ago in 2008. They pride themselves on having a great selection of tequila and mezcal (over 100 varieties they claim) and good margaritas. Their Latin food, tacos included, is served individually on small plates fresh from the kitchen. They're not the kind of restaurant that tries to get all of the table's food out at one time, but rather as soon as it leaves the kitchen so everything can be as hot and freshly cooked as possible. Prices are moderately upscale but food quality and flavor tends to hit above its weight class. I've personally visited them a few times now and I figured it was time to dust off the Twin Cities Taco Tour and do a taco review!
The Place
I visited the location in Edina, which is a generally wealthy suburb of Minneapolis. It's located in Edina's precious part of town, 50th and France. It's an area that features some upscale restaurants, retail, grocery, and the kind of movie theater that plays foreign and arty movies. Some people say Edina stands for Every day I need attention, but Edinians don't like to confirm that!
The short street-side front of the building hides the large amount of table space within. This restaurant goes deep into its lot and it can seat many people. The table arrangement seems to have enough flexibility that it can accommodate larger groups, as long as you get a reservation. There's also a large bar area, with high top tables and window ledges to pack in some more seats. The space does make you feel a bit packed in as a customer when it's busy, unless you snag one of the limited booths.
The decor is understated but pretty cool, with some artistic nods to bullfighting. Overall it's kind of Hispanic Gothic with a black and red theme. The tequila and mezcal collection takes up the whole back wall of the bar.
The Tacos
Gringo Taco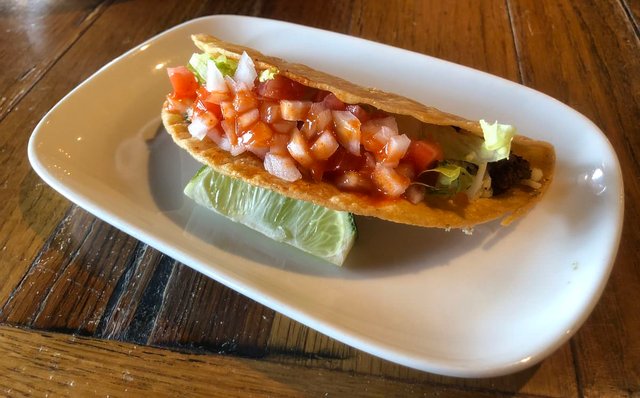 The Gringo taco is just like a classic American taco should be with a couple improvements. It has a good amount of very tender slow cooked ground beef with just enough grease to make it rich, but not too greasy. Spiced with chile de arbol, the beef has the classic taco meat flavor The meat comes topped with grated queso fresco that melts on to it a little. After that comes lettuce, diced white onions, and some very tasty ripe diced tomato. The vegetables get moistened by hot sauce, just the right amount of Valentina hot sauce, or something like it. The sauce's flavor goes very well with the meat's.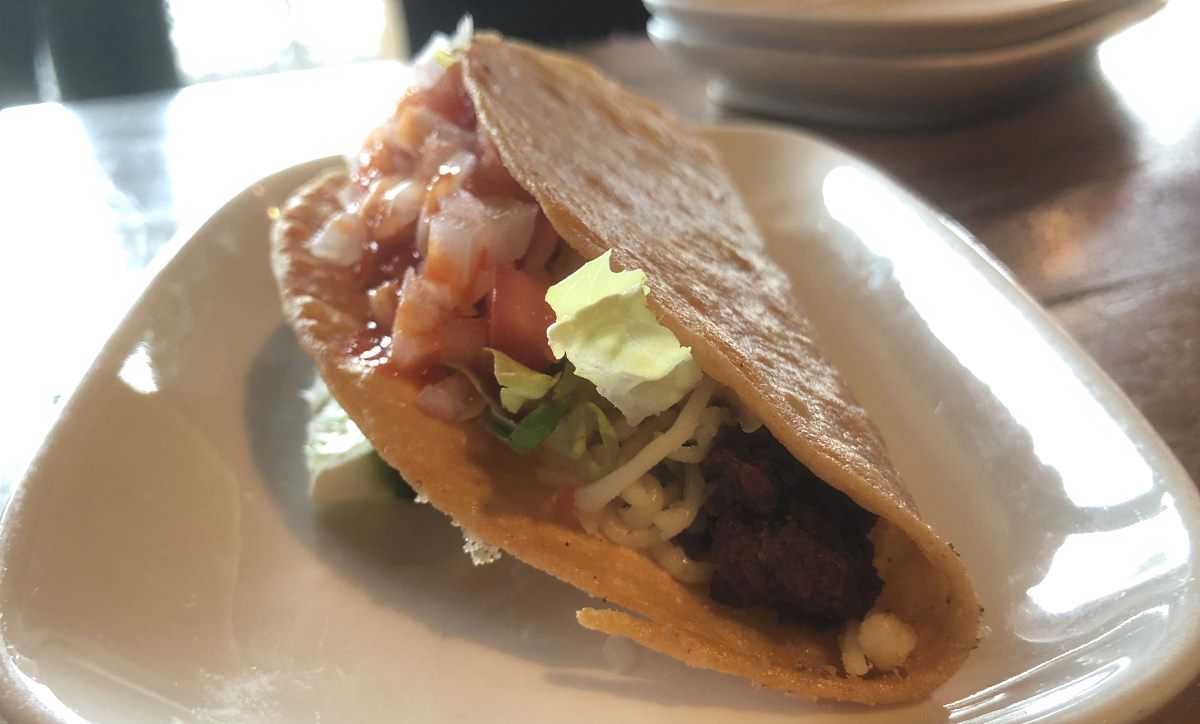 The hard corn shell is fried in house and has a crisp flaky texture. It's more greasy than the fried yellow corn hardshells you find in a grocery store, but the grease is worth it for its richer flavor. It is more brittle than I expected it to be. It partially fell apart as I was eating it, spilling some taco ingredients out.

Overall its a good classic American style hard shell taco, done almost to perfection. But unless you really like this style of taco, or want to indulge in the nostalgia of it, I'd suggest skipping this one. Save room in your stomach for the more tasty items on the menu, such as...
Pork Carnitas Taco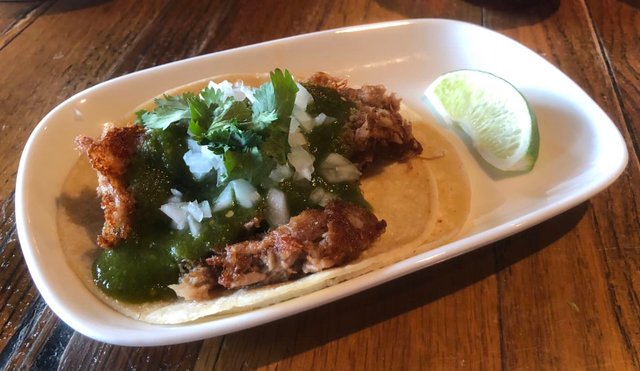 Mmm mmmm this one is good. The meat is pork shoulder slow cooked with orange and cinnamon, among other spices. It's then briefly pan fried in its own fat to reach a hard to beat combo of crispiness and tenderness without a hint of chewiness. This is a basic street style taco with flavor that's anything but basic!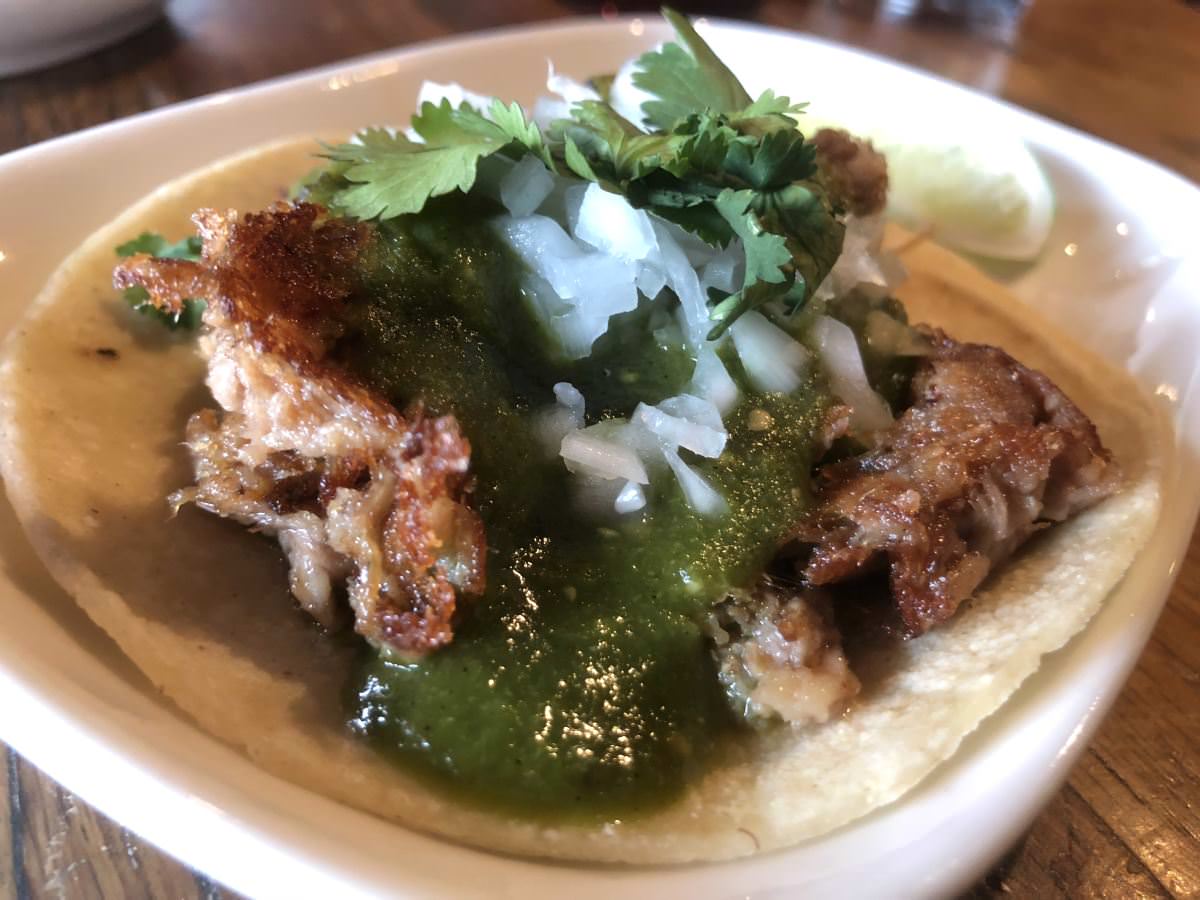 It comes on doubled up corn tortillas, briefly thrown on a skillet. . The tortillas are fresh, probably bought from a local tortilleria. They are pretty good but don't stand out. On top of the meat is probably the best tomatillo-based salsa verde I've ever had. It's sweet, it's salty, the flavors balance so well. There's not too much and not too little of it. Barrio gets the details of these things right. On top of the salsa comes white onions and a sprig of cilantro, the classic taco synergistic adornments.

Wood Grilled Steak Taco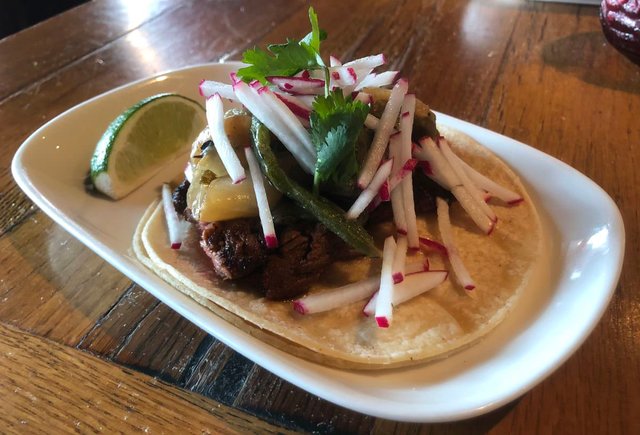 This. This is the taco you must get. If you order one taco here, you must get this one. Nevermind that it costs $5.50 for just one. Get it. This is far and away the best asada taco I've had ever. It might be the best asada taco possible with a tortilla upgrade.
Flank steak is flavored with subtle amounts of cumin, garlic, and red chili. It gets cooked medium-rare to medium on a wood burning grill. It's then cut up and presented as taco meat in what may be the best street taco I'll ever have. See the pink in there! It turns out juicy, tender, and full of savory flavor. It's so right, the tiny bits of burnt steak in every other asada taco I've eaten seem wrong.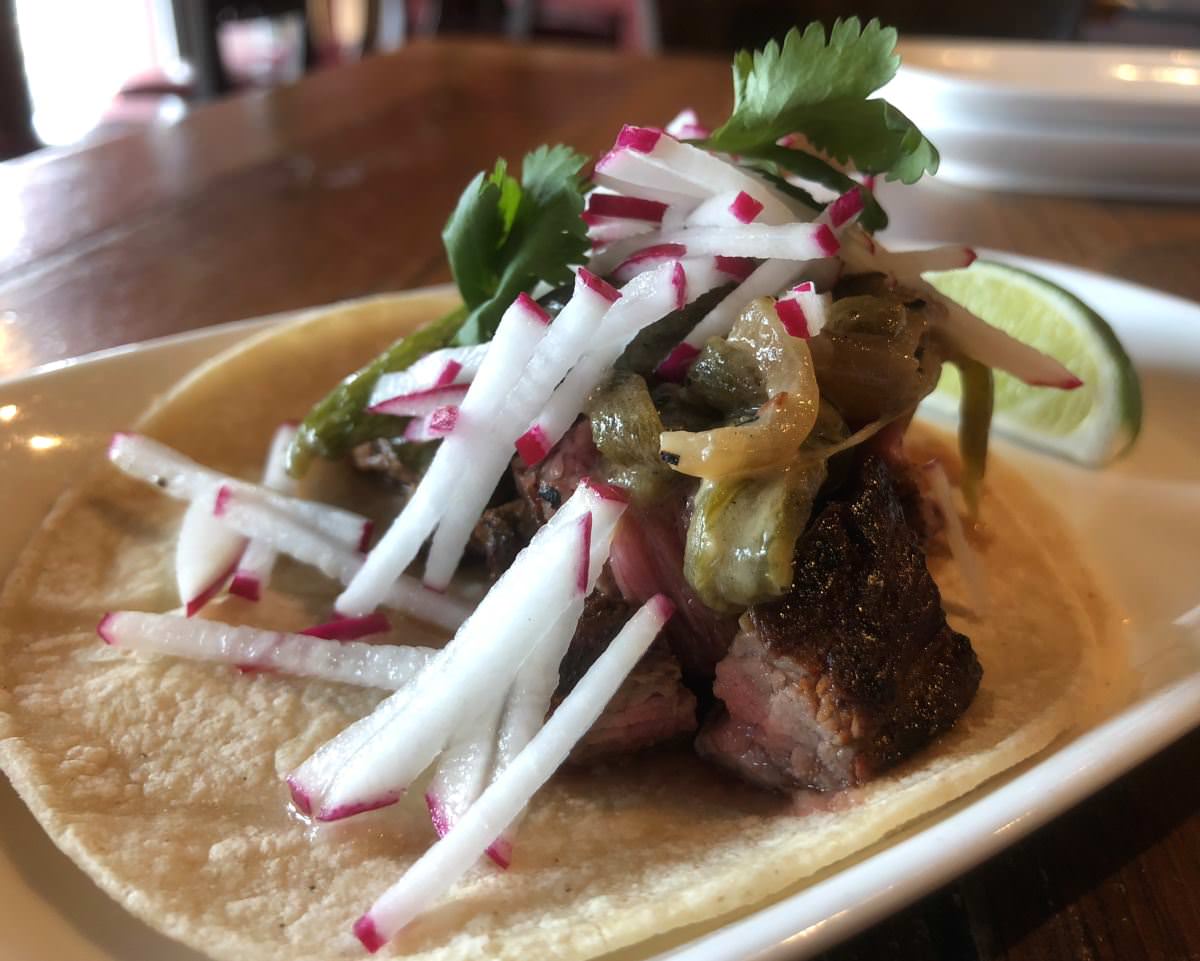 The meat gets topped with a modest amount of Mexican sour cream, the liquidy flowing kind. Even better, it gets a nice portion of roasted pablano and onion strips. Steak, peppers, and onions are a classic combination that work so damn well together! A sprig of cilantro and some julienned radish complete the package. I'm normally not a fan of eating the bland variety of radishes in my tacos, but in this case the julienne cut made them a good addition of texture and moisture.
Conclusion

Although they're not the only food that Barrio offers, the tacos on the menu are very good here. Even the Gringo, something I don't recommend ordering, is quality. The carnitas taco is an experience, and can be had a bit cheaper at happy hour (3-6pm, M-F) for $3.50. Its normal price is $5, which isn't such a great value for one taco, even though it's tasty. The grilled steak taco is understandably not on the happy hour menu, but it's worth getting any time you may find yourself at Barrio in my opinion. It's a fantastic taco even at $5.50 each. I'd really like to see how a Barrio al pastor taco would come out. Probably amazingly, but it's not on the menu!
4 ½ tasty cows out of 5

By the way, I didn't review it here but I highly recommend trying their habanero chicken tamal if you visit. It's unbelievably delicious and rich. It's on the happy hour menu too.
---
For more Twin Cities Taco Tour posts, assuming tags ever get fixed: