El Taco Tote is a regional Mexican food chain with locations in Texas, Arizona, Juarez Mexico, and two in Albuquerque. I visited the location on Central, aka old Route 66. Their sign makes sure you know they're real and open while the road is under heavy construction.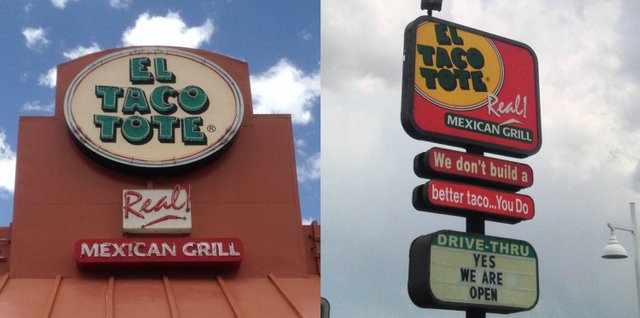 On Tuesdays and Thursdays they have a $5.99 taco platter deal for al pastor or carne asada. I love a good price on tacos so of course that's what I'm getting.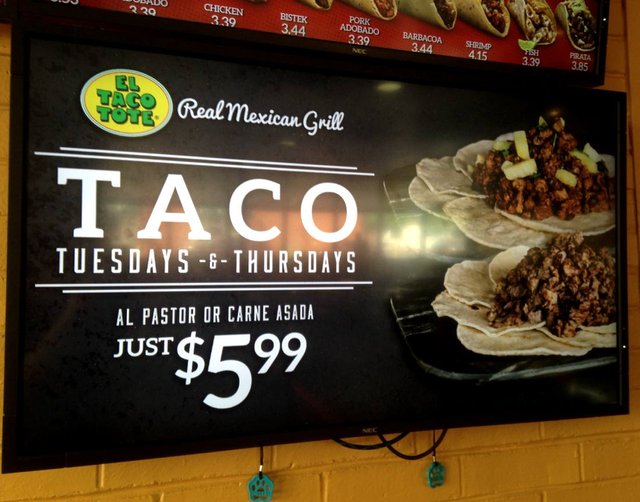 The Place
This is a counter-serve operation, with someone to bring your food. Usually at least, I saw a few folks have to get up and get the food when nobody was nearby to deliver it. The dining area is pretty big with plenty of tables of different sizes. The men's bathroom is a two-stall, and clean enough. But it had run out of paper towels when I used it.
One thing that makes this place shine is its salsa bar. It gives you plenty of option with your food. Here you'll find your standard red and green salsas, lime wedges, radish slices, onions and cilantro. In addition to that, they have a near-perfect pico de gallo, a lovely mild guacamole/avocado salsa, roasted whole jalapeños with onions, a few more vegetable options, and a couple more house-made salsas.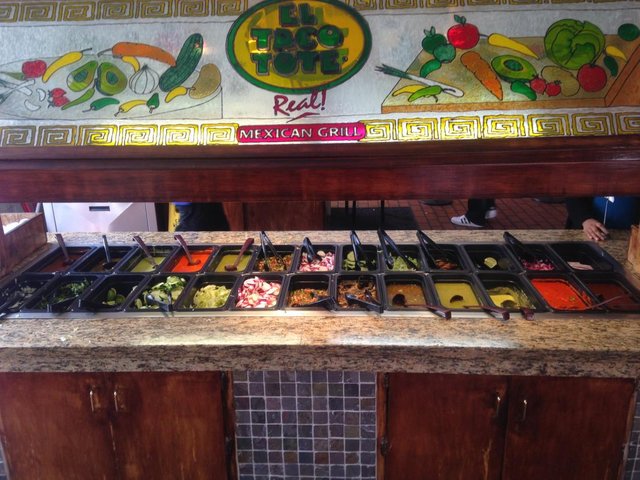 They also make their tortillas on-site. Good to see a chain doing that, and it's something that most places in my more familiar Minneapolis don't do. Free tortilla chips are also provided at the counter, and they taste good too!
The Tacos
I ordered the al pastor plate. Here it is, as served, plus some chips and other things I gathered from the salsa bar: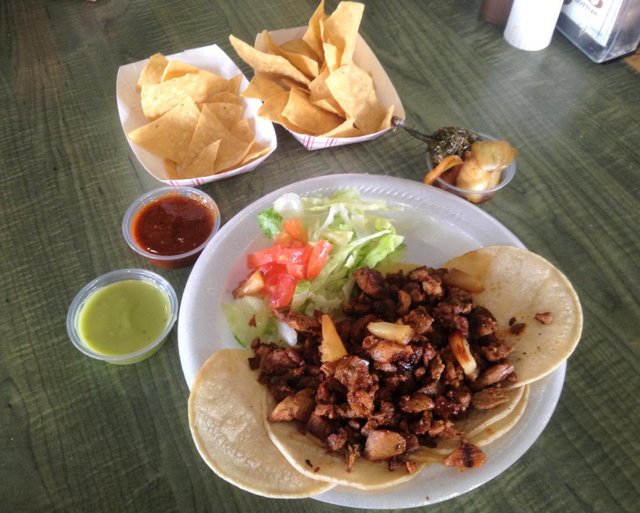 They serve the plate with a handful of small-size corn tortillas, and a pile of meat on top. There's also a bit of lettuce and tomatoes on the plate, but I barely noticed with this glistening mound of meat in front of me: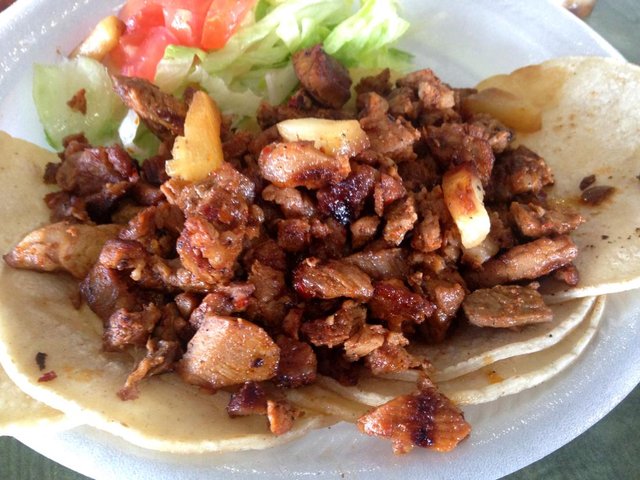 The al pastor comes with some sweet canned pineapple wedges cooked along with it. Not too many to make the whole package sweet, but just enough to give some excellent variety to the texture and flavor of the tacos.
The meat's flavor is quite good. It's marinated well in spices and surrounded by pineapple. It's cooked very well too. Just enough brown crispiness to make the texture the perfect enough of crunch. The meat is tender, and plenty moist. It is a touch greasy, but the flavor forgives that. The marinade doesn't overpower the basic pork flavor which comes through just as it should.
The way it's served, assembling the tacos is a bit more work than typical. As the tortillas are all below the greasy meat, you can either get your hands dirty or try to use a fork to get the ingredients in your tacos to the right spot. Even with a fork, you're likely to pick up some grease from the tortilla. Anyone eating tacos shouldn't be afraid to get a little down and dirty though :)
With the pile of meat and ample amounts of pico de gallo and roasted jalapeños, I must have managed about 5 small tacos with the small tortillas provided. With a leftover tortilla I made a vegetable taco with a jalapeño, pico de gallo, and avocado salsa. This was more than plenty to fill up, but there were also the complimentary chips as well.
Conclusion
With ample amounts of delicious meat, a full-featured salsa bar, and good chips that keep coming, this place is a value winner. Just $5.99 plus tax can get you some great food in this town! If I had my way, the tacos would come pre-assembled, but there are always compromises. This place exceeds expectations for a multi-state and international restaurant chain.
4 Pineapple Piggies out of 5