What is Fire 7 tablet?
Amazon Fire 7 Tablets are the latest in the Fire line of products. They are a small tablet with a 7 inch display for reading, web browsing, playing games, listening to music, and streaming videos. The Fire 7 features a powerful quad-core processor, 1.3 GHz, and is available in three colors: Black, Marine Blue, and Punch Red. The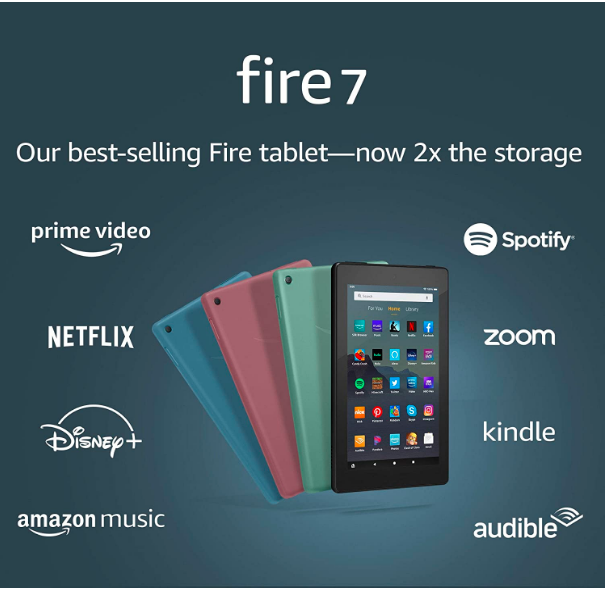 Fire 7 Tablet is not only affordable, but it is also very easy to use and is a great addition to any family's tablet collection. It is ideal for those who are new to the world of tablets and don't want to spend a lot of money on it. With Amazon Fire 7 Tablet, you can get more done with its Alexa hands-free feature and its 8 GB storage space. The Amazon Fire 7 Tablet comes with the latest Fire OS, Fire OS 5.4.4. It is a great tablet for those who want to get more out of their tablet.If you are looking for an inexpensive tablet, one that is easy to use and fun for the whole family, then Amazon's new Fire 7 tablet is the perfect device for you. With features like an easy-to-use interface and fast performance, this tablet is perfect for anyone who wants to be entertained on the go. It's also built for durability with a compact design, so you don't have to worry about it getting damaged.The Fire 7 tablet is one of the highly rated tablets in the Amazon series. The new Fire 7 tablet comes with a 7-inch IPS display, 1024 x 600 pixel resolution, and 189 pixel density. It is not the most flashy tablet around, but the price is pretty attractive and the hardware is decent enough to be called a good buy. Fire 7 tablet has a 1.3 GHz quad-core processor, 1 GB of RAM, and 8 GB of internal storage. It has a microSD card slot and a micro USB port. The tablet runs on Fire OS, which is Amazon's custom version of Android. Fire 7 tablet is powered by a capable quad-core processor, it gets its power from a non-removable battery, and the device comes with a basic front-facing camera and a 2-megapixel camera on the back.Amazon launched its Fire 7 tablet in the year 2017. It is the 7-inch model from the Amazon Fire line of tablets. These tablets are budget-friendly and are intended for everyday use. This particular tablet is the most affordable model. It is the successor to the very popular Amazon Fire HD 6 tablet. It has a better screen resolution and a better performance.