:: Synthetics AI :: The Investors Platform for ICO Investing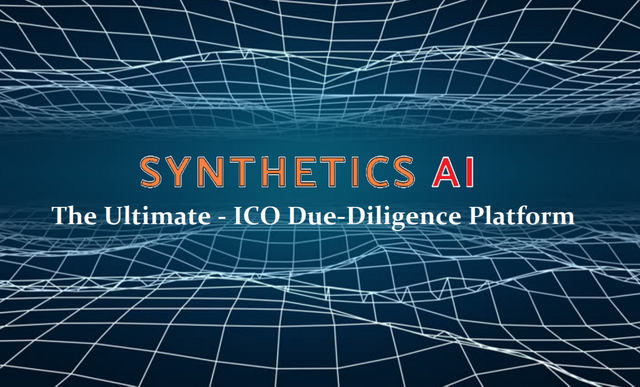 ---
Synthetic AI is an innovative project which aims to eliminate the guesswork from the ICO sphere. It is a report and due diligence platform that provides vetted information about potential investment opportunities. The project realizes that there are a lot of potentials in the ICO space and has come up with a scheme to present investors with verifiable facts that enables them make investment decisions on projects.
The Synthetics AI will deliver market analysis, trend and social emotions as well as information on the best investment opportunities in the industry giving users a data based view with high degree of accuracy which affords them an edge in the selection of projects for investments. This enables good understanding of projects in terms of utility and technology
Key Features
The project utilizes AI and machine learning to streamline information available to users thereby avoiding information overload in critical decision-making situations.
The system is comprised of a community of trusted testers that vet AI projects ensuring that buyers and investors within the society take the guesswork out of the decision-making process.
Even though initial coin offerings are based on the transparent decentralized network, in practice, they are not as open as expected. This is the reason why the ecosystem is suspected of market manipulations and fraud and why scams succeed sometimes. There have been reports that 10 percent of funds generated through ICOs are lost to scams. This happens because many investors have no sure channels through which they verify the authenticity and integrity of projects.
Most projects put forth their propositions and arguments in support of the projects in whitepapers. These still fall short as clear basic on which to make investment decisions because they are sometimes vague, at other times, they lack authenticity because they were contracted out to freelancers who are known sometimes to recycle similar whitepapers.
This situation makes it a challenge to know the veracity of the claims of a team and base critical decisions on such. Since there are no sure ways of vetting the projects, many investors put in money in ICO due to the fear of missing out and not because they have a clear understanding of the technology and utility of the token.
This absence of a vetting system is instrumental to the inroad scam ICOs made in the industry. There have been scams that made away with investors funds mainly due to the fact that no one vetted the teams behind them. Also, there have been ICOs that concluded crowdsales but could not launch their projects because they were not technically viable.
---


https://www.syntheticsai.com/
---
Synthetic AI lists verified and trusted projects, ranking them according to quality using a built-in ranking system. The teams behind these projects are vetted to ascertain that only trustworthy ICOs are approved and published.
Teams have the option of submitting their projects for vetting by the community. The vetting is done by verified members using the Synthetics AI token. Professional auditing and advanced ranking system are employed by the system to create a foolproof grading of ICOs. SYNT, the internal currency of the ecosystem, will be used in a voting system to select some of the best projects available at every period.
[SYNT] Token Sale Live!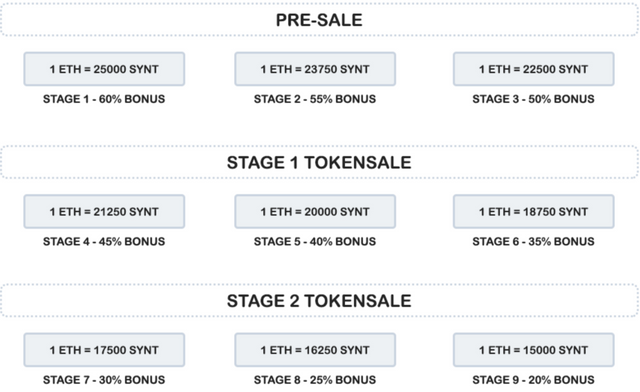 Additional Investor Information
Website: https://www.syntheticsai.com/
Whitepaper: https://drive.google.com/file/d/1qsDkT75xbPSdwuIQr9o6amwlZT6n4c3Y/view
Summary: https://drive.google.com/file/d/1xhb-qE7h0Vad1XGEZHJEHHXDkHOqq8ep/view
News/Updates: https://www.syntheticsai.com/category/project-news/
VETIO Beta Platform: https://vetio.syntheticsai.com/
Social Links
Telegram Invite: https://t.me/syntheticsai
Facebook Page: https://www.facebook.com/syntheticsai/
Twitter Page: https://twitter.com/SyntheticsICO
---

---
---
BitcoinTalk user: Mr.Ease
User link: https://bitcointalk.org/index.php?action=profile;u=803528
Eth Address: 0xfd797888c66DfEbf7bA5A6927a50F2F75Ad7175e
Follow Me for Upcoming Token Sale Information