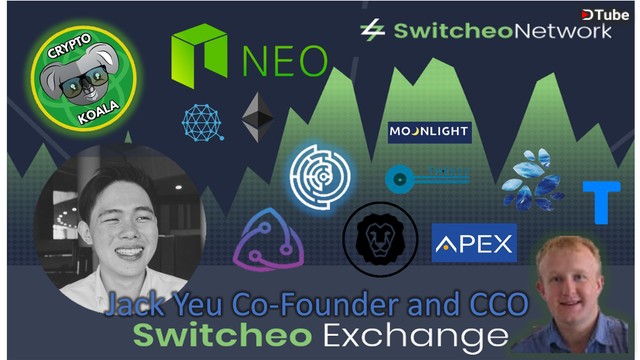 ---
Hello Neo, Blockchain and Switcheo community. Today I talk with Co - founder and Chief commercial officer Jack Yeu we discuss the Switcheo exchange.
The first decentralized exchange DEX on the NEO blockchain.
We talk about the ability to lodge into the Switcheo exchange by using your NEO private keys and even with your ledger in a secure and safe way gives an advantage over centralized exchanges. It gives you that advantage because you don't have to go over the registration process.
you can trade in your from your wallet, easy and its stays in your Brower, meaning the exchange doesn't get your private keys.
Then your able to trade with any NEP-5 token with NEO and GAS straight away.
Jack goes over the team, the Decentralised exchange itself, the use case of the SWTH token, the future of the platform with the aim to have the option of being able to trade with Qtum and ETH.
And the development of a fiat gateway!
He explains the exchange is able to trade in utility tokens exclusively as securities require extra regulations.
The trading competition wear you can get your hand on some SWTH and the giveaways such as a cool swag or laser engraved Ledger!
🔗Links to Switcheo
👥Switcheo Website: https://switcheo.network
Exchange: https://switcheo.exchange
👫 Switcheo on Twitter: https://twitter.com/switcheonetwork
🎤 Switcheo on Reddit: https://www.reddit.com/r/switcheo
🗞️ Switcheo Telegram: https://t.me/switcheo
News & Updates: https://t.me/switcheoANN
---
🗞️ Join us on telegram! Andy (ICO review) & I two Aussie youtubers. Have created a channel 👍
Crypto Nebula Community - Crypto Knowledge Sharing
https://t.me/cryptonebulacommunity
---
👫👭👬Social- Me on other platforms-
Crypto koala - Twitter https://twitter.com/Cryptokoala_Aus
- Steemit https://steemit.com/@jamiebu
- Facebook https://www.facebook.com/Cryptokoala.io
-Investfeed-
-LBRY Cryptokoala
🦁 VERIFIED PUBLISHER ON BRAVE
Fast & Secure browser- https://www.brave.com/
---
📚 ICO's are considered as High risk investment, but can be high reward, make sure your carry out your research before investing.
📚 I enjoys making YouTube videos on cryptocurrency and I'm not professional advisor giving advice on investing and trading. I'm not saying buy these coins. You got research yourself guys. What I say is what I believe and my personnel opinion, apart from that I hope to see you on the moon or building on minecraft if you are trading cryptocurrency's.
💻 If you you want to mail or telegram me the koala lives at : [email protected]
https://t.me/cryptokoalaau
💰 CoinSpot- To trade and buy cryptos a Australian exchange
https://www.coinspot.com.au?affiliate...
💱 Software Wallet: for Cryptocurrencies
Windows/Mac/linux: http://exodus.io
🔐 Securing your Cryptos? Hardware wallet- Nano Ledger S
https://www.ledgerwallet.com/r/7f2e
---
▶️ DTube
▶️ IPFS