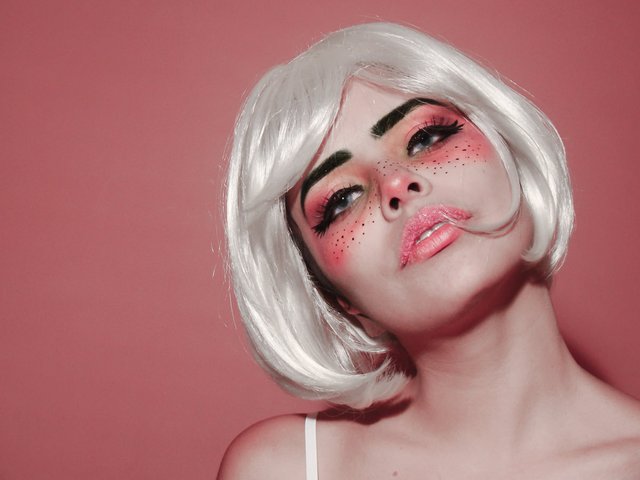 Hola a todos mis lectores de Steemit! Quisiera hacerles una pregunta: ¿Cuál es el resultado de tener la creatividad al 100% a las 2am. y muchos colores a la mano? Pues… ¡Algo genial y totalmente improvisado! Eso se los aseguro. En esta oportunidad los colores que tenía a la mano fueron unas sombras para maquillaje nuevas que había obtenido por trueque con una amiga, eso sumado a una paleta de unicornio (que extraje ilícitamente de un cumpleaños infantil) encendieron por completo mi foco creativo. A esa hora de la madrugada no tenía modelos a la mano, así que decidí "usarme" como modelo. 
  Hello to all my Steemit readers! I would like to ask you a question: What is the result of having 100% creativity at 2am. and many colors at hand? Well... something great and totally improvised! That's for sure. On this opportunity the colors that I had available were some new makeup Shades that I traded with a friend, that, added to a unicorn palette (that I illicitly extracted from a children's party) completely turned on my creative focus. At that time in the morning I didn't have any models at hand, so I decided to "use myself" as model.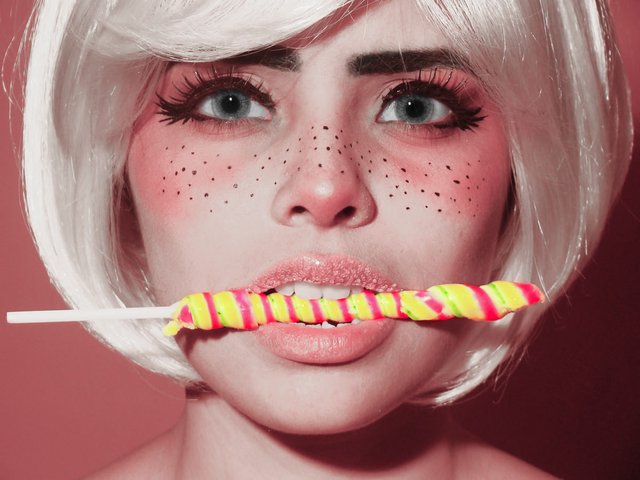 Los pasos del maquillaje fueron los siguientes: 
1°. Aplique como de costumbre la base, como ya sabrán…todo lienzo de trabajo arranca estando en blanco, sin imperfecciones.
2°. Coloque el verde en la cejas para definirlas mejor, en este caso fue un tono de verde más oscuro que el de la paleta pero que combinaba bien con el resto de los colores. 
  

The makeup steps were are as follows:


1° Apply the base as usual, as you may know...all canvas work starts being white, without imperfections.
2° Place the green on the eyebrows to give them a better definition. In this case was a shade of darker green than the palette but that matched well with the rest of the colors.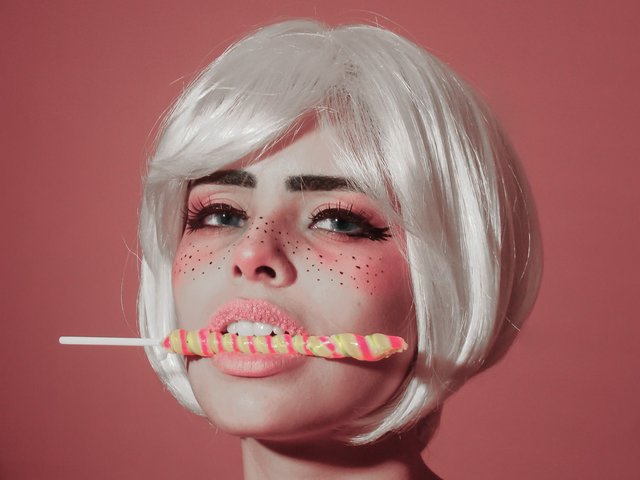 3°. En la zona interna de los parpados, cerca del puente de la nariz, fui difuminando hacia afuera los tonos más claros de amarillo.
4°. Aplique el fucsia en por encima del hueso de los pómulos, difuminando hasta llegar a la mitad de los parpados. También coloque un toque de fucsia en la punta de la nariz para hacer lucir a mi personaje "sonrojada".  
3° In the inner area of the eyelids, near the bridge of the nose, I was blurring outward the lighter shades of yellow.
4° Apply the magenta on the cheekbone, blurring until you reach the half of the eyelids. I also placed a touch of magenta on the tip of the nose to make my "blush" character.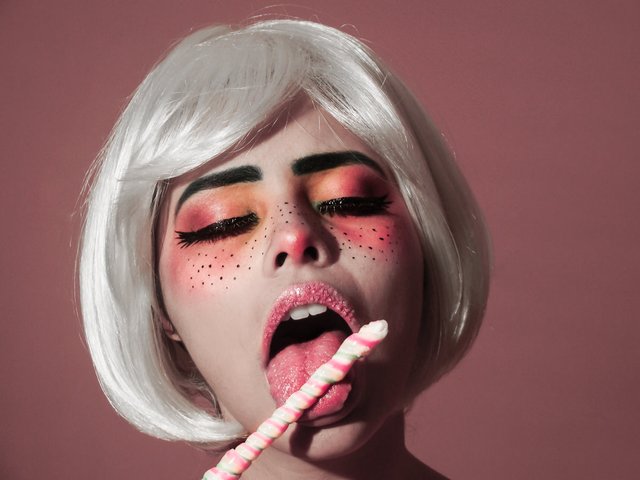 5° Luego de asegurarme de que las pestañas postizas estuvieran bien adheridas, me puse el delineador líquido para disimular el punto donde se pagaron las pestañas y dibuje unos puntitos como pecas por las mejillas, también con el delineador líquido.
6° Por último, para darle un toque más dulce al maquillaje coloque en el labio superior un poco de escarcha blanca emulando al azúcar. 
5° After making sure that the false eyelashes were adhered, I put on the liquid eyeliner to disguise the point where the eyelashes were glued and draw some spots like freckles on the cheeks, also with the liquid eyeliner.
6° Finally, to give a sweeter touch to the makeup, place a little white frost on the upper lip emulating the sugar.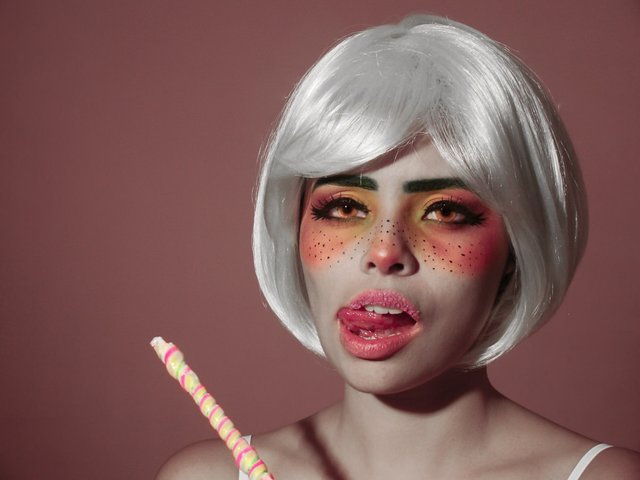 Para terminar el outfit estrene una de mis pelucas blancas + una blusa de tirantes. Lo demás fue realmente sencillo, colocamos una sola fuente de luz sobre una pared rosada que hacia un juego perfecto. 
To finish the outfit, I used one of my new wigs + a blouse with straps. The rest was really simple, we placed a single light source on a pink wall that made a perfect match.  
¡ Voilá, el resultado me encanto!
¡Espero que a ustedes también les guste esta sesión tan dulce!
Voilá, the result was lovely!  
I hope you also like this sweet photoshoot!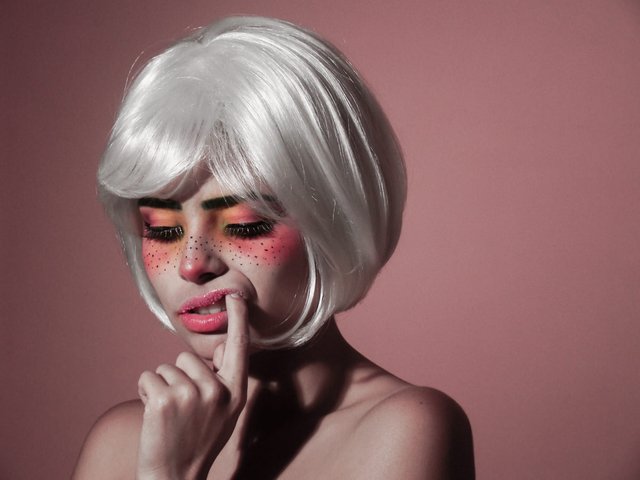 ¡Gracias por encontrarnos de nuevo en este espacio!
Thank you for meeting us again in this space!   
Sesión (Photoshoot): Caramelo blanco ( White candy).
Fotografía y edición (Photography and editing):
Gerardo arenas @grafarenas
Modelo y maquillaje (Model and makeup):
Genesis Ochoa @sra.antropofagia