BOI will go for aggressive recruitment drive & marketing in Nov, Dec 2020. Participate in the BOI Survey.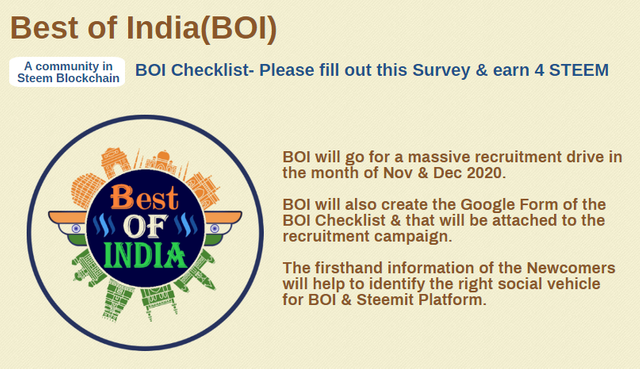 The right information will help us to figure out the right social vehicle. The right social vehicle is key to 3Rs. The right social vehicle underpins the retention rate even in the unfavorable market dynamics.
We need to ensure a minimum threshold activity at any given time, a more definite pattern, particularly to the various challenges, campaigns initiated by Steemit Team.
It will be unfair for us as a BOI community if we don't have sufficient information and data from our own members. Therefore we have created a checklist for our members to help us know about their interests and expectation.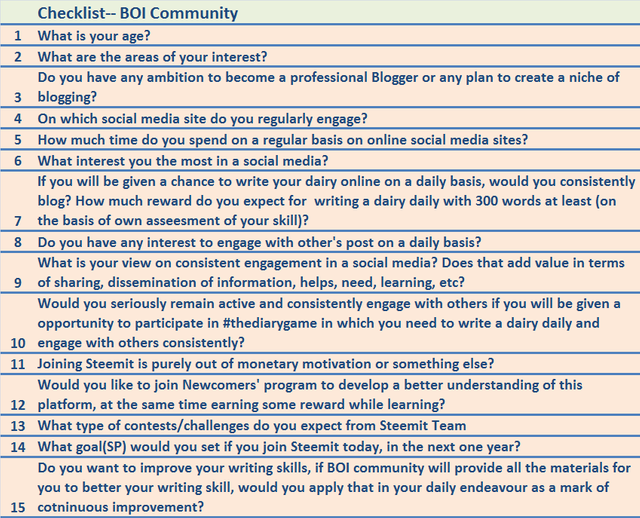 This will also be a segment to the next month's marketing campaign(Nov & Dec 2020) when we will go for massive marketing of BOI community to expand its base, to recruit new people who can stay with us in the long run, who can stay staked, who can have the intrinsic motivation of socializing.
In the month of November and December, we are planning to launch aggressive marketing of the BOI community, we will allocate 500 STEEM each month to those who can bring at least 30 or more people to this platform, but the reward will not be instant, that will be released to the recruiters over a period of 4 months, in proportion to the performance, capacity, skill, and consistent engagement of the recruitees. On top of that, he will be additionally supported through upvoting from the 3 CRs, BOI community account, 07 account. So anyone who is serious about recruiting can seize this opportunity.
How the 500 STEEM reward will be released over a period of 4 months(to the recruiter)?-- We will come up with a separate post with detailed structure, outlining the criteria, next week.
We will also create a Google Form for this checklist and before recruiting someone we must have this information so that we have the first-hand data to assess the potential of a Newcomer. At least we can assess how good he/she as a social vehicle in Steemit based on this preliminary data.
For the existing members of BOI, We request you to fill this form serially, there are some questions which are applicable only to Newcomers, you can skip that, but don't bypass that number, rather write NA(Not Applicable).
Make a post, respond to questionnaire of the checklist and add the link of the post in the comment section. You can use tag #checklist #boi. It should be posted in BOI community only. We will value your time and effort, we will reward 4 STEEM( to each member) for participating in this survey. This is applicable to BOI members only(who have delegated and regularly positing in BOI). This Survey is valid for the next 3 days to participate.

Sample of filling out this Survey
1. What is your age?
Ans- 33
2. What are the areas of your interest?
Ans- Photography, Culinary pleasures, dApps review, cryptos, trading, etc.
3. Do you have any ambition to become a professional Blogger or any plan to create a niche of blogging?
Ans- Yes I want to be a professional Blogger and I want to learn & develop those skills needed to be a professional blogger. I also want to create my own community when I will be resourceful to cater to the community members.
4. On which social media site do you regularly engage?
Ans- Steemit, Twitter.
.
.
.
. and so on....
Thank you.
BOI Channels:-
---
For any questions, clarifications, etc, please join the comment section.

Cc:-
@steemitblog
@steemcurator01
@steemcurator02

Unless otherwise stated, all the images, infographics, charts, tables, etc(if any) are the original works of @bestofindia.
---
We are a strong proponent of Power Up 100%, however for the recruitment drive and marketing, we really need some liquid reward, hence this post payout is set to "50% SBD/50% SP".