I missed last week Sunday's post (which does not bode well for my whole "let's blog more frequently" plan)... but I had good reason: We had a huge party the night before... hahaha... while true, the real reason is that the party happened in the middle of the bush... in Klaserie to be exact... and there was hardly any signal there.

Last week's #SunsetSundays
can you really blame me for not posting?

Where is Klaserie?
Don't feel bad... I had no idea either until I got the invite. It's on the Western border of the Kruger National Park. Technically it's part of the Kruger National Park (there are no fences between them and the park), but all the land in Klaserie is privately owned, and is managed separately from Kruger. It was my first time in the area, and now I finally get what all the fuss was about! Definitely going to be paying more visits to the area in future.
What was I doing there?
Klaserie's 3rd annual biltong competition
I was invited by one of the lodges (Bataleur's Nest) to help judge their 3rd annual biltong comp and whip up a spitbraai (actually 2). Yes, biltong is delicious, but the guests needed something else to eat as well.

A cold and cloudy day for biltong comp & spitbraai
apparently very unusual for the area... there are rumours we brought the shitty weather along with us from Gauteng :P

The weather deterred neither contestants nor judges though... and at the end of the day Jana Meyer dethroned Willem Pretorius (the winner for 2 years running) as the ultimate Klaserie Biltong Champ.
Even though the compliments were plenty, the spitbraai ended up being a little dry for my liking. Rooibok (Impala) on the spit is going to be a little on the dry side if you don't know exactly what you're doing... and as it turns out... we didn't :-( No worries though, that just gives me a good enough excuse to head out back that way again soon to redeem myself.
The day after the comp we (ok, ok... everyone else in the camp) heard lion and hyena fighting, and while neither Kyle (aka Tjoppie) nor I managed to get out of bed for the drive to see them feasting, the evening game drive proved almost more exciting... with Kyle coming very close to being the next meal... twice!
You can catch the video on Kyle's blog here: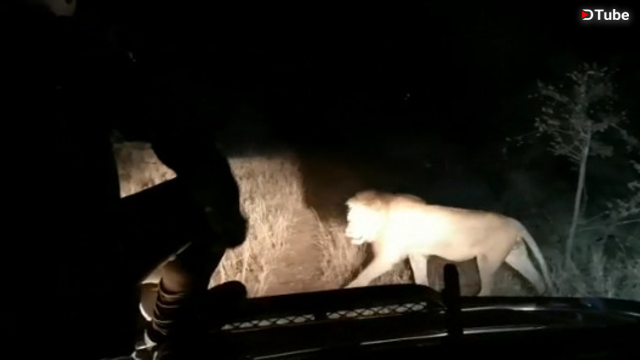 https://steemit.com/wildlife/@pileofsteem/hlm4hiuo
Our drive both to and from the Klaserie proved almost as eventful, but that's a post for another day. For now... I just want to give a HUUUGE shoutout to Gys & Sally and all the staff at Bataleur's Nest for an unforgettable weekend! We hope to see you again soon!
---
UpVotes & ReSteems are held in high (e)steem :P
If this post is older than 7 days please support by upvoting my latest post
---
All my @dtube videos here:
Connect with me on Social:
Steemit: https://steemit.com/@braaiboy
Facebook: https://www.facebook.com/BraaiBoy
Twitter: https://twitter.com/BraaiBoy
Instagram: https://www.instagram.com/BraaiBoy
View Printable Recipes on my website:
http://braaiboy.co.za/braai-recipes/


footer by @bearone for #TeamSouthAfrica



animation by @zord189 for #SteemitBloggers