Hey, let's catch up! Succulent Crowns / the One Minute Rule / ETC.
Oh man, have I been failing at consistency! I am all over the place lately. I'm back to starting multiple posts in my head, only to forget about documenting half way through my process. I've been trying out this method of the One Minute Rule. Have you heard of it? Basically, if a task comes up and it takes you a minute or less to complete it, you should just do it on the spot. Some days, this is a great technique and there is way less clutter around the house and studio to pick up at the end of the day. Others, it's like an excuse for my ADD to run wild. Especially when I am in the middle of a project! I caught myself with a million things started and not one thing finished the other day. I had run around being a good succulent mom, taking off all the baby pup succulents from the mother plants and replanting them. During this, I realized I needed to pot up quite a few others while I had a table full of dirt, so mid-harvesting I stopped to lay out all the rest of the succulents I didn't want to forget about. I noticed the recycling barrel was full, so I went to empty, washed my breakfast dishes and plugged in the hot glue gun to repair my avocado mold that I needed for later. Less than three minutes later, I was back to harvesting/planting and when I came inside to grab a drink I inadvertently ended up wiping down the bathroom sink, finishing the repair to my mold and popped some bread into the toaster to start lunch. Three more minutes later, and I forgot what I was doing so I started taking out all my supplies to mix cement. Along the way, I happened upon some left over reclaimed wood that I wanted to prep for macrame shelves so I put those on the worktable along with the saw and went back inside to plug in the batteries so I'd be prepared for later. There's more, but I can't recall the order of how I got lost along my way to nowhere. I think the toast is still in the toaster, too.
So, lesson learned. One Minute Rule may not be for creative days.
Since I've taken a note from @boxcareblue and wanted to use this blog as a way to stay accountable, I'll take the rest of this post to highlight what I HAVE been able to accomplish (other than the cleaning), despite my lack of focus this past week.
My friend is getting married this weekend! The wedding is being held in upstate NY so I won't be able to make it, but when she asked if I could make a succulent crown for her flower girl I couldn't say no! Guys, I swear I took a few photos during the process - I even shared one with someone to show them exactly how I attach the succulents to the head piece but they've disappeared! If you're wondering, its with jewelry wire and a hot glue gun. And lots of patience, lol.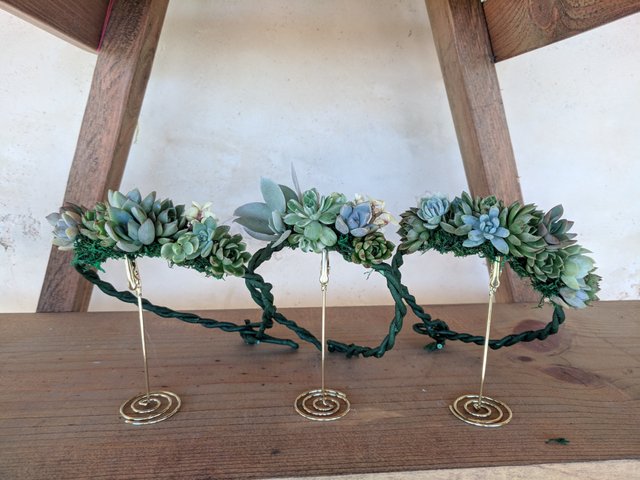 After I sent her photos of the first one, she wanted two more. I made a few custom pots to go with the crowns - one that says the date of the wedding and this one "Let Love Grow" - so that the flower girls can plant their head pieces after the big day.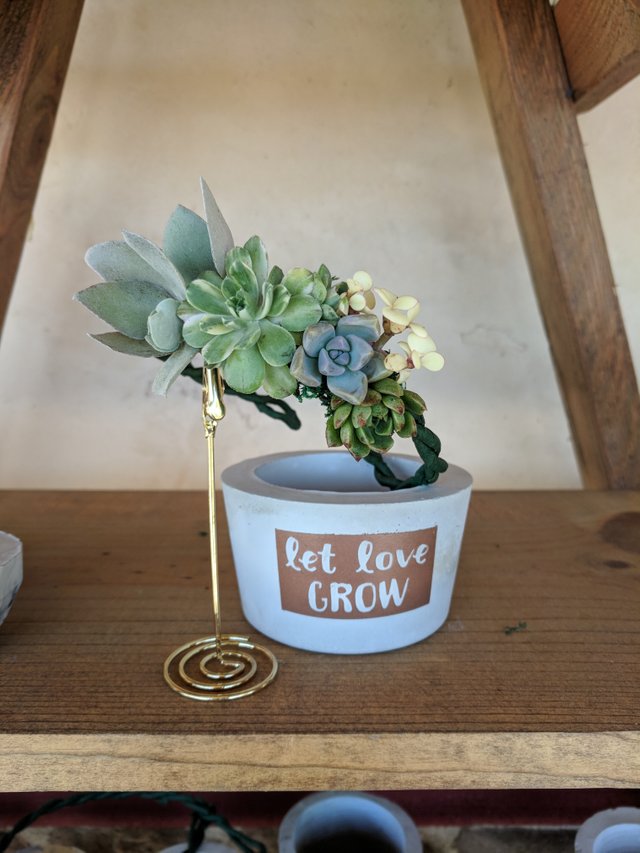 My second big win for the week was getting my first workshop event tickets up for sale. Participants will learn how to mix and pour their own cement pot with me and while they dry, my friend and artist collaborator will take them through the process of macrame to create their own hanger for the pot. If you're in the SoCal area, tickets can be purchased here:
https://knotsandpots.eventbrite.com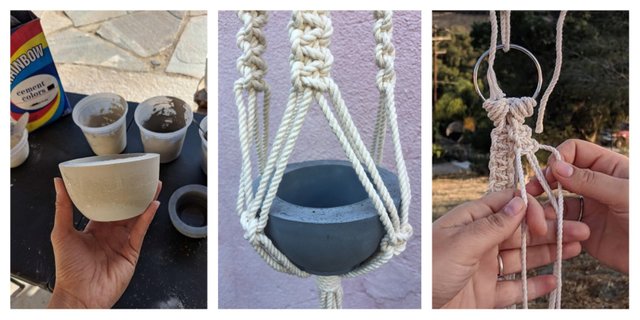 Ok, what else have I done....right. I was part of a cacti arrangement workshop in LA. The class used cement pots made by yours truly! We even had a last minute attendee who chose to purchase a few pots from my display so that he could make a few arrangements.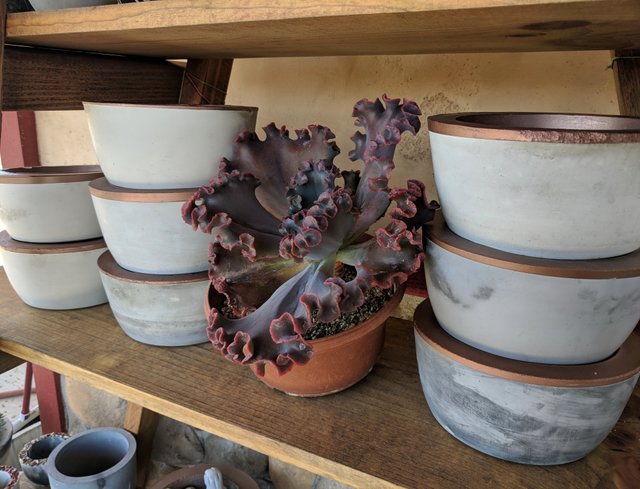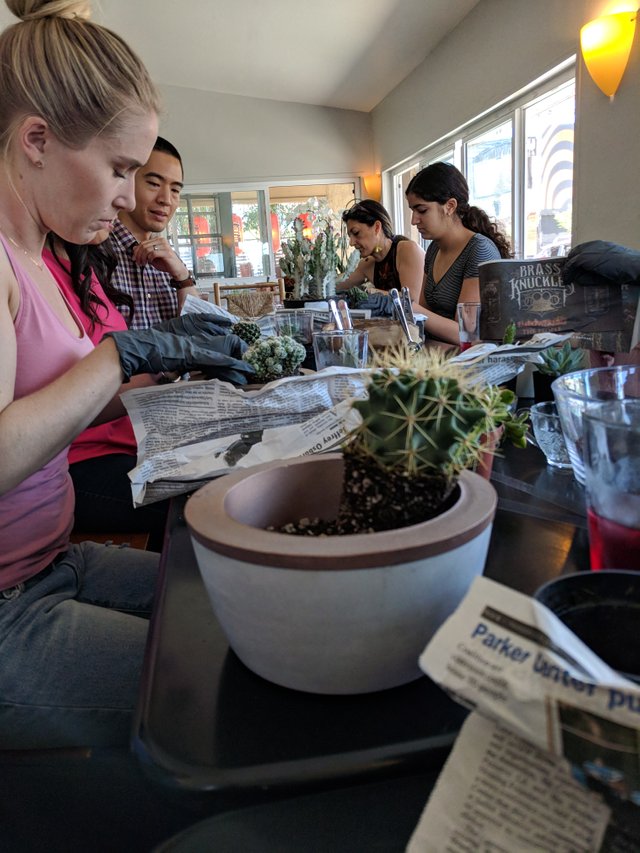 I FINALLY got my shit together with the t-shirts I've been designing. Succulent related, obviously. They're now live in my Etsy store! Link in my bio. I've got one more design I'm working on, and it'll be available in a unisex Tee. Thank you in advance for checking it out and "liking" my shop and products! It helps get me buyers, believe it or not. Yup. Etsy is also a social media popularity contest.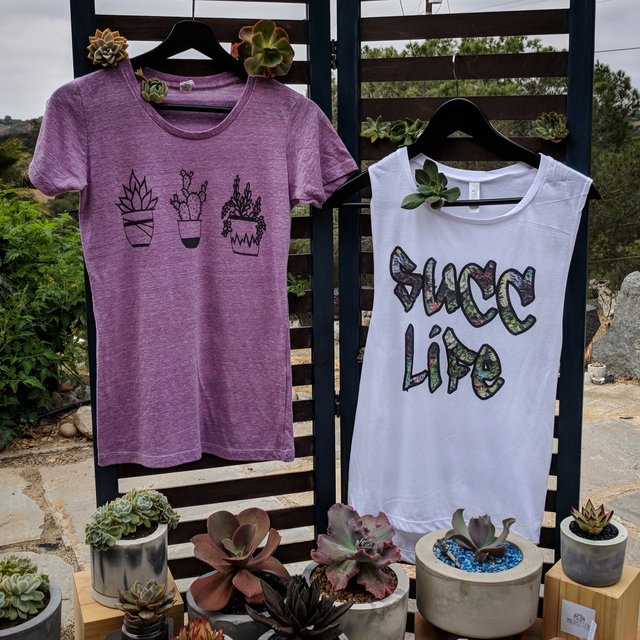 I did manage to work on a few cement pots, you know, my actual line of business. Ha. These two babies were a custom request from @customnature for a Steemit trade we've been chatting about! I cant wait to get my hands on his macro-scope contraption thing he made for cellphones. Here's his original post about it: https://steemit.com/nature/@customnature/daily-nature-fix-home-made-iphone-microscope-rig-and-hunting-tardigrades-original-photos
(Fuck, I forgot how to make the clicky link word things @mattlovell and I have no idea which post you gave me directions on...I promise I'll write it down this time!)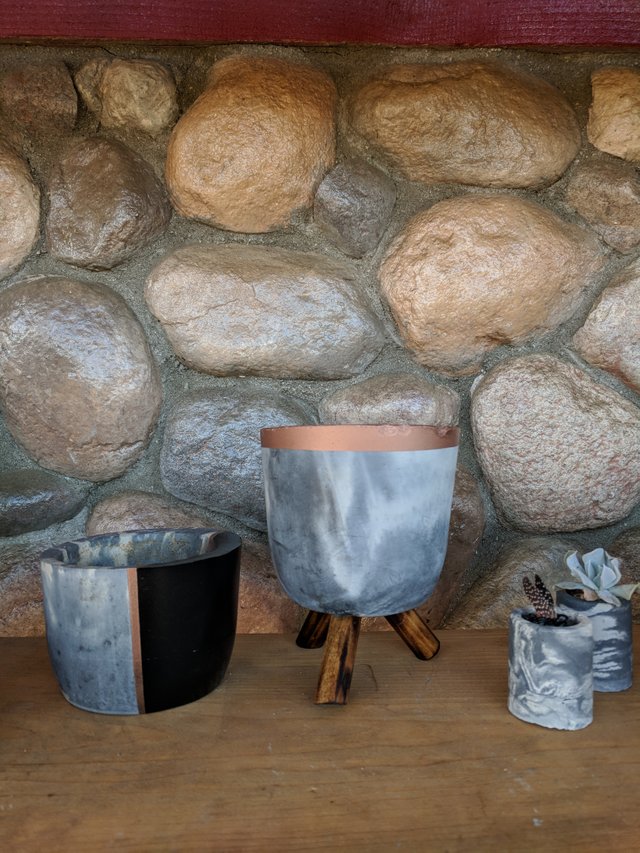 And lastly...and totally not really useful at the moment....I made cactus magnets. LOL. Because I needed an artful way to hang my alcohol ink on the fridge like I'm five.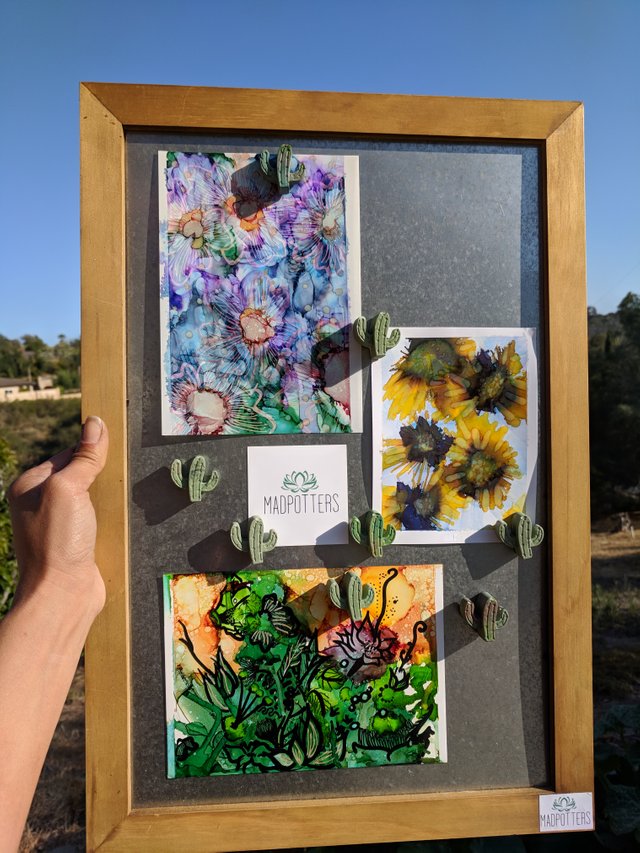 So, that's it for now. I did actually take some progress photos of the garden so that'll be a post coming soon...but not a whole lot of before photos. Obviously.
Happy....Thursday? Its Thursday, right?
xo,
Christie

#SoCalSteemit is building and supporting the Steemit community of Southern California. If you are from SoCal and are into creating quality content here on Steemit, we'd love for you to follow us @SoCalSteemit and join our group on Discord