When you begin staying various hostels in South America you tend to notice a lot of dogs and cats who call the hostel home and the perfect example is this little pup known as Mona. Mona lives at a hostel called Casa Veijas, which is just outside of Minca, Colombia. I highly recommend staying here if you find yourself in the area.
The story of Mona is quite an amusing one. She turned up one day at the hostel and originally the owners didn't quite need another animal to feed and running around. So they took her into town and dropped her off at another hostel that were happy to take care of her. However, the next day Mona turned up back at the their hostel, which is about a 3 hour walk up a mountain. Everyone was a little surprised that she walked up through the night to welcome everyone at breakfast.
So.. Their next idea was to take the young lady to the next town, Santa Marta, which is about an hour away by car. They found another great home for her and said their goodbyes. However, that afternoon a man who lived in Minca was driving back from Santa Marta and saw Mona walking along the road back towards Minca... So he stopped his car and put her in the car and took her back to the hostel - at this point the owners laughed, shrugged and simply acknowledged that this little pup was meant to be a member of their little family in the mountains above Minca.
Ever since, she has been living the good life in the mountains and being loved by all who stay at the hostel. She will even accompany on you on hikes around the hostel and will happily lead the way on the trails and will always lead you back to the hostel. A great hiking companion!
---
At sunsets you can find her chilling out on one of the comfortable chairs over looking the valley simply enjoying the good life
---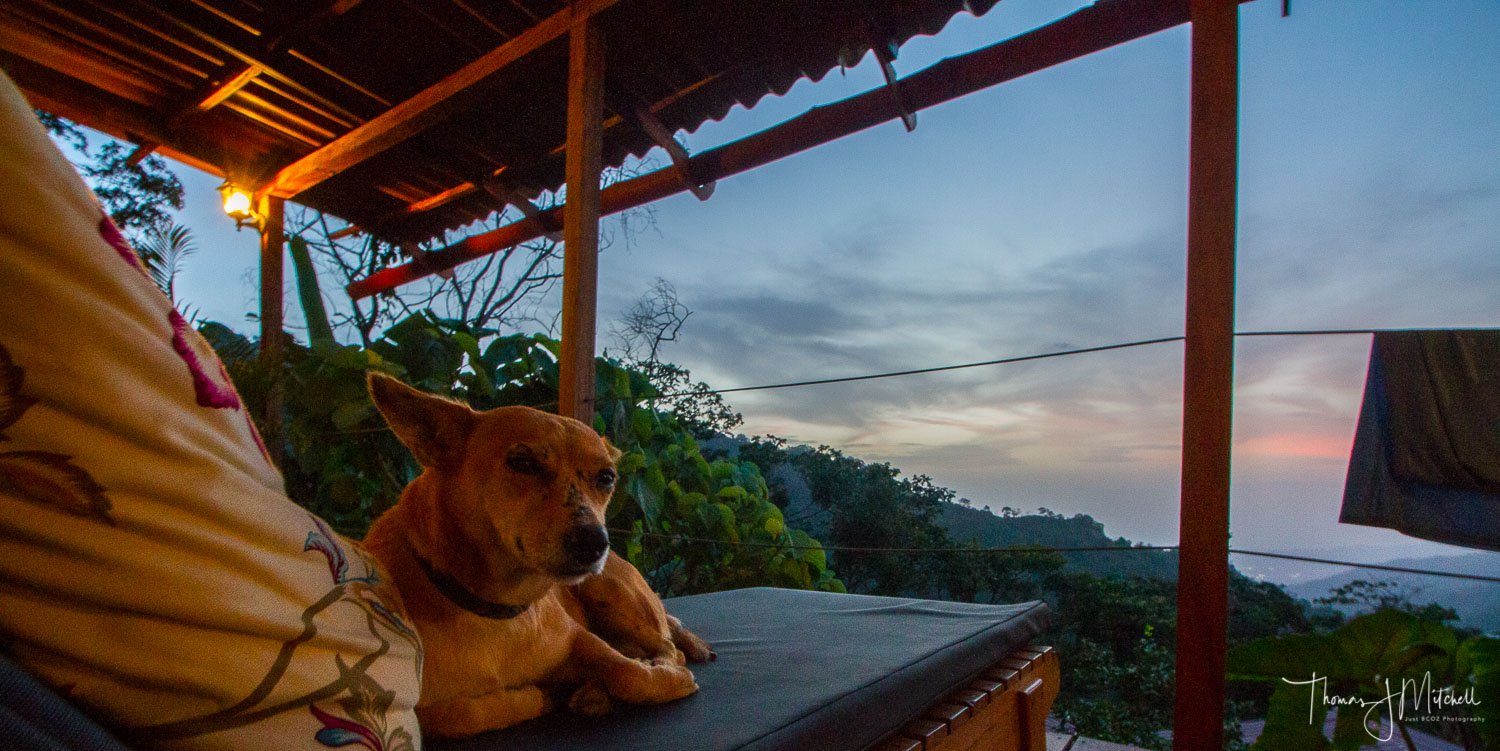 Mona is not a fan of cameras. Whenever, she sees one she becomes quite nervous. This was the best shot I could get of without worrying her and making her feel uncomfortable. Once you put the camera away she becomes a different dog and very affectionate
Click image to view full size
---
Thanks for reading and all the support, Steemit!!

Dont forget to Upvote & Resteem!!!

All stories & photographs are of my own work unless noted under the picture in question.

For more stories and photos check out my Instagram feed

Check out my website - Just BCOZ Photography