It was the year 2013, I was 13 years old and I was about to make one of the best trips of my life and one of two until the moment where I was very close to death ...
A week after finishing classes, my parents came to my room to tell me about an invitation from one of my distant cousins ​​who was inviting me to vacation in their country house on the island of margarita, the house is very big and has a style very pleasant rustic, has a pool and many rooms to accommodate many people, has a farm and more than 16 hectares of land.
The reason for the invitation was the wedding of my cousin's daughter, that is, my second cousin, in fact the whole family was going but I was going to arrive a month earlier to vacation more. I had to get to Caracas (Capital District) by plane in a few days to go to my cousin's house, the one who invited me, and from there I waited for a 5 hour trip by car to the city of Barcelona in Anzoátegui and take a ferry until the island, depending on the type of ferry it took from 3 to 5 hours.
The adventure begins
The day of the trip arrived and with all the papers in order we left my family and I to the airport, it was a rather heavy day, I arrived at 5 to the airport, I take the time to have breakfast and talk to everyone. The plane was delayed until 9:30 in the morning, the boarding begins and I say goodbye to everything and I take good wishes in my mind; I enter the plane and the takeoff begins, I was waiting approximately 45 minutes of flight, I became friends of a group that were also traveling alone and were between my age.
Without realizing it, I was already landing in the beautiful but dangerous city of Caracas, my aunt was waiting for me and helped me with my things, we arrived at her house and then went to my grandparents' house, I stayed there to sleep. The next day it was time to go to Barcelona, ​​I went to my cousin's house and the trip began, without a doubt an exhausting day, we arrived in Barcelona and after boarding the ferry and arrived at the island, I had the opportunity to see some dolphins in the way.
I had an incredible vacation, I did not have any places of interest to know, the couple's bachelor party day arrived, they rented a bus to go to the beach and celebrate all day, the bus was full, drinks of beer, Champagne and other liquors were thrown every time, it was very fun to see, even being practically a boy celebrate as much as the others. It was time to go back and we had a surprise, the party was just beginning ...
The foam party ...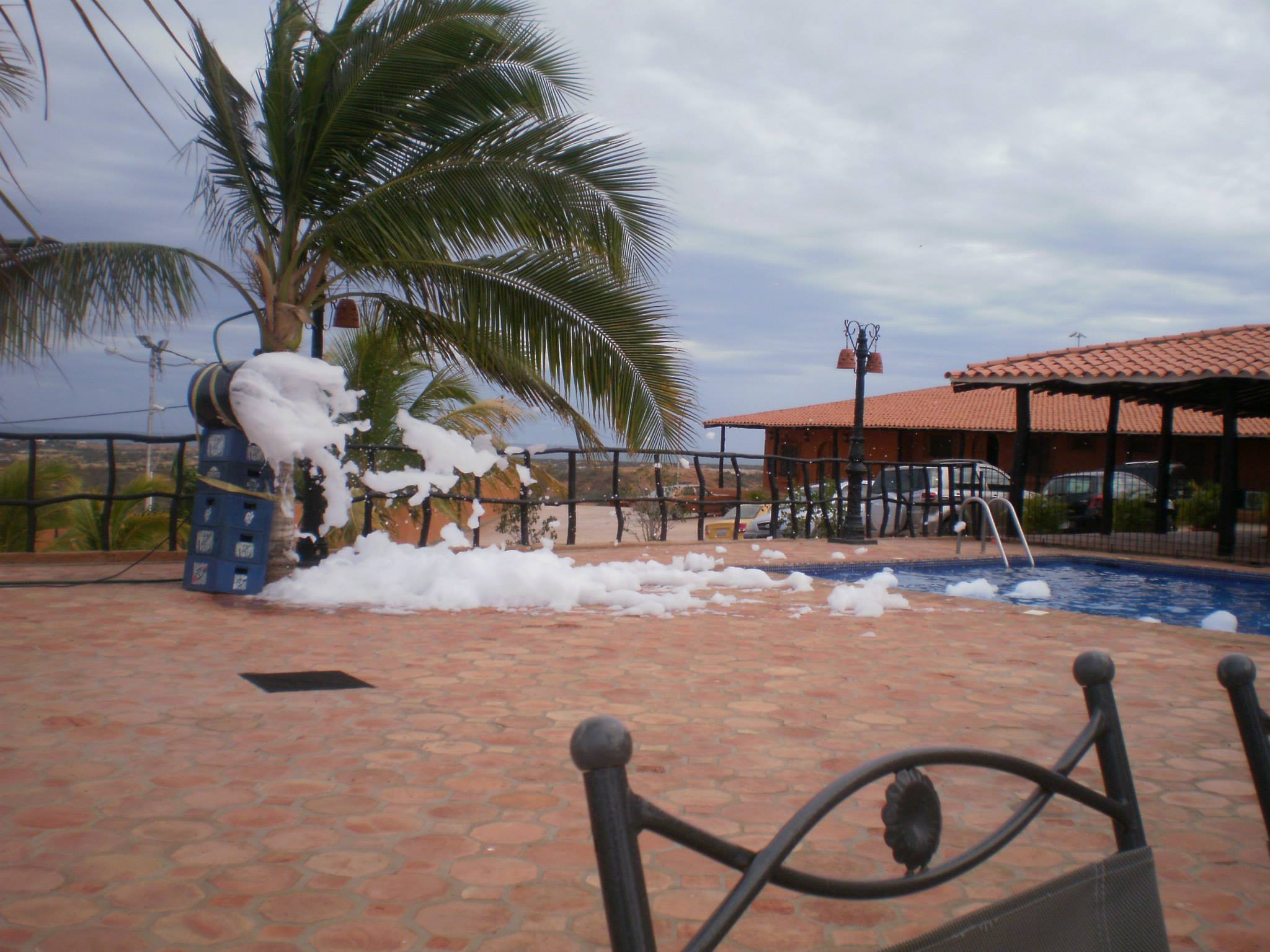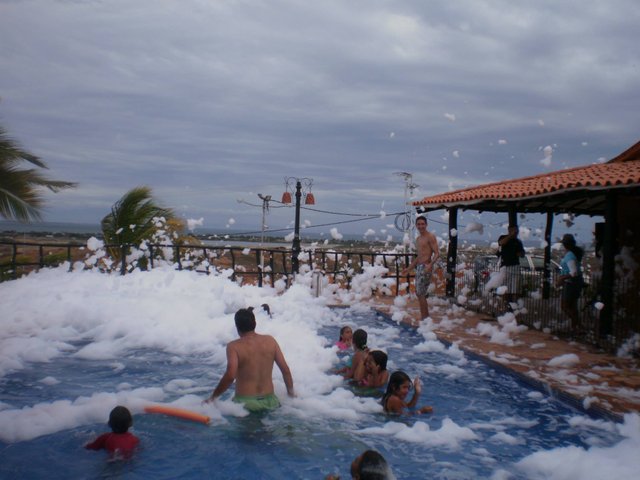 Who would say that something so simple could become so dangerous, that fan with a mesh and soap produced a lot of foam and very fast and clear it fell into the pool and also flew away in the breeze, everywhere there was foam, in the surroundings, on the roof of the house, in the minibar and even in the kitchen arrived.
Night came and there was not much wind so the foam accumulated a lot in the pool, the pool had a depth of up to almost 2 meters and the foam that came out from half a meter to two in the deep and near the mesh and the fan.
It was 9:00 PM and I was walking around the pool, I was close to the mesh so the foam was very high there and to my bad luck, I stepped on a piece of glass in the corner of the pool, I lost the balance and fell to the pool right in the deep part and with very high foam, normally it would be very easy to get out but not only cut my foot a bit and it hurt but when I hit the edge of the pool with the hip, the edge of the pool was of rock, my hip and foot hurt a lot, I had to find an exit quickly ...
Disoriented and in pain the first thing I thought was to swim to the bottom of the pool where the foam did not reach, but I went out to take a breath, since I did not have much in my lungs and what I found was foam, foam was suffocating me and had entered my trachea, now if it was serious, as I could swim and I got near the middle of the pool, went up and again foam, try to clear a little splashing but nothing, I had to go back down, I went back to swimming and I felt a very strong chest pressure, my heart was beating very fast and the foam in my windpipe to make me even more uncomfortable, finally I went up and found everything clear, but I breathed with difficulty thanks to the foam, I took a lot of water and was in shock, I did not want to damage the party so all this I kept it, nobody saw when I fell and nobody knew I was fighting for my life in that pool, I felt that it had lasted 5 seconds more underwater and without doubt I would have lost consciousness or something worse, I came out of the water I saw dark and in a short time I recovered my normal vision.
After 20 minutes of what happened someone of the boys said that the foam is very high and was dangerous and turned off the machine, I was thinking ... At a good time and laughed a little, at least I could get a little humor , I went to my bed to reflect, I had broken my phone a few days ago and I could not tell my friends or anything closer, keep it until today that I share this experience with the world and I really appreciate being here, without However, I have another experience to tell, similar to this since I was on some beautiful beaches, struggling to reach the shore with all my strength, however, that time I thought it would be my end but here I am to tell you.
UNTIL THE NEXT POST FRIENDS!