BismillahirrahmanirRahim
All praise belongs only to Allah Subhaanahu wa ta'ala, King of the universe. Hopefully He always gives strength and patience to us in every footing step on His earth. Next, hopefully greetings and prosperity always poured on Muhammad sallallaahu'alaihi wasallam, the last prophet, the noblest man and his lover whose presence has been gifted for pitch black world as the only example plenary for all living beings afterwards. May salvation also remain abundant
his family, his noble companions, the pious scholars and all the people he never stopped loving.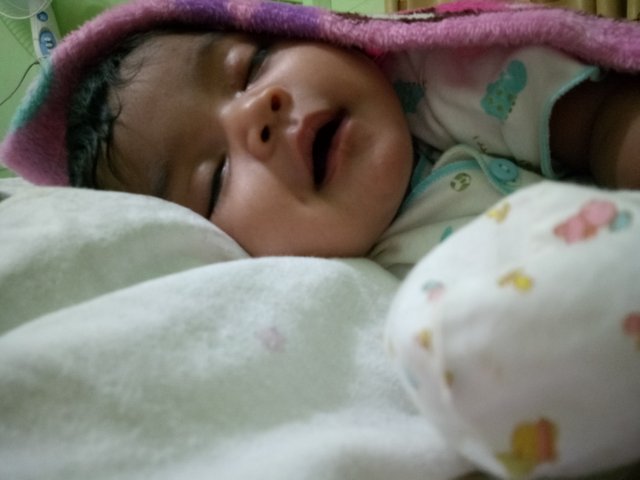 My dear daughter, !!
Look at your breath in your mother's arms during
this, always makes me believe that everything will work alright. Enjoy your soft breath on the cradle, always make me feel comfortable at that moment. Then the time of that beautiful time quickly passed. And age continues just take the allotment. Until the day has changed week, and the moon retraces the year, suddenly new I realized that soon you would get out of my side. Because it's time for you to go. Pick up life
your own. Yes, it's time you should let go
toward new life out there.!
The outside world! Is a place that is not at all
friendly, my daughter. A room where you must be able to stay in the midst of all the threats
will keep blocking you. With the earth getting older and is full of various facilities that should be able to make life easier. But it turns out all that is precisely make the reality of life increasingly chaotic and chaotic. These last days, all forms of violence and the act of jahiliyah has manifested itself brightly? Free association with various backgrounds and the reason has further alienated humans from
ideal life. Mixing between men and women
which hit every inch of the earth has become
ordinary and reasonable scenery. And without anyone knowing it even then, 'fairness' began to show symptoms endanger. Yes, various kinds of negative impacts on ikhtilath culture (mixed between men and women)begin to appear. And again, women like you is the first to experience the consequences, directly or not. Then coverage from various media is only contains soul-breaking news. All are competing ???
race to display the violent and blurry side of the face life. Crime and disobedience in the surrounding environment we are just a matter of time. There is no more place which is really safe. That's how it is! When I return today again looking at the wild world through the window of our house. He suddenly moved my hand to write a few words I want to leave for you. Then only to you dear daughter, I wrote this letter. Together with blessings and outpouring prayers
my love that never dry, I will ask Allah Subhaanahu wa ta'ala -The Owner of every soul-, so always protect you in the shade of safety and His pleasure. Know, that I really love you and don't want you to be defeated by the cunning of the world trap.Finally, congratulations on entering adolescence,
my daughter! Always keep your heart and yourself in every place and time. May Allah Subhaanahu wa ta'ala guide us all.
IMG20180310085115.jpg
Bismillahirrahmanirrahim
Segala puji hanyalah milik Allah Subhaanahu wa ta'ala,Raja semesta alam. Semoga Diasenantiasa memberikankekuatan dan kesabaran kepada kita dalam setiap pijakan
langkah di muka bumiNya. Selanjutnya, semoga salam dan sejahtera selalu tercurah kepada Muhammad shallallahu'alaihi wasallam, seorang Nabi paling akhir, manusia termulia
serta kekasihNya yang kehadirannya telah dihadiahkan bagi dunia yang gelap gulita sebagai satu-satunya teladan paripurna untuk segenap makhluk yang hidup sesudahnya.
Semoga keselamatan juga tetap terlimpah kepada keluarganya, para sahabat beliau yang mulia, alim ulama serta seluruh umat yang tak pernah henti dicintainya.
Putriku terkasih,...!!
Memandang lelapmu dalam dekapan sang ibu selama ini, selalu membuatku yakin bahwa segalanya akan berjalan baik-baik saja. Menikmati lembut nafasmu di atas buaian,
selalu membuat nyaman perasaanku di saat itu. Lalu masamasa yang indah itu dengan cepat telah berlalu. Dan usia terus saja mengambil jatahnya. Hingga ketika hari telah berganti minggu, dan bulan pun menapak tahun, tiba-tiba baru kusadari bahwa tak lama lagi kau akan lepas dari sisiku. Karena sudah tiba waktunya kau harus pergi. Menjemput kehidupan milikmu sendiri. Ya, sudah saatnya kau harus kulepaskan
menuju kehidupan baru di luar sana.
Dunia luar! Adalah sebuah tempat yang sama sekali tak ramah,
putriku.
Sebuah ruang di mana kau harus mampu
untuk tetap bertahan di tengah-tengah segala ancaman yang bakal terus menghadangmu. Dengan bumi yang semakin tua serta dipenuhi oleh beragam fasilitas yang seharusnya bisa
lebih memudahkan kehidupan. Tapi ternyata semua itu justru membuat realitas kehidupan makin bertambah kacau dan carut marut. Hari-hari terakhir ini, segala bentuk kekerasan dan tindak jahiliyah sudah menampakkan diri secara terangterangan. Pergaulan bebas dengan bermacam latar belakang dan sebabnya telah makin menjauhkan manusia dari kehidupan yang ideal. Percampuran antara pria dan wanita yang melanda setiap jengkal bumi telah menjadi pemandangan biasa dan wajar. Dan tanpa disadari oleh siapapun, 'kewajaran' itu mulai menampakkan gejala-gejala yang membahayakan. Ya, berbagai macam dampak negatif atas budaya ikhtilath (campur baur antara laki-laki dan perempuan) mulai muncul. Dan lagi-lagi, kaum wanita seperti dirimu adalah yang pertama kali merasakan akibatnya, langsung maupun tidak. Lalu liputan dari berbagai media yang cuma berisikan berita-berita memiriskan jiwa. Semuanya berlombalomba untuk menampilkan sisi bengis dan buram wajah kehidupan. Kejahatan dan kemaksiatan di lingkungan sekitar
kita hanyalah masalah waktu. Tak ada lagi sebuah tempat pun yang benar-benar aman. Begitulah! Ketika hari ini aku kembali lagi menatap dunia yang liar itu melalui jendela rumah kita. Tiba-tiba telah digerakkanNya tanganku untuk menuliskan beberapa patah kata yang ingin kutitipkan untukmu.
Maka hanya kepadamulah wahai puteri tercinta,
kutuliskan surat ini. Bersama baluran doa restu serta curahan rasa cintaku yang tak pernah kering, akan kupintakan pada Allah Subhaanahu wa ta'ala –Sang Pemilik setiap jiwa agar selalu melindungimu di dalam naungan keselamatan serta ridha-Nya. Ketahuilah, bahwa aku sangat menyayangimu dan tak ingin kau kalah oleh liciknya jebakan dunia. Akhirnya, selamat memasuki masamasa remaja, putriku! Jagalah selalu hati dan dirimu di setiap tempat dan waktu.
Semoga Allah Subhaanahu wa ta'ala membimbing kitasemua.
amin....