When I took a photo of a very old brownish newspaper article on the wall of a coffee shop in a town called Nambour on The Sunshine Coast in Queensland, little did I know that I would be researching for information about an English woman called Miss Victoria Drummond.
I wrote a little post 3 months ago based on a newspaper article. In the little post I concentrated more on Victoria Drummond's strong determined bulldog personality. I recalled that I compared it to my pet bulldog's behaviour. Here is that photo..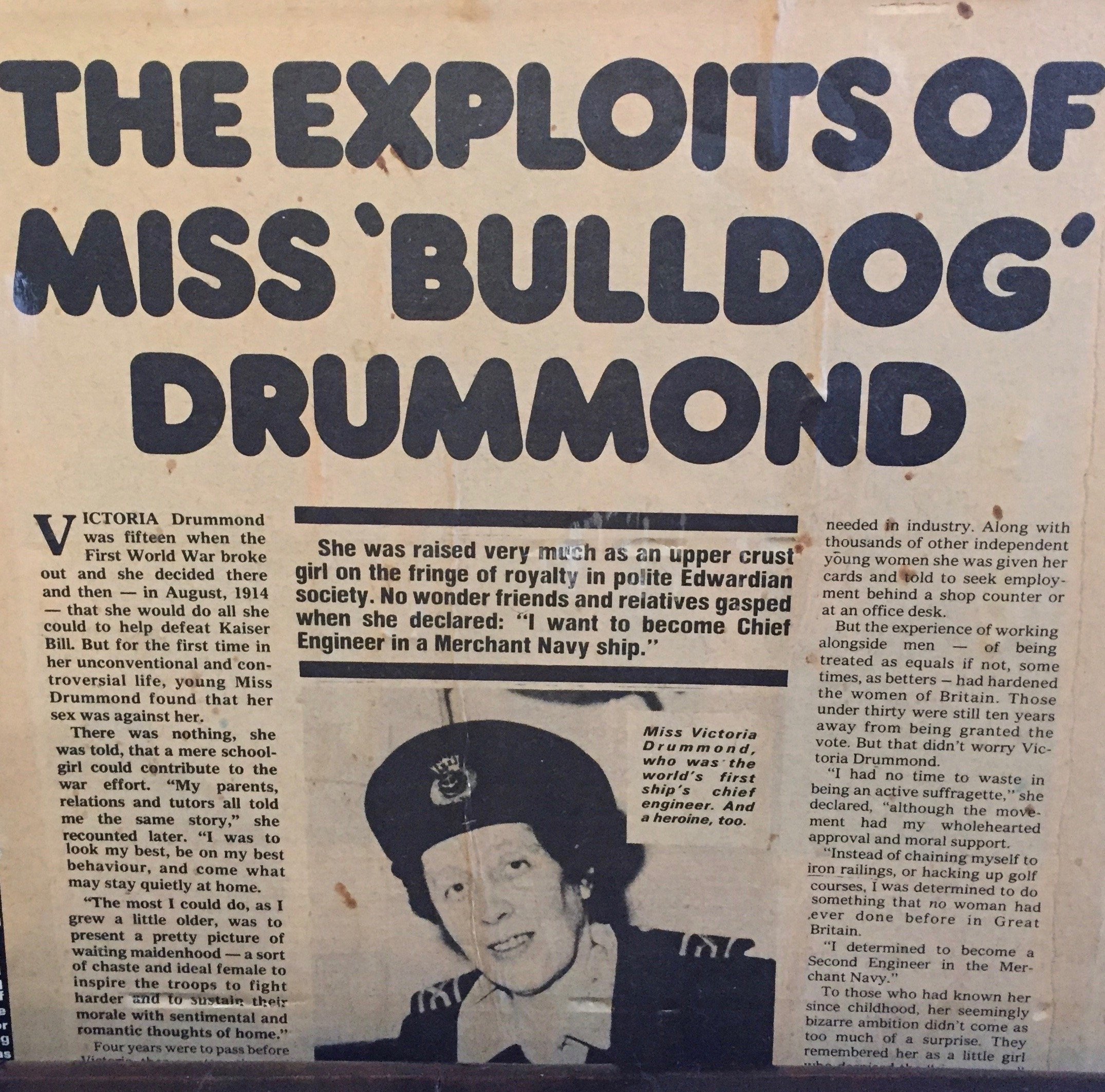 My Steemian friend janton inquired as to whether there was more on Victoria Drummond and even though I thought it was a good idea, I mentally put it to one side for a short period of time. One has to have time to look for the information, read it and then write about it in one's own words. So janton, I had not forgotten - here it is a story about a special woman who is not that well known in this day and age.
Victoria Drummond MBE, was born in 1894 in Scotland. Her parents named her after Queen Victoria, who just happened to be one of Victoria's godmother's. Her father, Major Malcolm Drummond was groom in waiting to the Queen while Victoria's mother had a royal lineage. Victoria had 2 sisters and one brother. In 1915 when Victoria turned 21 she entered into a marine engineering apprenticeship with the approval and help from her father. She finished her training and study in 1920 to then work as an engineer for 8 years at sea in the Merchant Navy. By then she was working as in the position as second engineer.
From 1928 onwards Victoria Drummond had 12 years on shore, due to not getting jobs on ships. During this time she went into business with one of her sisters and repeatedly applied for qualifications as chief engineer which she was continually failed. In sheer frustration she confronted the examiners and found out that it was only because she was a woman. For the war years Victoria could only get a job on foreign ships. it was when she was working on a Panamanian ship called Bonita that German aircraft attacked. It was Victoria's ability to work with engines and her bravery that got them out of being destroyed. The first mate who wrote the following, She seems to be the most courageous woman I have ever saw. She seems to be without fear or nerves, is very good at her job and has an uncanny power over engines.
[https://en.wikipedia.org/wiki/Victoria_Drummond]
This quote appears in her biography that was published in 1994 by the Institute of Marine Engineering. Victoria Drummond received an MBE and many awards for her bravery and engineering skills. However, it was very apparent that it was very much that working on ships was a man's world in the 20's, 30's, 40's and 50's.
Victoria Drummond is recorded to have written about her life in her retirement. Her niece , Cherry Drummond wrote Victoria's biography. Here is the front cover of this book. It is for sale on a number of different sites including Amazon. It is written that the book is rated with 3 stars but no reviews. I wonder how many people have bought and read this book. I would buy it if it was on kindle but no it is not. The only other way to buy it is from England and with the book and the freight it would cost over 50 pounds.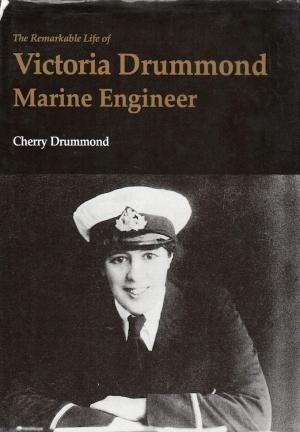 Victoria Drummond was indeed a remarkable woman of her time, she had a career that spanned 40 years and sailed 49 times on ocean going ships. She died in a nursing home in 1978


[https://en.wikipedia.org/wiki/Victoria_Drummond]
---
Cheers
---