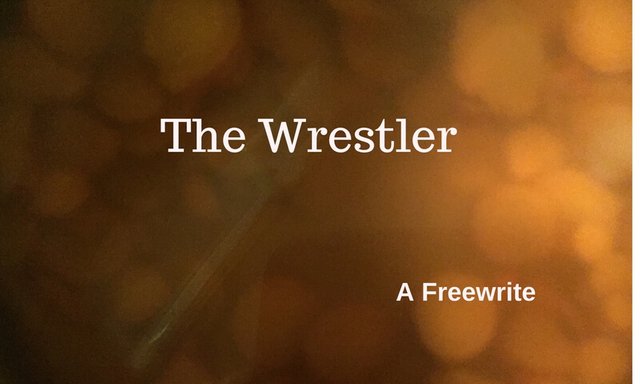 The Wrestler
"And I am writing about this famous wrestler..."
That smell, what is that smell?
"he has had lots of head injuries..."
Arghh, I feel like throwing up. What is that smell? I can't stand it!
"Actually, he has stayed with me quite a few times..."
He surely is intelligent and all of that and his books on Iraq were very interesting, but he is the source of that smell.
Standing in front of me with his black sweatshirt covered in dog hair. Hair every which way. He does look like a bum. But he is a writer, publisher, and editor. That is what he tells me and I do have his books in the store.
He loves wrestling and being an Atheist. One who takes pleasure in arguing with everyone.
Yuck. There are stains on the shirt as well. The other outspoken atheist customer I have also has stains on his shirt whenever I see him. Is it a secret code to recognize each other? I wonder.
His wife comes up to the cash register now too. She is well kept, clean clothes, makeup in place, and works for a law firm.
Usually, they don't come in at the same time and I had no idea that they belong together.
How can she stand the stink?
"I was just telling her that I want to bring Dan to the store," he said to his wife.
Then to me. "He had too many head injuries in his wrestling career and can't think much anymore. But he could help you in the store."
I just smile at him like a good shopkeeper does. Always keep smiling.
                         _ _ _ _ _

This is a freewrite from the prompt dog hair. Find the post here.
And an entry to the 300 words story contest hosted by @swissclive. You can still join until January 8th

Join us for the daily 5 - Minute Freewrite. Check my profile for a new prompt every day.

All images are my own unless otherwise cited.

My recent posts
Battling Cancer with the Gerson Therapy
If you find a post after the seven days, please consider upvoting a more recent post.