15% All Time Returns, In Just 5 Months
Its been a while since I last posted. Hello again. Posting is something I'm not the best at, so I've been sticking to the comments section as well as doing some development. But I'm back because today is an exciting day.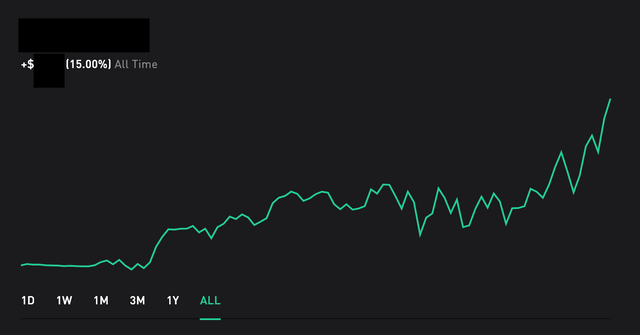 Some exciting stuff since I last posted, I'm up an even 15%. Isn't that nice? I love nice even numbers and this feels great. In the two months I hadn't posted for, my portfolio had changed as well.
I sold off Nintendo. Right after buying it, the price of it went down and it stayed below my purchase price for quite a while(I purchased quite near the 52 week high). The second it went above that, I sold it. While it might do good, I knew I could use that money better in other areas. I saw that ford was sub $9 and started day trading that. Bought it below $9, sold it above $9. That went quite nicely. Small profits do add up quickly.
Shortly after that, I sold off my holdings of SNAP on a Friday, and held the funds as cash. Just had a bad feeling for the weekend. And I was right, come Monday, SNAP dropped quite a lot. Rebought them and held them for some time till I sold them off again today for somewhere around 6% gain. Quite nice.
Also did a day trade on CHK today, for a small profit of $0.01 on each share(adds up quite nicely with a large amount of shares).
My holdings today aren't that similar to last time. I still hold MSFT as I do believe that it'll do well in the future thanks to Azure as well as the public having a bit of a better picture of them than FAANG(from what I read). I also bought O today. Read that they are have been growing slowly, plus their monthly dividend is nice. I also bought NET as I use cloudflare myself and do believe that it can do well. I see more and more sites using them(including steemit.com) and understand that for large corporations, the protection offered by cloudflare can definitely be worth it.
On the other hand, my acorns is up 1.77%. Hmm, I seem to be doing better than those professionals. Haha, but I do think that if stocks suffer massively, it should drop less than my robinhood because of its exposure to more things including bonds.
If you like what you read and want to try investing yourself, why not join robinhood using my referral link and trying it yourself? Just click here. You get a free stock for doing so.
Or if you want, you can join acorns as well. Click here for that. If 3 people sign up this month(September), I get a bonus $100, and don't you wanna help me make a bonus $100? Plus you get a free $5.
Please don't take anything I say as financial advice. I don't think I formatted anything as advice, but if you think I did, do your own research before doing anything.