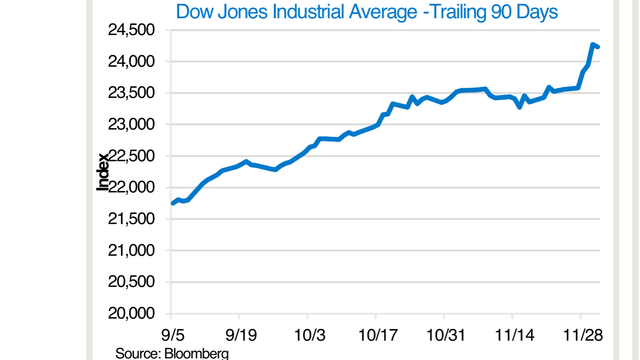 This week saw another decent return in the US capital markets. Similar to other weeks, politics continue to play a large role in the market direction. Republicans believe they are close to delivering on the promise of tax cuts/reform which could get passed as soon as next week. This made the markets run, but the news of former national security advisor Michael Flynn pleading guilty to lying to the FBI about contact with Russian government officials caused the markets to backtrack. There are lots of opinions about the tax cuts being proposed by Republicans, but the broad consensus is now that most most middle-class families will benefit thereby giving a boost to the economy through growth. The US Governments anticipated revenue is being factored on expected growth, so if growth does not happen, the US national debt to continue to increase, which will eventually need to be addressed and likely cause a reversal in the stock market outlook. The Dow Jones industrial average hit all-time high closes for the 64th time this year.
In major economic news, Cyber Monday was a big day for online retailers, and records were broken once again for the largest single day sales for online retail, this year hitting $6.6 billion.
I continue to remain fully invested.
Good luck out there,
Brian