Wall Street Secrets Revealed #5 - Timing The Next Market Crash Using Margin Debt As An Indicator – Part 2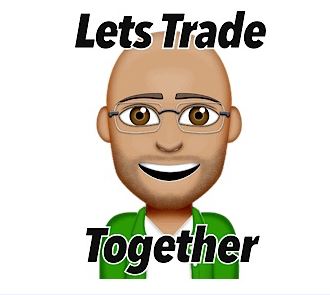 Two months ago, I talked about using Margin Debt to time the next crash.
Wall Street Secrets Revealed #5 - Timing The Next Market Crash Using Margin Debt As An Indicator
In the post I stated borrowing by investors in January 2018 stood at an all-time high of $665.4 billion. Some market watchers use margin debt as an indicator to anticipate market downturns. So it wasn't any surprise to these market watchers that the Markets fell by 10% and entered correction territory in February.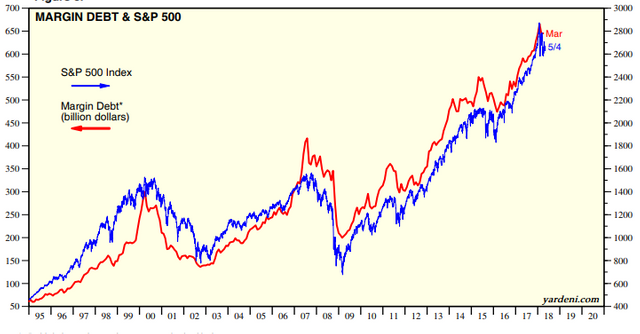 Source
As you can see the margin debt has increased over the last 18 months.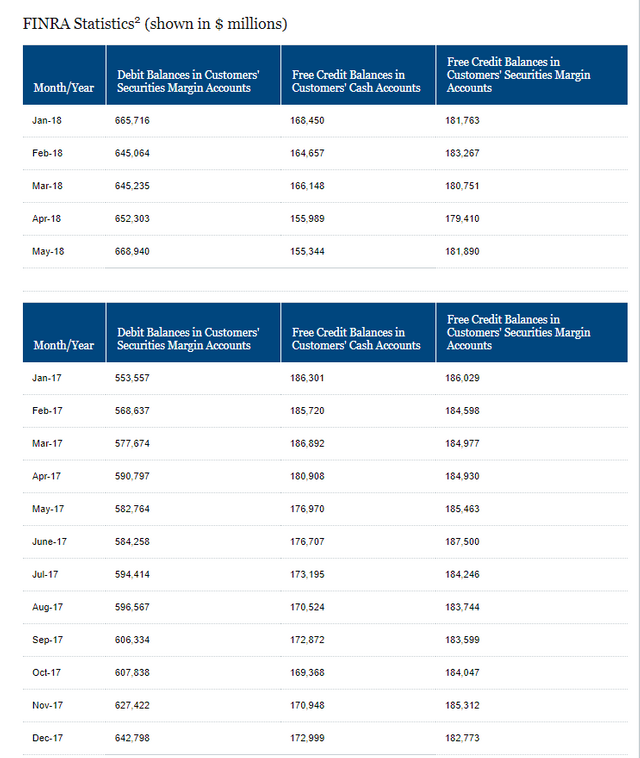 Source
Margin debt allows investors to make investments with their brokers' money. But if the trade turns against you, the brokerage firm can sell your securities without notification or even sue if you do not fulfill your margin call. A margin call happens when a broker demands that an investor deposits additional money or securities so that the margin account is brought up to the minimum maintenance margin. The purpose of a margin call is to protect the financial condition of the broker.
However, in China, it's a different story. Where the government puts restrictions on how much the brokerages can protect themselves.
Chinese brokerages are sitting on more than $240 billion of loans that grow riskier by the day as the country's equity market tumbles.
Extended to company founders and other major investors who pledged their shareholdings as collateral, the loans amount to 103% of Chinese brokerages' net capital, up from 16% in 2013, according to Morgan Stanley. Losses on the debt could wipe out 11 percent of the industry's net capital, analysts at the U.S. bank wrote in a report this month.
A $2 trillion selloff since late January is rapidly eroding the value of brokerages' collateral. Write downs appear increasingly likely as a regulatory clamp down on financial risk squeezes borrowers and government restrictions prevent brokerages from moving quickly to protect themselves by liquidating pledged shares.
Source
According to a Morgan Stanley analyst, the loans outstanding won't cause a market crash in China. I say it won't cause a crash, but it will be additional fuel place on the fire.
NOTE: China is already in a Bear Market and price crossed my line in the sand at $3000, so I expect price to continue to fall.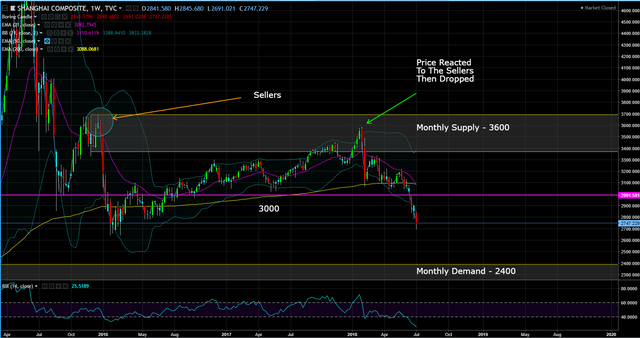 This post is my personal opinion. I'm not a financial advisor, this isn't financial advise. Do your own research before making investment decisions.

---
Published on



by rollandthomas
---