After putting Sticky to bed, Sticky's dad can finally turn off the light and get some action.
It has been a long day and Sticky's mom is tired. She is out cold in three seconds. Sticky's dad is about to fall asleep too when suddenly Sticky walks in the room.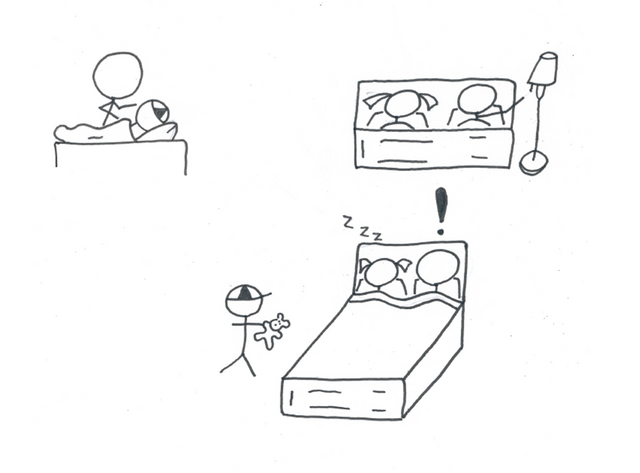 Sticky says, "Teddy can not sleep. Can we sleep in your bed?" Sticky's Dad is not getting out of bed again. It is an endless cycle. He gives in and let's Sticky sleep on his bed.
Do you think Sticky's Dad made the right choice?
In Korea especially it is more common to find that kids still sleep in their parent's room. In America all the kid's I knew had their own room or shared a room with a sibling. I would never imagine a kid using their parent's room, but in Korea I meet people at work and at church who live in one room and have kids.
I don't know which is better for development. Allowing the kid to sleep in the room may help reduce anxiety but on the other hand the parents get less sleep and less sex.
Little Sticky doesn't seem to mind as long as he can cuddle up with mom and dad. This was unheard of for me growing up in Chicago, but in Korea it is kind of a normal thing. Another cross culture struggle I run into in my daily life.
Part two is coming soon.
Love,