Last year I hooked an art project I helped create onto the Steem Blockchain and with the spring on the northern hemisphere the whale is back sprouting!
The SteemWhale is a life sized (60 feet - 18 meters) sperm whale which sprays its sprout when you donate some steem (all proceeds go to an ocean related good cause - tbd when steem moons again :D) to it during it's CET daytime operating hours.
In return you will see the fountain spray for you on the livestream (20 second delay approx) and you will receive a gif imgur link with your username and recording from the stream as a thank you. (please note today seems quite foggy).
Here is my latest gif(t) from the Steemwhale, which I generated yesterday by donating 1 Steem!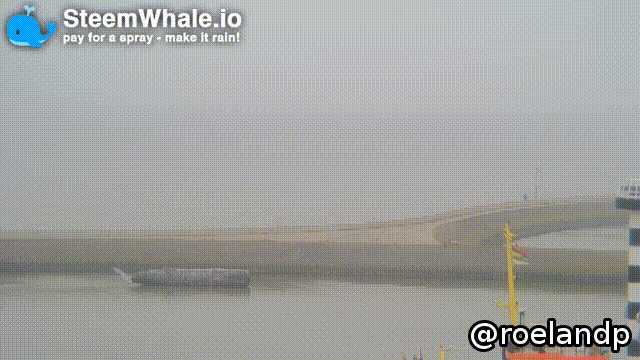 Around november last year, right after SteemFest actually, the whale went into hibernation, for it's wintersleep. This was used for reviving internals and also the machinery and computer powering this all.
Now with official spring solstice, the whale has come back to sprout and is ready for your donations once again.
Steemwhale spring updates
Hardware updates:
we have added a nightly reboot to the router so it should reset every night, making longer outages a thing of the past. Additionally internals have been revised, as those 8 bars of pressure resulting in the 8 meter high spray gazillion times a day took its toll on the cannisters and valves.
Software spring cleaning also happened: I've upgraded the SteemWhale.io website by adding:
Pay for a spray?
The Steem Whale operates between 09:30 and 21:30 (CEST). As days get shorter the whale will go into sleepmode once dusk has set. Just check the website
https://steemwhale.io
for the livestream and actual operating hours.
:wave: from Thailand! (yes some of you guessed it right in the comments under my previous post)
yours on the chain,
@roelandp
Ps. If you like what I am doing here, consider a witness vote for '@roelandp' - Thanks!