We already know together that the Steem community has proven to be the best decentralized platform community. With a variety of reasons built into Steemit, community strength also influences the creation of various applications built on Steemit. This is to meet the needs of every Steemian that has many interesting potentials. Every potential is now able to be channeled in different Steem Blockchain based applications.
Now is the time for you to answer a question from Justin Sun about the name of the best decentralized community platform. This is the link Justin's Tweet: https://twitter.com/justinsuntron/status/1068641844165206016
Please Replay the Justin's Tweet with Steem. You should also add your reasons why Steem is the best platform for a decentralized community.
Post the proof of your response to Justin Sun's Tweets using the #steemtron tag.
If you successfully complete this very simple task, share your post in room #share-your-promo-post on the Promo-Steem Discord. And, you will receive a vote from @Oracle-D.
Then, this my proof about this task!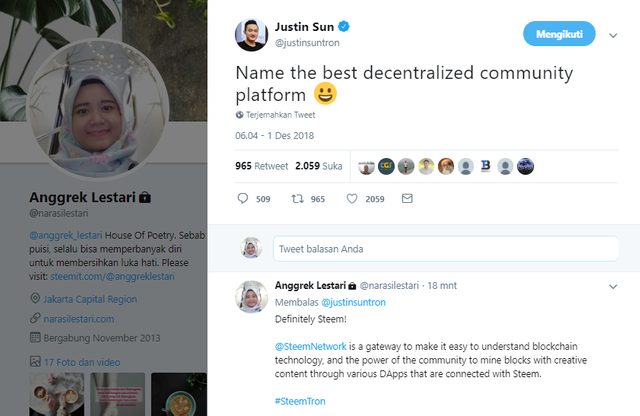 ---
---
---
Berikan Balasan Twitter Anda untuk Membuktikan Kekuatan Komunitas Steemit
Kita telah mengetahui bersama bahwa komunitas Steem terbukti menjadi komunitas platform desentralisasi terbaik. Dengan berbagai alasan yang dibangun di dalam Steemit, kekuatan komunitas juga mempengaruhi terciptanya berbagai aplikasi yang dibangun di dalam Steemit. Hal tersebut untuk memenuhi kebutuhan setiap Steemian yang memiliki banyak potensi menarik. Setiap potensi kini mampu disalurkan di dalam aplikasi berbasis Steem Blockchain yang berbeda-beda.
Kini saatnya pula Anda menjawab sebuah pertanyaan dari Justin Sun tentang nama "the best decentralized community platform". Berikut ini link-nya: https://twitter.com/justinsuntron/status/1068641844165206016
Replay Tweet milik Justin Sun dari TRON tersebut dengan Steem. Sebaiknya tambahkan pula alasan Anda mengapa Steem adalah platform terbaik untuk komunitas terdesentralisasi.
Posting bukti dari tanggapan Anda terhadap Tweet milik Justin Sun dengan menggunakan tag #steemtron
Bila Anda berhasil menyelesaikan tugas yang sangat sederhana ini, bagikan postingan Anda di room #share-your-promo-steem-post pada [Promo Steem Discord]https://discord.gg/jCrRzhH). Dan, kamu akan menerima vote dari @Oracle-D
Inilah bukti bahwa saya telah memberikan Replay Tweet saya untuk membuktikan bahwa memang Steem menjadi komunitas platform terdesentralisasi terbaik.