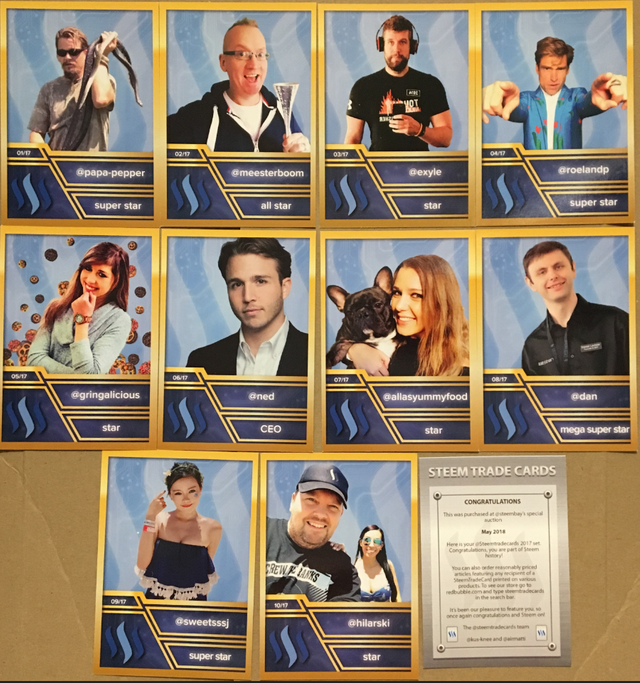 It's been almost a month since I saw this post
In it, @kus-knee was auctioning off 5 sets of
!!
Since I've been on steemit since July 2016, I thought it would be cool to have this piece of memorabilia to show my Grand Kids what the humble beginnings of steemit were like. So, I participated in the auction. All I needed to do was place in the top 5 in order to receive the cards. In the end, the winners of the auction were @gamsam, @gikitiki, @jlufer, @evimeria and @exyle.
The Wait has Ended
In a beautifully detailed envelope ...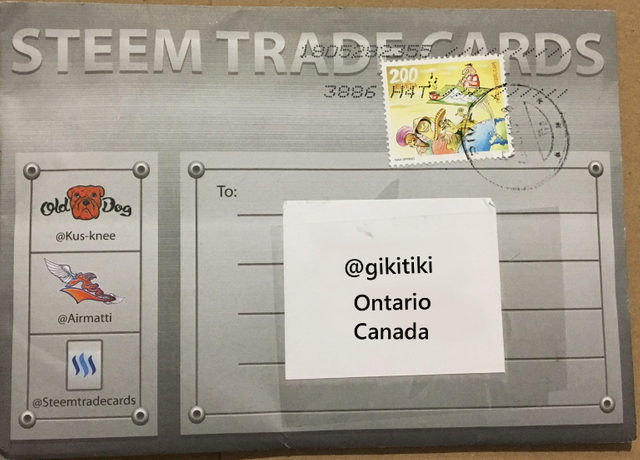 There were 10 cards, each with the bio of some of the steemit superstars .
---
What to do ?.?.?.

When I first joined steemit, before many game changing hard forks, I was planning on simply curating and mining. So I spent a lot of my limited free time reading post and commenting. I had a steem miner running for a while, but I found Ethereum mining much more rewarding, so I turned my attention towards it. But I still read an awful lot of posts.
steemit is a community
As with any community, we tend to follow the folks we relate to. Over the next couple of days, I'm going to try to write some posts with my thoughts on the folks on the cards.
In no particular order, this is what I think of when I think of ...
I've read most of
@roelandp
's posts, but everyone knows him as the Host with the Most for Steemfest. For whatever reason, this reminds me of my gnome who I call "Gnorat" (Gnome + Borat).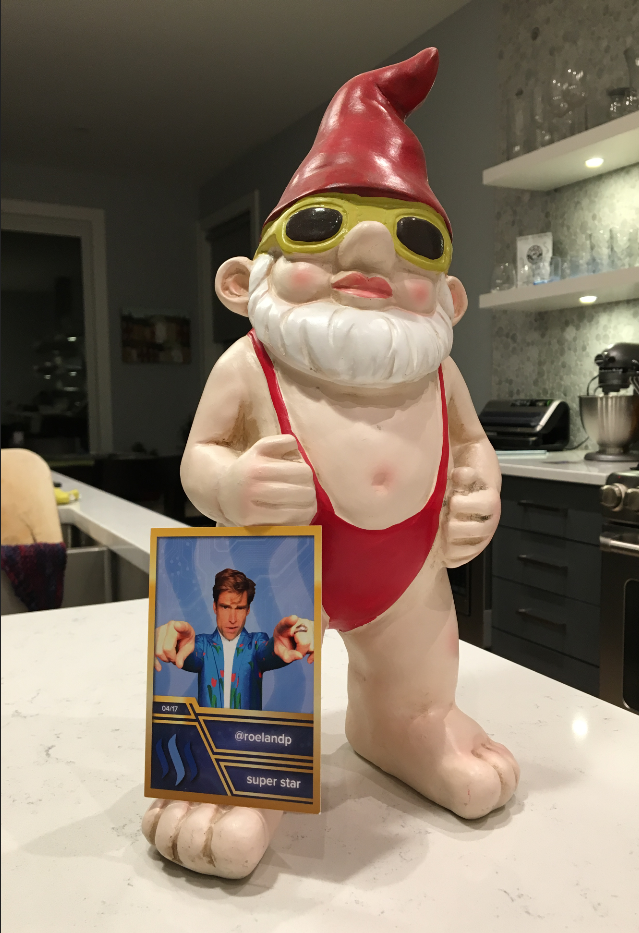 Just before I got married (just over a year ago). I saw these gnomes in the local hardware store. I laughed as I put them in the shopping cart. Each of the bridesmaids and the groomsmen received one. Whenever I go over to visit one of them, when I see Gnorat, I think that any person who can tolerate having one of these in their front yard has a sense of humour and knows how to have a good time.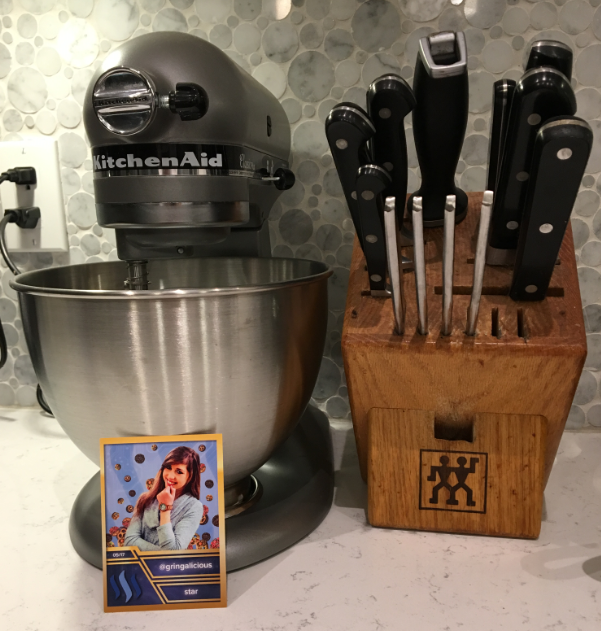 @gringalicious
is one of the hardest working steemians I've followed. Her skills in the kitchen are only rivalled by her skills with setting up the perfect shot with her camera. Every post is worthy of being published in a magazine.
I instantly thought of my kitchen for her. (That sounds horribly sexist, but I guarantee, it's not intended to sound that way). Way back in 1993, when I graduated from high school, my parents asked me what I wanted as a graduation present. I decided that one of the most important things I needed in my life was a good set of knives.
They went out and purchased a set of Henckel "Professional S" knives. I've used them almost every day for 25 years and they've only needed to be sharpened about five times. The block is the original, only the steel and the steak knives have been replaced.
The other powerhouse in my kitchen is the KitchenAid mixer. It's not just used for mixing up batters and marinates, I also have the attachments to make fresh pasta, homemade sausage, shredded veggies an cheeses.
When I first started following
@papa-pepper
, he was drawing "The adventures of the last Big Foot". His posts were always interesting to me. Especially when he started talking about homesteading.
I grew up in a small village(population < 1000). Our house was located at the outskirts of town. My neighbours on one side were suburban, the neighbours on the other side were what I guess would now be called "homesteaders". They lived on larger plots of land, had chickens and livestock and had enough crops to feed those animals, but weren't farming for profit.
One such neighbour was
Andy was a metal sculptor. He finds (or is given) found metal scrap (everything from railroad spikes to shovels, bicycles, snowmobile skiis etc etc) and he fashions them into quite amazing art.
One summer, I had the opportunity to work for Andy and it was amazing how much I learned. Below is a metal turtle that I made (under Andy's supervision) that is made of old horse shoes, metal punching, and old latch and railroad spikes. I felt that @papa-pepper would appreciate the reuse and the design.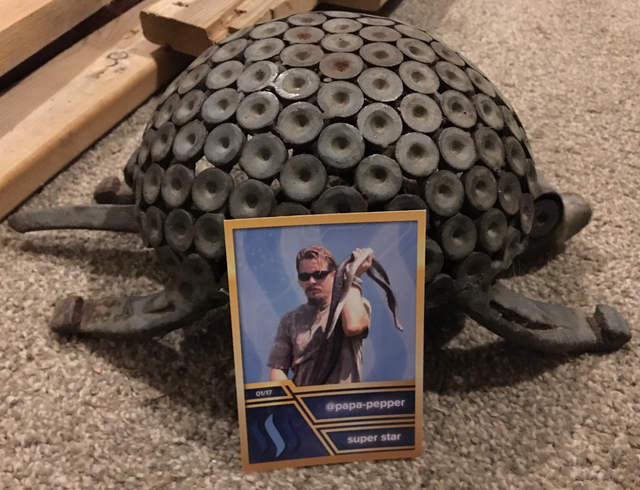 proof-of-papa-pepper-on-metal-turtle
I was following
@meesterboom
from the days before "Thursdays with Meesterboom". I really appreciated his sense of humour.
Back in 1996, I started working at a high tech company on Toronto, Ontario. For those that remember high tech at the time, the problem wasn't getting a job, the problem was finding a place to site. The company I started at had 6,000 employees, but they had basically ran out of room. As the low man on the totem pole, I had to share a cubicle with a Glaswegian!
Not only was he a Glaswegian, he was an older Glaswegian (55+). Across the aisle from us was another similar aged Glaswegian (best friends) ... but ... one was a Rangers supporter, the other was a Celtics supporter. The rivalry was fierce. The curse words were legendary. If we went out for a wee pint, I couldnee unda-stan a word thee was sayne. But they had me very interested in Scotland.
In 1998, I had to travel to Scotland for business. I had the luxury of travelling with the Celtic supporter. I'd never seen him work so hard. We finished a 5 day job in 2.5 days. Then, off we went to Glasgow. On one of the first nights, we were invited to a Masonic Temple (he was a mason). At that event, I was asked if I like malt. I incorrectly replied that I preferred Canadian Whiskey over Scotch. That did not go over well. I later found out that I was talking to the assistant distiller of Oban. However, after tasting many malts, I decided that I really liked the MacAllan. Before that trip was over, I had a bottle of MacAllan 18yr in my luggage. Since then, I have only had a dram on special occasions.
Cheers to you @meesterboom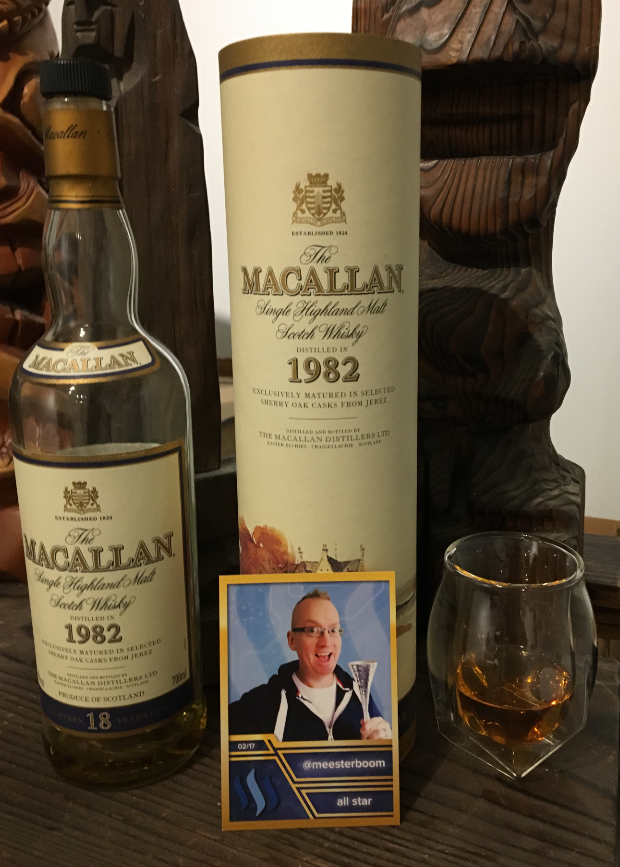 ---
The Rest will Follow