Which book would you prescribe to your studens?
The book I would prescribe is a self-help book titled "WHO MOVED MY CHEESE?" written by Spencer Johson, published in 1998, I would recommend it not only to students but also to those people who never dare to take new steps for fear of what it may cause, this book helps us to motivate ourselves and see problems in another way and know that the worst is not always to come. For those people who have not read this magnificent book here, I give you an abbreviation of what the little parable contained in the book is about.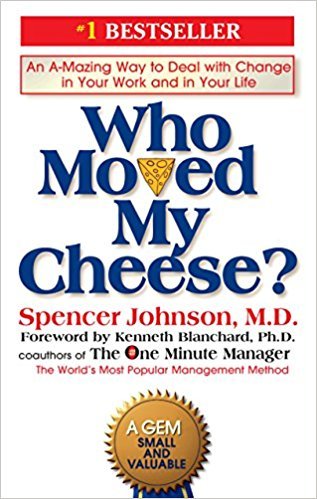 The narrative features four characters that are two small mice (Fisgon and Escurridizo) and two friends who were small people (Hem and Haw) who enter a labyrinth in search of their beloved cheese. For the mice (Fisgon and Escurridizo) their search was very simple because they were looking for a simple cheese, while Hem and Haw looked for a cheese that was not so simple and that made them feel comfortable with life. Every day they went to the labyrinth in search of that dreamed place and arrived exhausted to their homes, until one day they found a deposit full of cheese called Cheese Q. The 4 characters that found this deposit were very happy and walked every day from their houses in the labyrinth where the Cheese Q deposit was located to meet their needs, so they had fun. One day, when they returned to the store as usual, they were surprised because the cheese had disappeared; The first to realize what happened were the mice that inspected the place immediately and were carried away by their instinct of rodents and went to look for cheese elsewhere in the maze, while Hem and Haw came to the place to mourn and every day they went back to Cheese Q to see if anyone would return their beloved cheese.
Hem proposed Haw to go to another place in the labyrinth where there was a new cheese, that if they stayed there they would not solve anything, they would die of hunger, but Haw categorically rejected Hem's proposal, his fear did not allow him to think and he always exclaimed who He had taken his cheese and someone had to return it. Clinging to that deposit where there was no hope; Hem decided to venture alone in search of a better place where there was a lot of cheese while walking through the place, he left small notes about the cheese, until one day he found another deposit that filled him with great emotion, but when he entered, his hope He fell because he found him without anything with only a few pieces of cheese that the mice had probably left, so Hem thought that if he had acted fast instead of lamenting with his partner in that place, maybe now his stomach would not be so empty ; Hem took some of the pieces of cheese and, with a bit of luck, decided to go back to Cheese Q to encourage his friend to go out and find a new cheese, but the trip was in vain because Haw did not want to understand it or access it for fear. Of the risks, Hem decided to risk himself and, as always, he left his little notes while crossing the labyrinth.
After several days Hem found another deposit called "Cheese N" where were the small mice (Fisgon and Escurridizo) that by their appearance had time in the new place, Hem decided to try their favorite cheeses and then thought of his great friend Haw and thought in going out to look for him, but then he understood for a moment that it would be useless because he had already tried and had not received a positive response from his friend, he only hoped that one day Haw would feel encouraged to leave that place and, that the notes written by Hem on the walls of the labyrinth serve as a guide for Haw. After this lesson, Hem had to reflect on what happened and, since then, Hem travels to the place where he is and studies to know when to go in search of a new cheese and is always determined to take new risks without being paralyzed. For fear of what may happen.
Why? Who has moved my cheese? It would impact its readers
¿WHO MOVED MY CHEESE? would be very impressive for the reader because at the end of the reading we would immediately identify with any of the four characters in the parable. Many would be Fisgon and Escurridaizo who acted instantly or as Hem who after thinking it realized at the time of the serious mistake he was making, or as Haw who stalled due to his fears and did not want to do anything about it.
In the students This reading would help them to understand and think well about the decisions they make in their lives after graduating, in other people it would help them see things more clearly and understand that there is always a solution when we run out of our cheese. It's never too late, as long as you're open to new changes because the changes are not always bad and you'll see that it's worth taking the risk.
If you never read the book ¿WHO MOVED MY CHEESE? or you have never been told about it, I invite you to visit this page where you can read it and discover what character you are in the story.
Spanish Version
http://www.librosmaravillosos.com/miqueso/pdf/Quien%20se%20ha%20llevado%20mi%20queso%20-%20Spencer%20Johnson%20.pdf