Interviewing the SteemSTEM Language Curators! - @Carloserp-2000
---
The SteemSTEM Curators
---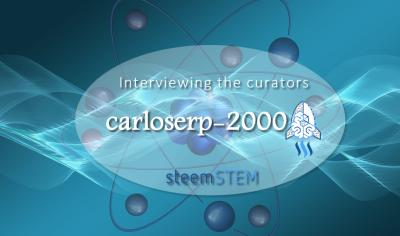 What do they do? Well, their tasks include searching for new STEM authors, evaluating and reviewing STEM articles, conducting thorough searches for plagiarism and suggesting whether or not a STEM article should be upvoted and supported by @steemstem.
---
A community gets bigger and stronger as its members work together, get to know each other, learn from each other.
---
---
In this post @carloserp-2000 is interviewed by @kingabesh!
A man with a passion for STEM in general but with a bit more flair for the physics of semiconductor compounds in particular. Carloserp-2000 is definitely a man we all look forward to knowing.
If you have any extra questions or thoughts, feel free to let someone from the PR team know!
---
Let's Go On With That!
---
Q - Hi Carloserp-2000, thank you for taking the time to reply to our questions! You are one of the very serious industrious people of StemSTEM! Would you please let us know a few things about yourself: What is your real (first) name? What do you do, where are you from, how long
--- Hello kingabesh my name is Carlos Pagnini. I am from a small town in the Venezuelan Andes. I studied at a prestigious University in my country, specifically the University of Zulia. Currently I work as a researcher, although I do not have much work at the moment. I have about 1 year and a half on Steem, I discovered it thanks to some friends of the University. I like to play sports, I am a soccer fan and the rest of the time I try to share as much as possible with my little daughter Sophi.
Q - How long have you been a language curator for SteemSTEM?
A - I started in January 2018 with the birth of the Spanish-speaking sub-community (@stem-espanol)
---
---
Q - Do you curate only Spanish language posts?
A - Yes, I'm only in charge of checking the publications in Spanish.
---
Q - How and when did it all start?
A - At the end of 2017 I sent a DM to @mobbs and asked if there was the possibility of creating a Spanish-speaking sub-community, because there was a large community of users, and he immediately responded that the idea was very good. He got in touch with @justtryme90 and @lemouth to get their opinions on my proposal. After a few weeks, I received a response and we started the conversations for about 3 weeks. They told me I needed a co-worker. After much planning, STEM-Espanol was founded.
---
Q - What do the Spanish-speaking authors prefer to write about? Are there significant differences in the topics chosen, between other nationalities and articles in English?
A - Sincerely, it is a very varied community, most of the posts are medicine, chemistry and engineering. Although we also have some very good authors in math, biology and of course physics.
The difference with the publications of other nationalities is significant, the authors of STEM-Espanol use a very technical-scientific language, that's a positive thing, but I always recommend that they try to write as digestibly as possible, so that readers can understand the content. And this advice has been useful!
---
Q - What is the first thing that you take into consideration when curating?
A - Unique content, easy to read. With the time I have been a curator, I already know many respected users, most of them are scientists with doctorates, they always write about the area in which they work and they are great articles. Necessarily, the post should not be about any experiment or field work, it can be a personal interpretation of any specific topic. That is why any author can be encouraged to write in STEM as long as their content meets the established standards.
---
Q - Tell us something that really gives you a great first impression when you see a SteemSTEM post. (It could have to do with the chosen topic, images, structure, lay-out etc)
A - The title of the post is very important, a good title calls your attention. Immediately after clicking on the publication, I check the images if they have their licenses and the references at the end of the publication. For me, grammar and spelling are very important, if a publication has flaws with accentuation and spelling errors, I lose interest immediately. Spanish is complicated, but there are many corrective text programs that can help users. And as I mentioned in the previous question, it is important to understand a publication, to have fun reading its content. The idea is to convey the message to a wide audience, it is fabulous when a doctor understands a publication about physics. This translates into a great reward for the author.

---
Q - Do you have a favorite scientific topic that you have fun reading and reviewing over any others? Do you get a chance to read often about it?
A - I like publications on pure sciences, physics, chemistry and mathematics. But I love learning new things, lately I'm reading a lot about medicine and I've known fabulous subjects. When a publication is well written that does not come from Wikipedia and the content is perfectly transmitted I am HAPPY.
---
Q - Tell us something that really makes you disappointed or angry when you see a SteemSTEM post. (It could have to do with the chosen topic, images, structure etc)
A - I think all the curators are bothered by plagiarism, and I'm no exception! However when a subject is very good and interesting and the author does not work enough to provide good content, that is disappointing! The authors must take advantage of the content and convey their ideas, they must stop being something peresozos and work harder.
---
Q - What would be your advice to both the old and new authors who wish to join SteemSTEM but do not know where to start? Do you have a channel for Spanish Speaking STEM authors?
A - For the ancients, they should continue to publish excellent content, although it is always important to renew so that the readers at some point do not feel bored.
For new ones, share content with which you feel familiar, things that you love, that you master perfectly. Also perseverance and humility is important. Many new authors get upset because their articles are not supported and they begin to criticize our work, without first asking what they are failing and how they can improve.

We have our official channel in discord https://discord.gg/Fef7p2m where you can go and share your concerns with the curators and collaborators, they can help you improve. They can also talk about any specific topic and have fun interacting healthily.
---
---
Q - What is the meaning of your username and if i may ask, why does it have 2000 attached to it?
A - After my name are the initials of my middle name and my two surnames. The 2000 is the name of the favorite video game store, I spent hours playing, my mother very upset, always went to the store to find me because I had to go home to do my homework from school hehehe :P.
---
---
Q - The physics of semiconductor compounds. Can you throw more light on this? Maybe let us know why you find this worth researching and writing on ?
A - It is a very broad and interesting field of physics. In particular I enjoy conducting experiments with semiconductors always looking for new results that can be translated into future applications. In my country we have excellent professionals in the area always looking for new compounds that help us solve problems such as electricity. We all know that renewable energies are the future and semiconductors play an essential role in these energies.
---
---
Q - If you could interview anyone from SteemSTEM, who would it be and ask him/her one question now?
A - @justtryme90 and @mobbs ... when will they show their faces?. :P
---
---
Q - If you had more time to spare, how would you spend it?
A - Touring all the countries of europe visinting the soccer stadiums. :D
---
---
Q - What does Science and SteemSTEM mean to you?
A - Curiosity, predict, decipher and check. In that order for me is the meaning of science. Without science in my life everything would be boring, everything would be wrong. Is my motivation is a fundamental pillar with my daughter.
---
---
Q - Is there a great scientist that you really admire? Why?
A - There are many but especially Stephen Hawking that despite his illness, had the desire to continue contributing to science - it was his great motivation to live.
---
---
Q - If you could have any job in the world, what would you choose?
A - Being a footballer is my frustrated dream because I was very good at playing, but a serious injury interrupted my career and a new love was born, "La Fisica".
---
---
Q - Besides SteemSTEM, do you have any other Steem-related activities you would like to share?
A - Not really, I'm totally committed to SteemSTEM.
---
---
Q - What is your greatest wish for SteemSTEM?
A - We all want, that the project continues to grow and that more users can share their knowledge on this platform.
---
Q - Where do you see SteemSTEM in 5 years?
A - As a consolidated project, famous in all the Universities of the world, where each professional and student from different areas of science contribute their knowledge.
---
It was an honor interviewing @carloserp-2000 and I would like to sincerely thank him for finding time to answer my questions. Thank You!
---
Make sure to follow steemstem on steemstem.io, steemit, facebook, twitter, and instagram to always be up-to-date on our latest news and ideas.
Please also consider to support the project by delegating to @steemstem for a ROI of 65% of our curation rewards (quick delegation links: 50SP | 100SP | 500SP | 1000SP | 5000SP | 10000SP).
Follow us || Vote for the SteemSTEM Witness || Visit our new home steemstem.io