When Bangladesh got his Independence in 1971 not a single person would have thought that This country will able to construct a huge bridge for their own Finance.Hard work and technology gave them that believe.Dreams come true of millions of bangladeshi peoples.This padma bridge called Dream of Millions.Padma Bridge is a multipurpose rail road bridge across The Big Padma River.This bridge will connect south-west people for changing their Luck and fortune.Padma Bridge is one of the most challenging project they have ever had.It will be Bangladesh's Largest bridge.With the help of modern science they are doing great job.
Dimension
The project covers three districts —Munshiganj (Mawa Point/North bank), Shariatpur and Madaripur (Janjira/South bank). The total area of land to be acquired and required for its components is 918 hectares (2248.63 acre). The requisition of land for the construction yard will be for six years on a rental basis. As per the new design, an additional 144.04 ha (355.93 acre) has been identified for acquisition, bringing the total to 1062.14 hectares (2624.61 acre). This additional land is required because project site lost significant land due to erosion, for transition structures and due to a change in railway alignment.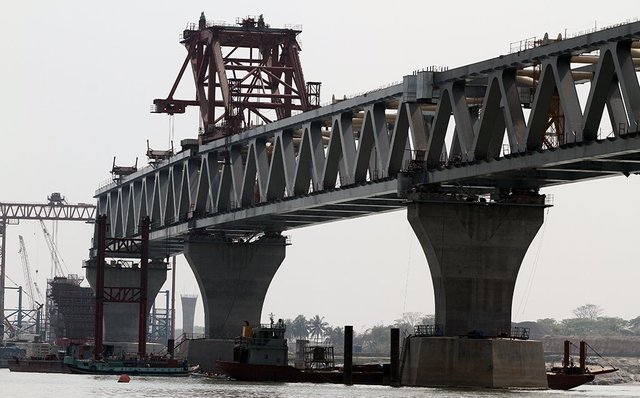 Source
Component of the project :
Main Bridge
River Training Works(RTW)
Janjira Approach Road & Selected Bridge End Facilities
Mawa Approach Road & Selected Bridge End Facilities
Service Area-2
Resettlement
Environment
Land Acquisition
CSC(Main Bridge & RTW)
CSC(Approach Roads & Service Area-2)
Engineering Support & Safety Team(ESST)
Megastructure Booster
Working progress of this bridge is coming towards half way mark.It has some great issues though.The government is optimistic that the mega structure will boost the GDP by 1.2%.This is a very good decision by Government.The 4th span of this bridge in already installed.Around 600 meters of the much-advertised Padma Bridge is currently visible.
The fourth range of the Padma Bridge has been introduced at the Janjira purpose of Shariatpur.
The range was introduced on column No 40 and 41 around 6:45am on Sunday, Residential Engineer of Padma Bridge venture Mosharraf Hossain told the Dhaka Tribune.
Current Status of this project
On Saturday morning, the Padma Bridge's fourth range started its excursion to Janjira point from Mawa development yard. It was conveyed to Janjira point by one of the world's biggest skimming cranes.
Like alternate ranges, the fourth range is additionally 150-meter long. After the establishment of the fourth range, around 600 meters of the much-built up Padma Bridge ended up noticeable.
The principal range of the Padma Bridge was introduced on columns no 37 and 38 at the Janjira purpose of Shariatpur on October 7, 2017. This was trailed by establishment of the second range on columns 38 and 39 on January 23.
The development deal with the nation's biggest scaffold began in December in 2015. The 6.15-km extension will have an aggregate of 41 ranges, each 150 meters in length.
As per the designers concerned, an aggregate of 41 ranges will be introduced on 42 solid columns.
Time and Budge Issue
The cost of the much-hyped Padma Bridge project is going to increase again as the government has to spend more to acquire additional land, taking the total project cost to Tk 30,193 crore.This is a worry thing of the people of this country.Because it will increase both of their time and cost.Fifty-three percent work of the project has been completed till March, said sources at Bridges Division.
Two major components of the project are main bridge and river training. Of them, 59 percent work of the main bridge and 36.5 percent of the river training have been completed.
The project is running behind schedule as the World Bank withdrew its $1.2 billion loan in 2012 over allegations of corruption conspiracies. The government then moved to build the bridge with its own funds.
Documentary
Padma Bridge Review .. Credit :Youtube
youtube handle. license: CC (reuse allowed)
Timeline of Padma Bridge
The government, for the first time, is implementing such a mega project like Padma Bridge, which became possible under the credible leadership of Prime Minister Sheikh Hasina.
"Implementation of a mega project like Padma Multipurpose Bridge with our own funds has definitely upheld our image globally," Finance Minister AMA Muhith said.
The construction work of the country's largest bridge began on December 12, 2015 and will hopefully be completed by the end of this year.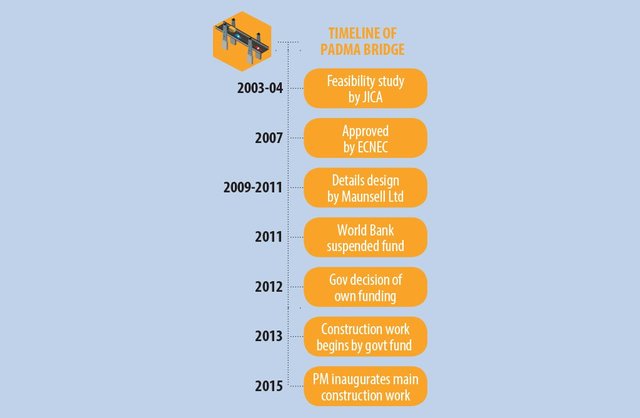 Imagesouce
license: CC 3.0.
This is not only a Bridge but also a change that can make Bangladesh a better and stronger country.Lets Hope for the Best.
References
Padma Bridge: Cost rises again[Web Documents](
https://www.thedailystar.net/backpage/padma-bridge-cost-rises-again-1593706
) Padma Bridge becomes visible as first span installed[Web Documents](
https://bdnews24.com/bangladesh/2017/09/30/padma-bridge-becomes-visible-as-first-span-installed
)
---
If you are interested in science, technology and mathematical things on steem blockchain, consider joining our 'steemSTEM' community.If you want to stay with us join our discord Channel.More details about steemSTEM can be found here.

gif credit: @foundation