Hello Steemians, Happy New Year! It has been one hell of a year, filled with many positive things; even if cryptos are not doing very well, I will always remember 2018 as the year in which my friend @elnefelibato introduced me to this community, and for that I am grateful. Let's begin this year in the best way possible, with one of the, in my humble opinion, most interesting articles that I have written so far. Hope you enjoy it!
---
For most of my life, except for a childhood in which I was certain that if I left my feet hanging off the bed at night the monster that lived under it would pull them down and eat me, I have always been quite skeptical. My line of thought is that just because something does not yet have an explanation, it does not mean that it is of magical or divine origin, after all, 1000 years ago we were sure that the Earth revolved around the sun, and 500 years ago we were just as sure that every disease could be cured with a little bloodletting and a healthy dose of good old mercury. The point is, every day we discover new things and find answers to more and more questions; just because we do not know the reason behind something today does not mean that in a few years it will still remain a mystery.


However, it is true that today there are many unanswered questions, several of them related to medicine and health (fortunately for me, what else would I write about if not?). There are diseases that even seem of supernatural origin, sometimes challenging everything that is known about the physiopathology and the natural history of pathological processes. The topic of today's article is one of those; although many advances have been made in its correct diagnosis, there are cases in which the medical response is little more than an educated guess. I am talking about the curse that has allegedly haunted several Asian populations for centuries; its name varies from country to country, but my favorite translation (and the most sensationalist and therefore suitable for the title), is that of the night witch.
Medical Mysteries: The Night Hag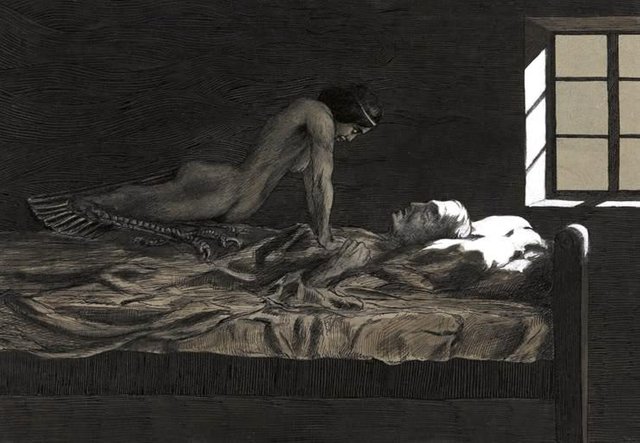 License: Public Domain


During the 70s and 80s, there was a large influx of immigrants from Southeast Asia to the United States due to the Vietnam War, the Laos civil war, and other regional conflicts, bringing with them their culinary diversity, rich culture, and a plague of unexplainable deaths. A normal migration in every way, basically.


These deaths were more frequent among members of the Hmong ethnic group, mostly from Laos, and in Filipino immigrants, and occurred in young adults with a medium age of 33 years. Those affected had lived a normal and healthy life, and for the most part, they showed no symptoms until one day they went to sleep, presumably after playing Donkey Kong at the arcade or watching Indiana Jones and the Raiders of the Lost Ark for the 12th time (I do not have a very clear concept of what people did in the '80s), and they never woke up. The high number of deaths attracted the attention of the CDC, and after an investigation it was discovered that this disease affected almost 1 in every 10,000 Hmong immigrants, with a slightly lower incidence among the other immigrants from East Asia.


But it was not the first time that such a plague of deaths occurred, in fact, it was not even the first of its kind in the United States; in the year 1948, 81 Filipino men died suddenly in their sleep in Onahu County, Hawaii. And if we go back to Asian history and culture, thousands of deaths can be attributed to this phenomenon.


Historically, it has been said to be related to sleep paralysis, a well-known and relatively common disorder in which the mind basically wakes up before the body, leaving people unable to move for a few moments. It has always been thought to be of supernatural origin, and in some cultures around the world it is believed to related to the appearance of a hag of frightening appearance, who presses or sits on the chest of those affected, keeping them from moving and breathing; the name of "night hag" or "old hag" comes from American, British and Canadian folklore. In Turkey, sleep paralysis is known as Karasaban, and it is said to be due to a type of demon called Jinn that sits on your chest, and that if you manage to steal its hat it will become your slave. In Pakistan, things are more hardcore; Satan himself is the one who holds you down and paralyzes you (hell must be pretty dull if he has nothing better to do than that). In the Nordic countries it is a spirit called the Mare related to the Incubi and Succubi (and the origin of the word Nightmare), in the Philippines the hag is called Bangungot or Batibat, and in Hmong culture, this phenomenon is known as dab tsuam, tsog tsuam or dab tsog, and it manifests as an old jealous woman, which not only paralyzes its victims, but kills them as well.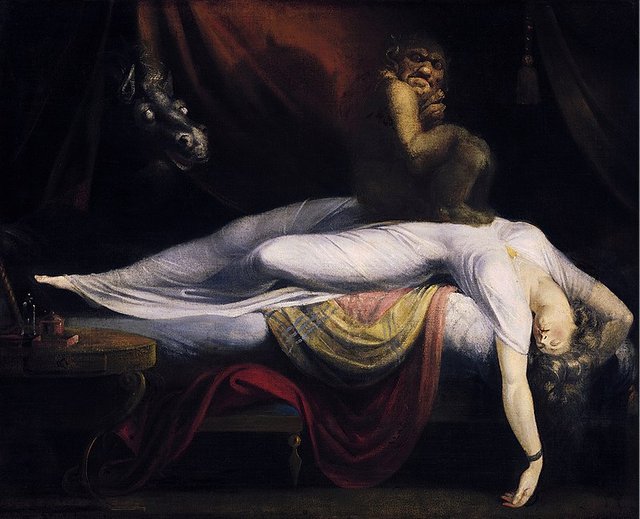 License: Public Domain


Sudden deaths during sleep among Southeast Asian men are described in medical literature for the first time in the Philippines, in 1917. Since then the phenomenon has been studied on several occasions, but medical conclusions for the most part have been of little use in understanding the reason for the deaths. In a study conducted in Manila, the capital of the Philippines, the autopsy reports of 382 patients who died in the circumstances already described were reviewed during a period of 30 years; between 1952 and 1982. 38% of the cases proved to be a myocardial infection, 2% died of rheumatic heart disease, and 11% of the deaths were due to an unspecified heart disease. But in the remaining 48%, which corresponded to 183 patients, mostly (97%) men and with an average age of 33 years, the autopsy was inconclusive, unable to explain the reason for their passing. Their hearts quite simply stopped beating while they slept, in some cases also having a mild, equally unexplained internal bleeding.


But for the Filipino natives, the reason for these deaths was obvious: Bangungot. For the Hmong immigrants in the United States there was no mystery either, in their culture it is known that when they do not worship properly, or their religious rituals are not performed as they should, the spirits of their ancestors abandon them and stop protecting them, so the evil spirits, dab tsuam, are able to attack them in their dreams. Medical science, unable to write "death by ancient evil spirit" in autopsy reports, has named the condition as Sudden Unexpected Nocturnal Death Syndrome (the closest possible thing to "damned if we know").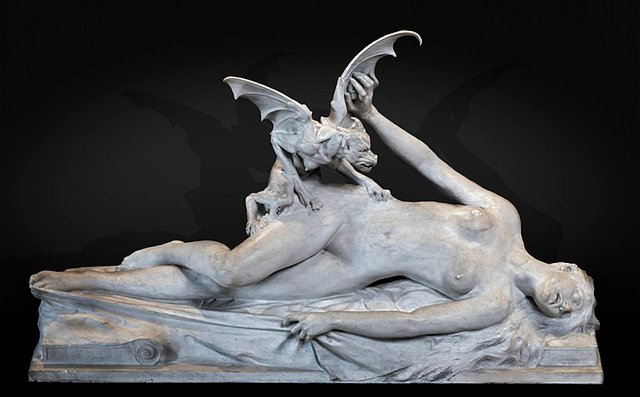 License: Public Domain


Now, surely you are asking yourself, have there been more efforts to investigate the true cause of these deaths? Could they have something to do with the environment or the genes, seeing as how the deaths only occur in specific areas and ethnicities?


As you can see in the study mentioned above, about half of the sudden deaths during sleep have a medical explanation after the autopsy; commonly infections or heart problems that had simply been asymptomatic until they caused fatal heart failure. In addition, in later studies, in those patients in whom a cause of death could not be determined, a molecular autopsy was performed on the heart, where genetic defects that may have resulted in sudden cardiac arrest could be detected. This has helped to determine that many of the cases of SUNDS are due to genetic diseases that are difficult to detect, such as Brugada Syndrome, ion channelopathies, or structural defects in the heart. However, even after all these studies made with cutting edge technology, there are still 5% of cases in which there seems to be no reason for a fatal heart attack. Maybe it's time to call the Ghostbusters.


In attempts to explain the unexplainable, some scientists have proposed that it is the belief itself in these evil spirits that kills them; a nocebo effect (the evil twin of the placebo effect), similar to what occurs in those who claim ti suffer from Electromagnetic Hypersensitivity (sorry, last bit of self-promotion). Others have said that it is due a combination of genetic conditions only present in Southeast Asian men, with environmental and psychological factors present in their culture, although this hypothesis has problems explaining the deaths of those who immigrate to other countries.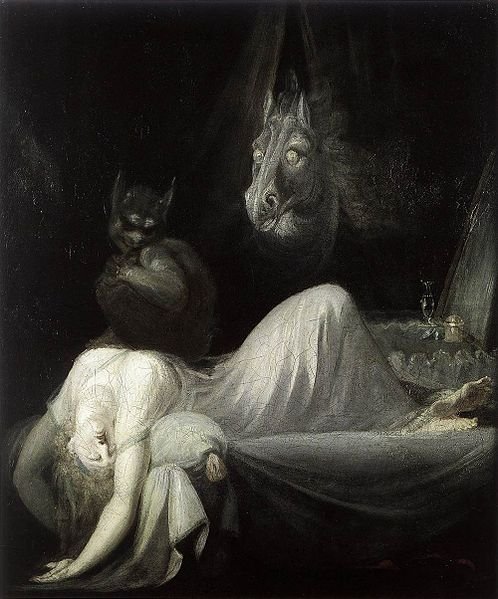 License: Public Domain
Seems like people slept in some really uncomfortable positions


The truth is that although thanks to advances in medical science most cases are no longer a mystery, it is somewhat irritating that there are still a number of deaths by SUNDS in which the best medical response is a shrug and a "who knows, magic maybe?". Of course, as I said at the beginning of this article, the fact that we do not have the answers now does not mean that there are evil hags haunting your dreams with murderous intentions like a cheap Freddy Krueger knockoff; it is quite possible that the explanation to everything is related to genes, and surely one day it will all become clear. But in the meantime, if you're male, young, and of Southeast Asian descent, it never hurt to pray to your ancestors from time to time, and maybe hire a shaman and perform a couple of sacrifices here and there. Better safe than sorry, right?
References:
---
If you enjoy medical-themed articles, or general curiosities, remember to follow me, there is much more on the way! And as always, I leave my thanks to @steemstem and @air-clinic for their constant support to all scientific content; you inspire us to keep improving.