I'm back, it's a whole new year, and as such it's about time I assemble a piece for all of you. With that in mind I think I've got something cooked up which some of you may find interesting! Today's discussion will revolve around an article published in Nature Scientific Reports titled "Elimination of Antibiotic Resistant Surgical Implant Biofilms Using an Engineered Cationic Amphipathic Peptide WLBU2."
I know, I know, that title is pretty full of sciency sounding words, which may seem intimidating to some of you. Rest assured, we will break all that down! Lets begin: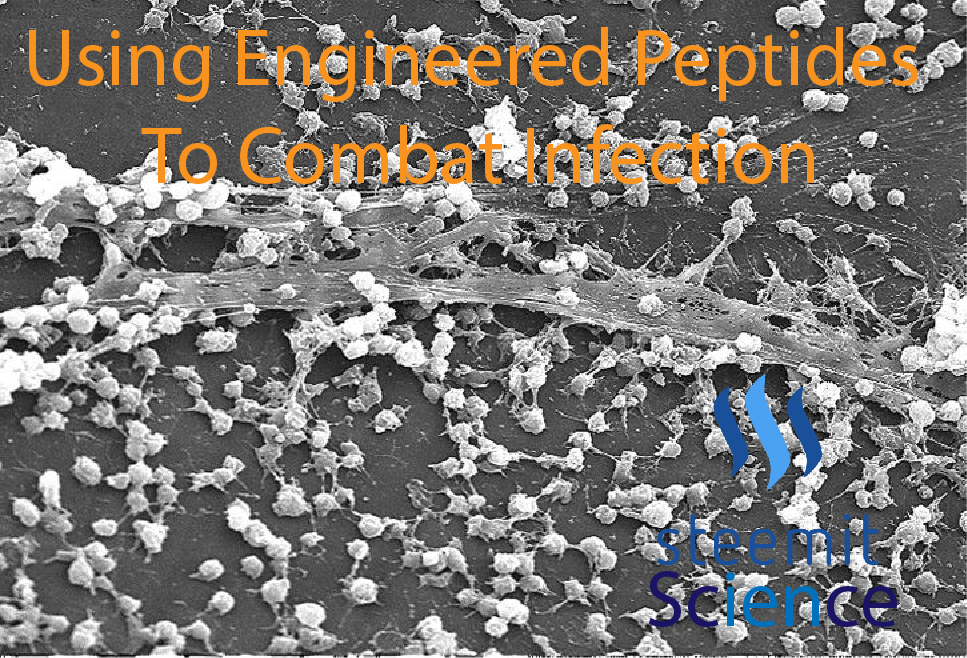 ---
Surgery
Before we dive into the article, lets first take a moment to chat about surgery, something that many of us have had or for those who haven't, likely have will at some point in your life. We all know that surgeries carry with them a risk of complications, and some of those complications may even be life threatening. One such complication that can occur even after a successful surgery is an infection. [2] These infections are typically treated with antibiotics which are administered based upon what type of bacterial agent has started to make itself a home.
For some surgical procedures (knee replacements are discussed in the main article) treatment success for these post operative infections isn't all that great, with upwards of one quarter of them leading to death of the patient, despite the initial surgery being a success! [3] If that number is surprising to you, that's because it should be! Why on earth are so many people dying from infections, even when being treated by antibiotics?
Biofilms, Bacterial Persisters and Why Antibiotics Don't Work
To better answer that question we must first talk about two things, biofilms and how antibiotics work in the first place. Lets start with biofilms.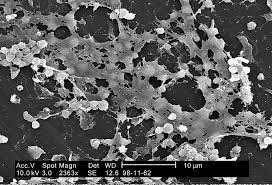 Like the tile/thumbnail image, here is another biofilm
Biofilms (yes that's the fifth time that word appears in this article with no explanation of what it is) are groups of bacteria all clumped together contained within some goopy (ehhh, not a science term) junk called an extracellular polymeric substance. That, is mostly a bunch of sugar and protein molecules which protect the bacteria and keep them attached to where ever they are. One thing to make note of about the bacteria that are living in a biofilm is that many are not metabolically active, they are technically alive, but not dividing, replicating DNA or really doing much of anything that one would think of as "being alive." [4]
Onto our second point of contention, how does an antibiotic work? Simply, antibiotics are just compounds which interfere with the metabolism/growth of bacteria. They do things like, stop the bacteria from making new cell wall materials (this is how penicillin, or penicillin derivative antibiotics work) [5], or stop DNA replication (this is what rifamycin does), still others stop new proteins from being made (streptomycin works like this). [6] If a bacteria can't do these things they die.
...except didn't I mention above that some of the bacteria in the biofilms are not doing any of these things? What happens then, to bacteria which aren't doing what antibiotics stop... do they die as well?
Nope.
And it is because of this that these bacteria are called persisters, because they persist on "living" even in the presence of antibiotics. Now these metabolically inactive but still alive bacteria can become active again, and if they do so after the antibiotic has long been metabolized away by our bodies, they can grow and cause an infection (crap!) This is what happens to so many patients who get implants (knees, etc...), and still die of an infection despite antibiotic treatment. They have a whole bunch of biofilms on those implants composed of bacterial persisters.
Onto The Article!
So now you have some idea why an alternative to antibiotic treatment might be a good idea! We want to stop these bacteria who aren't metabolically active (and the ones who are too). One way to do that is through the use of small protein pieces (peptides) which have antimicrobial activity. Our body naively uses these sorts of peptides as a part of our innate immune system. In the article we are discussing the authors were using a cationic amphipathic peptide (cationic meaning it has a positive charge, amphipathic meaning it has both water loving and water hating parts) called WLBU2 (another beautiful name, bravo fellow scientists, BRAVO!!! would you pronounce that one wahl-boo-too? :D ).
WLBU2 is a man made peptide, which was designed to be very very specific to a bacteria's membrane, but not at all specific to a human cell's membrane. When WLBU2 binds to a bacteria's outer membrane it breaks it a part (it goes for it because the bacterial membrane has a lot of negatively charged spots, and as we discussed above WLBU2 is positively charged.) It's effectiveness against bacteria has been shown in a variety of studies. [7], [8], [9]. Additionally, it has shown good efficacy against antibiotic resistant bacteria in animal models as well. [10]
It had never been tested against these metabolically inactive biofilm bacteria though, and so that is what the authors here set out to do:
What Did They Observe?
Both An Antibiotic and WLBU2 Can Kill Cultures of Staphylococcus aureus

Reproduced from [1] Figure 1
Okay so in this first plot set, we are looking at the amount of growing cells (colony forming units) in a culture of some S. aureus and the amount of time it takes for these numbers to decrease. In the legend on the right you see 2xMIC 5xMIC and 10xMIC... this just means that the amount of the antibiotic, or peptide was 2, 5 or 10 fold more than the Minimum Inhibitory Concentration (or the lowest amount that still kills the cells). We are looking at the antibiotic cefazolin (it works like penicillin) on the left, and the WLBU2 peptide on the right. We can see that both are able to kill the bacteria within 48 hours. Nice.
WLBU2 Kills Biofilm Bacteria Where An Antibiotic Fails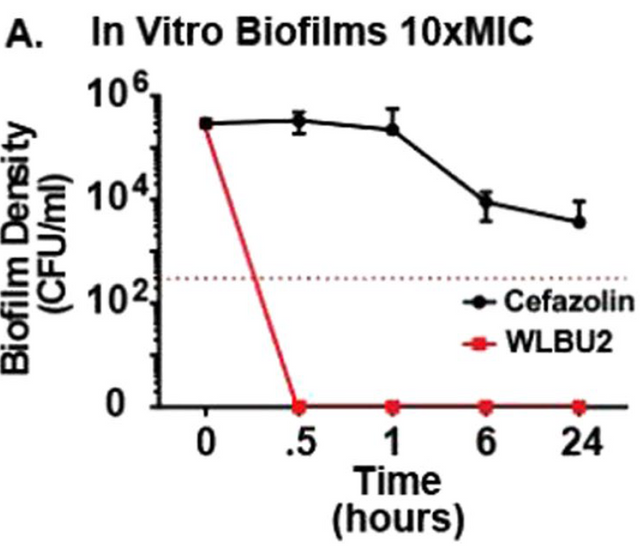 Reproduced from [1] Figure 2
However the story changes when we look at the ability to kill the S. aureus bacteria living in a biofilm. Here they used 10 times the minimum inhibitory dose of the antibiotic and the peptide (WLBU2) and we see that the antibiotic doesn't do much damage while the peptide kicks those bacteria where it hurts (I mean it kills them). Great! But is the WLBU2 really using a different mechanism, or is it still based on the metabolism like the antibiotic would be? This is what they wanted to see next (it should be independent of metabolism... but is it?)
Shuttin Down That Metabolism

Reproduced From [1] Figure 3
Okay, so here the researchers were using a LIVE/DEAD fluorescence dye kit where cells will glow green if they have an intact membrane and are alive, or glow red if their membrane is broken up and they are dying/dead. Now we already know that under normal conditions the cefazolin antibiotic stops the synthesis of the bacteria's membrane (thats how penicillin (and cefazolin as its related to penicillin) works remember) but this requires metabolic activity. They wanted to check for cell death, even in the absence of metabolism. To do this they treated the cells with carbonylcyanide-m-chlorophenylhydrazone which is a compound that inhibits electron movements in metaboic pathways (or in laymans terms, it shuts down that bacterial metabolism).
What we can see is that un-treated cells are okay, they glow green (left). If the metabolically shut down cells are treated with the antibiotic, they too are okay (green as grass... well not really grass... but green). However, the metabolically challenged cells treated with the WLBU2 peptide, they are dead, as seen by how red they glow in this fluorescence test! So the WLBU2 is killing those cells, even when they are metabolically non functional. This shows that the peptide is indeed using a different mechanism then the antibiotic does to kill the cells. Cool!
Brief Conclusions
WLBU2 has good efficacy against bacteria in these tests, and even more importantly is able to kill the bacteria that are both metabolically inactive and living in a biofilm. It shows at least based on this study, great promise for potential applications in post surgical infections, especially those caused by bacteria known to form these antibiotic resistant biofilms.
---
Sources
Image Sources
Text Sources
---
SteemSTEM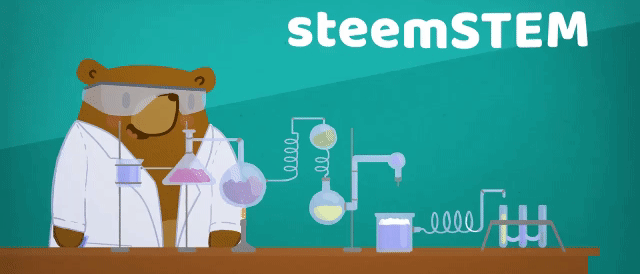 If you haven't heard about the SteemSTEM project yet (WHAT do you live under a rock!? Just kidding), and are reading this post then I highly recommend you take a look into it! The SteemSTEM team has been working for over one year now to promote promote well written/informative Science Technology Engineering and Mathematics postings on Steemit. The project (@steemstem) seeks to build a community of science and technology lovers on steemit and ade in nurturing the growth of blogs that will make steemit a go-to source for science/tech information, news, and just generally fascinating content.
To learn more about the project please join us on steemit.chat (https://steemit.chat/channel/steemSTEM) or on discord, we are always looking for people who want to help in our quest to increase the quality of STEM (and health) posts on our rapidly growing platform!
Finally thanks to @rocking-dave for the great gif set that so many members of the community use in their posts. They look fantastic.