A big DEAL for science – changing the game in scientific publishing
One of the worst things about the economy around science is actually publishing ones work. Why, you ask? Well, let me explain: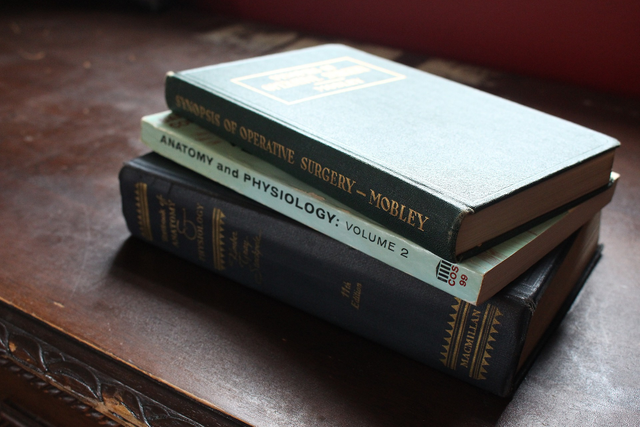 A better time of scientific publishing...
Most universities and many research institutes are funded with tax money. Tax money everyone has to pay; but it makes sense, right? Everybody contributes a little to enable scientists to advance technology and knowledge for the greater good. Oh, you as a paying citizen would like to read those publications? Well – you can not. Unless you are willing to pay a fee, something like 10$-35$. Per article. This is true for everybody, even other scientists in the same field but from another university although working in the same country. The fee is not collected by the government or the universities, it is collected by the people publishing the article. This is not the first time they collect, as you can see in the flow chart I provided below. The first time the authors of the paper pay between 1500$ - 5000$ to get the paper published. A study in 2013 showed that it costs the publisher approximately 4.800$ to publish one article in a print and online medium and around 3.500$ for only online publishing. This includes around 15-35% profit margin already, as the publishers need to make money at some point.[1,2]  
This would be an agreeable and understandable cost, but it does not end there. If you want to read all papers from a journal without paying 30$ for every article, you have to get a subscription - for a hefty fee. If we take the famous "Cell" journal from publisher Elsevier, subscription for a year would be again around 2400$.[3] Every institute and university has to pay this fee, so the money the publishers make with that article magnifies, without adding additional input from the publishers. And they collect it all! Remember, they already have been paid by the researchers themselves - and now they charge each an everyone for reading something that has been paid for by public money? This is outrageous as it inhibits a free transfer and flow of knowledge amongst scientists and creates imbalances between richer and poorer universities and countries, giving the richer an unfair advantage. As Francis Bacon said: "Knowledge is power", in science even more so.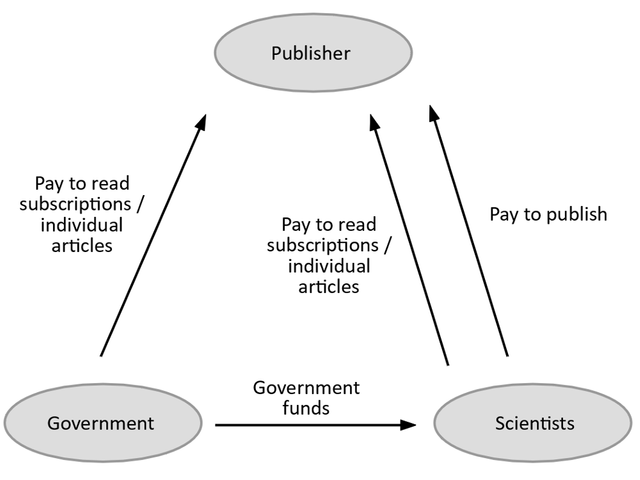 Cash flow in the scientific publishing industry
Fortunately, alternatives are popping up. The so-called "open access" journals aim to do exactly what their name implies - enable open access to these articles. They do not employ the subscription model (well, some of them do, but lets keep it simple), the researcher pays for the publishing and that is it. The article is subsequently freely downloadable for everyone, without cost. The reason why this is not the standard model yet is the so called "impact factor", a way to measure the "quality" of the research by counting how often the article is cited by others over time. The subscription-based journals are more established than ther open-access alternatives, therefore it is more desired by many scientists to get published in those papers as this is seen as more "valuable" by the organizations distributing the funds for scientific projects. Looking at it neutrally, the scientists and their funding organizations are digging their own grave.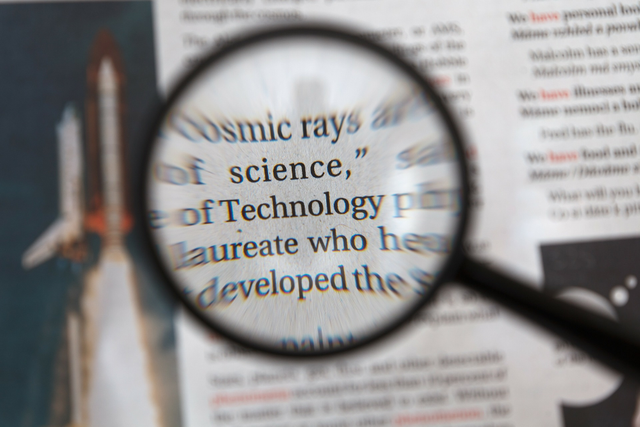 Taking a close look at publications ;)
But what about the game changer I mentioned in the headline? In Germany the problem of the subscription model becomes more and more grave, with universities spending up to 80% on subscriptions to the three biggest publishers, Springer Nature, Wiley and Elsevier.[5] Therefore the DEAL-program was established to tackle this problem. Their goal: To have Germany pay a certain sum to those publishers annually, covering all costs at once. The sums they are talking about are way smaller than what the universities are paying at the moment, with a goal of around 2200$ per article. German Researchers would be able to publish free of charge, and open access for everybody would be mandatory as well. [5] This would free up a huge amount of money for the universities to invest in other educational needs, and would not longer fuel the greed of the publishers. According to DEAL, Springer Nature and Wiley already signalled to be ready for negotiations, while Elsevier remains stubborn, trying hard to keep the established model. The consequence of this is that Germany discontinues almost every subscription from Elseviers journals at the end of 2017 to boycott them if they refuse to negotiate.[4] 197 Institutions and universities are taking part in the boycott! 
Similar movements are observable in the Netherlands and in Finland, with other European countries beginning to follow along.[1] The Netherlands were the first to actually get a deal with Elsevier, but indeed not a good one. For almost 12 Mio. Euro Elsevier agreed to give them access for 3 years and let them publish 3600 papers with open access regulations, with one important catch - Elsevier classified its own journals as "open access" at an order they deemed appropriate. They opened journals first that are very specific or with a low reach and impact factor, making them very poor choices for the scientists.[6] Let us hope that Germany manages to break their resistance to establish a model better than the old one, enabling scientists and science alike, bringing it back to the people science belongs to - everyone!
Dysprosium
Sources
[1] http://www.sciencemag.org/news/2017/08/bold-open-access-push-germany-could-change-future-academic-publishing (oh, the irony)
[2] https://www.nature.com/news/open-access-the-true-cost-of-science-publishing-1.12676 (oh, the irony)
[3] https://www.elsevier.com/books-and-journals/journal-pricing/print-price-list
[4]https://www.projekt-deal.de/vertragskundigungen-elsevier-2017/
[5] https://www.projekt-deal.de/
[6] https://hackernoon.com/how-elsevier-plans-to-sabotage-open-access-76fbd46593ae
Pictures taken from https://pixabay.com/de/, flow chart created by me