The Amateur Mycologist #17 - Auricularia auricula - The Jelly Ear Mushroom
These posts are not for foraging. They are intended for entertainment and intellectual satisfaction only. These posts are not a field guide nor comprehensive in any way - their accuracy is not assured in any way. Do not eat wild mushrooms unless you are a professional, have substantial professional assistance or have a wealth of personal experience with a specific species. Do not make any foraging decisions based on these posts. To do so could be dangerous or life threatening.
These Posts Contains No Information Regarding Edibility Or Toxicity
---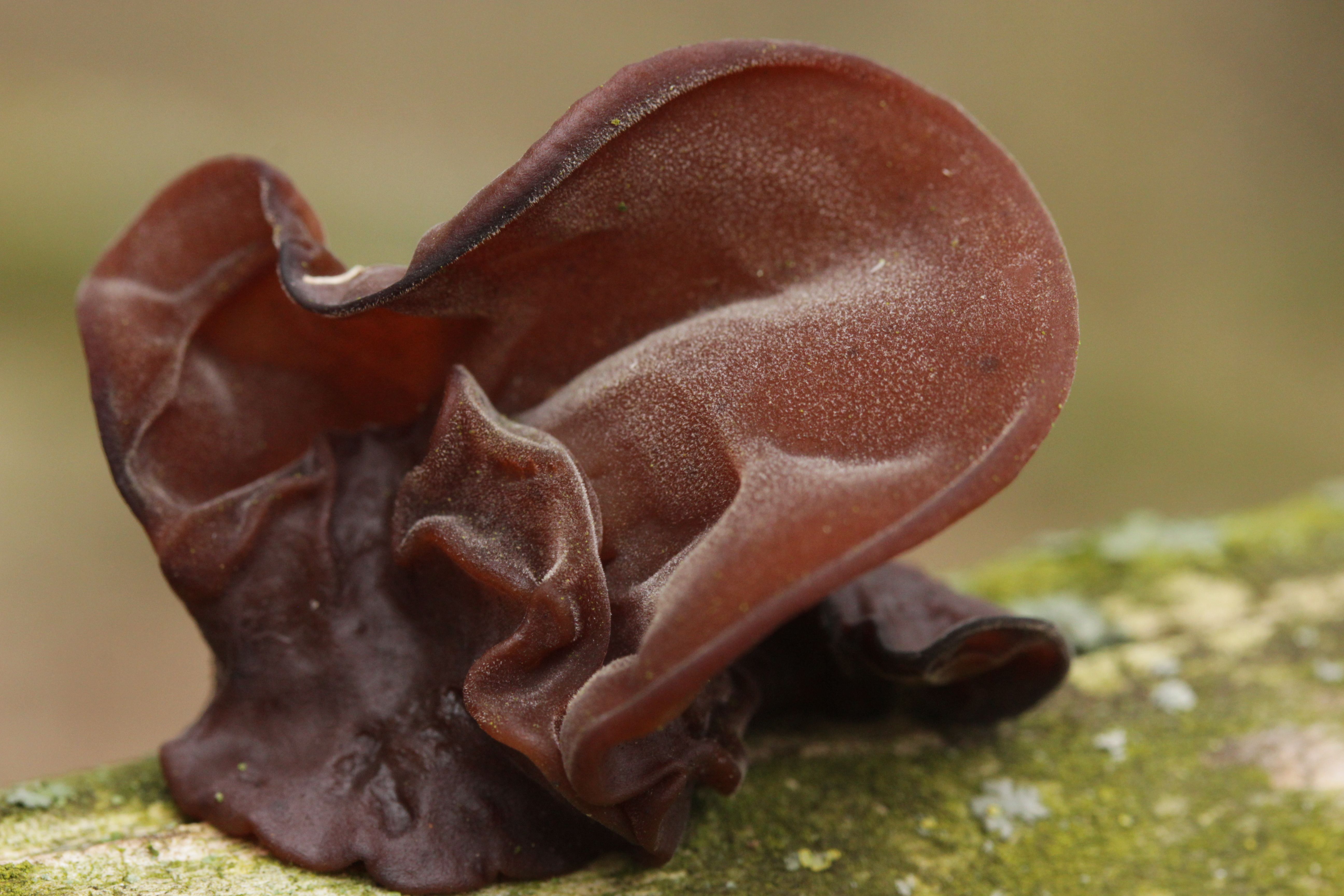 ---
Had Nature any supple Face
Or could she one contemn —
Had Nature an Apostate —
That Mushroom — it is Him!
---
Emily Dickenson was inspired to poetry by the bizarreness that it A.auricula, or the Jelly Ear.
The Jelly Ear is a strange little mushroom. First and foremost, it really does look like an ear, right? I mean, a bizarre ear growing out of a dead elder tree or other hardwood, but an ear nonetheless.
Actually, not every A.auricula specimen looks so convincingly ear-like, especially if the mushrooms are growing in a shelf-like format, where their spore surface aims downward at the ground rather than sprouting upwards from a fallen log.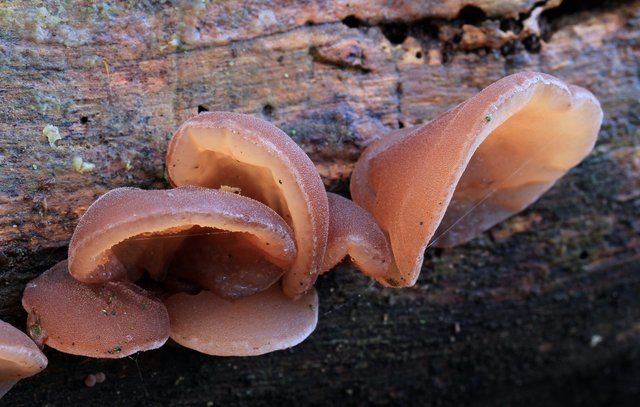 Although the nickname "Jelly Ear" appears to be totally appropriate, it is a relatively new rebranding. For many years, unfortunately, A.auricula was also known as the "Jew's Ear." There are conflicting stories about why this was the case.
One narrative is that the name stems from the relationship of the mushroom to the Elder tree, which was the same kind of tree from which the biblical Judas allegedly hung himself after betraying Jesus Christ. This theory gains some support by the alternative scientific name for the species, also accepted by some, A.auricula-judae. Under this interpretation, the nickname "Jew's Ear" is less an antisemitic reference and more a reference to Judas the individual.
Michael Kuo implies that he disagrees with this interpretation, as do I. Personally, I think it's just a backward, antisemitic nickname that survived through the ages, as such things are wont to do. Therefore, I don't use either the nickname, nor the "judae" addendum on the scientific name.
---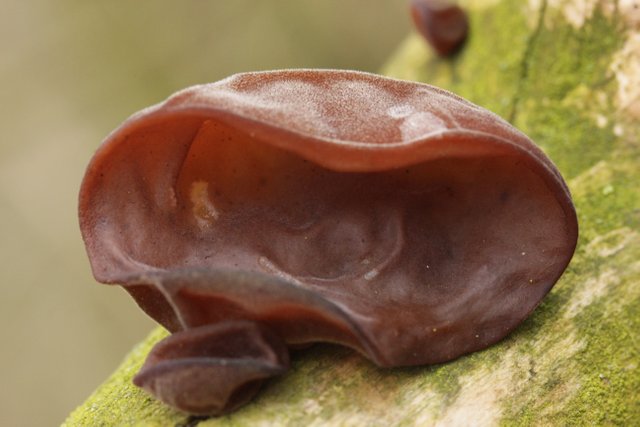 Jelly Ears look very different from many other mushrooms. They do not have stems, exactly, just a piece of flesh attached to the wood. They grow exclusive on decaying wood - perhaps with a specific love for Elder trees.
They usually grow in groups, either all coming from the same attachment point or each attached separately. The "Jelly" trait is no joke - the mushrooms look and feel like jelly! They have a gelatinous and rubbery texture, especially when young and not too dry or deteriorated.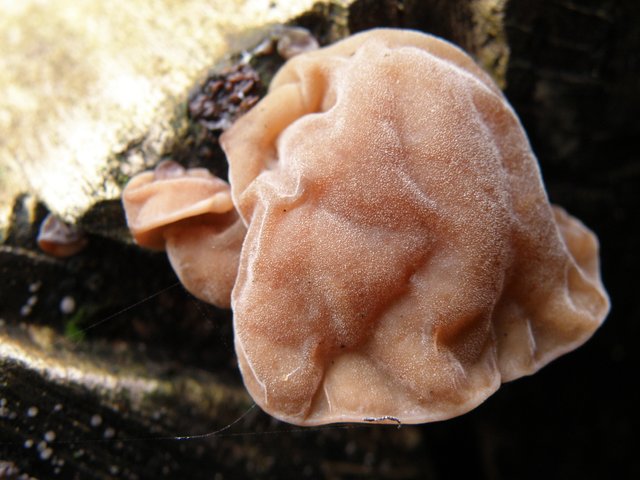 The top of A.auricula can have a bunch of different traits.
In this picture, it's a light brown, almost flesh-toned, with wrinkled flesh covered in a very fine down that would be soft to the touch, like tiny fur.
But compare that to the picture below: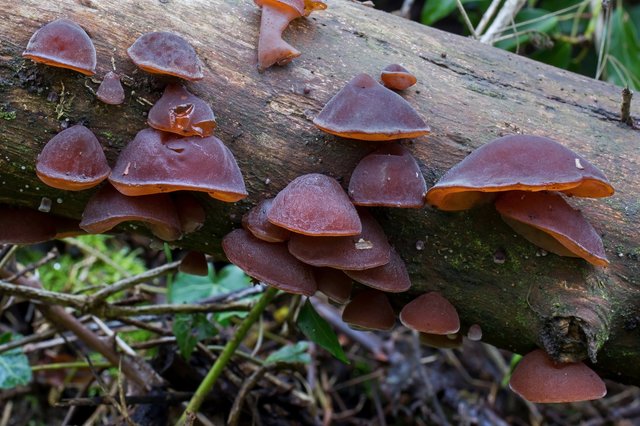 These are also A.auricula specimens. But they look quite different.
The color is much darker and the skin less downy, covered in much smaller, less prominent dots.
Although they look somewhat strange, Jelly Ears are in the same Division of the Fungi Kingdom, Basidiomycota, as most of the species we've talked about. They reproduce sexually through the dispersal of spores from a spore surface.
Take a look at the pictures above showing the underside of the Jelly Ears. That is the spore surface. And like the spore surface of any mushroom, it is releasing spores almost constantly from maturity until death. In fact, since dehydration is the norm for mushrooms, the spore surface is capable of dispersing spores even at near complete water loss, after the mushroom is totally desiccated.
---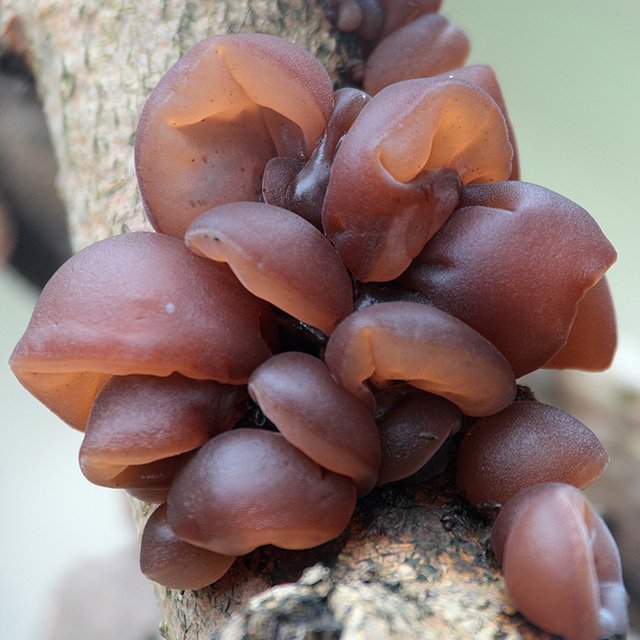 One last weird thing
You'll remember that many of the other mushrooms we've highlighted were thrown into a state of taxonomic confusion by the advent of DNA analysis. From what I can tell, the Jelly Ear has suffered no such fate. However, I find this genetic homogeneity unlikely given the ubiquity of the mushroom globally and the genetic diversity found throughout the Kingdom. Could be wrong, but I think either I missed something or widespread DNA analysis has not yet been done.
Whatever the case may be, keep your eyes peeled for these oddballs growing in many of the worlds deciduous and coniferous forests, in almost all seasons.
---
Macroscopic Features
Cap/Flesh = ranging in size between 2-15 cm, with an average of around 3 to 8 cm across. The "ear" analogy works much of the time, but not always. Sometimes cup shaped, either facing down or upwards. Color of the cap ranges from light brown/tan to dark brown. The actual flesh is gelatinous, but not like a jello mold, more like a jelly bear. The top of the cap can be anywhere from downright downy to slightly furry.
Spore surface = Pores are not visible to the naked eye, like normal polypores. The pore surface is, usually, lighter than the cap, with a similarly gelatinous texture and similar color range.

Stem ("stipe") = Generally no stem, in a conventional sense. Usually just attached directly to a piece of decaying hardwood, and growing from that attachment. Sometimes that attachment may become a bit long, and so then it can look like a stem.
Spore Print = White and collectible as with most normal members of Basidiomycota division.
Ecology ("How it grows.") = Saprobic - grows exclusively on decaying hard wood trees, with a possible affection for Elder trees in particular.

Distribution = All over the world, from spring through winter sometimes.

Other Traits = I didn't see any confounding taxonomic DNA information available, but some certainly may exist.
---
THIS POST IS NOT INTENDED FOR FORAGING PURPOSES AND TO USE IT FOR THOSE PURPOSES WOULD BE DANGEROUS. DO NOT HUNT WILD MUSHROOMS WITHOUT RELYING ON A COMBINATION OF PROFESSIONAL FIELD GUIDES, IN PERSON PROFESSIONAL GUIDANCE, OR IN PERSON GUIDANCE BY SOMEONE TRUSTWORTHY WHO HAS COPIOUS LOCAL, SPECIALIZED MUSHROOM HUNTING EXPERIENCE. FAILURE TO DO SO CAN RESULT IN GRIEVOUS PERSONAL HARM OR DEATH.
---
---
Support the SteemSTEM project - curating and encouraging quality STEM related content across the STEEMIT platform
---
---
Information Sources:
The Mushroom is the Elf of Plants, Emily Dickenson
http://www.mushroomexpert.com/auricularia_auricula.html
https://en.wikipedia.org/wiki/Auricularia_auricula-judae
http://botit.botany.wisc.edu/toms_fungi/apr2004.html
---
Photo Sources:
[1][By Björn S... (Auricularia auricula) CC BY-SA 2.0, via Wikimedia Commons
[2]Stu's Images CC BY-SA 3.0, via Wikimedia Commons
[3]By Björn Sothmann (Own work) CC BY-SA 4.0, via Wikimedia Commons
[4]By This image was created by user Josh Milburn (J Milburn) at Mushroom Observer, a source for mycological images. You can contact this user here. CC BY-SA 3.0 via Wikimedia Commons
[5]Stu's Images CC BY-SA 3.0, via Wikimedia Commons
[6]By Jerzy Strzelecki (Own work) CC BY-SA 3.0 via Wikimedia Commons