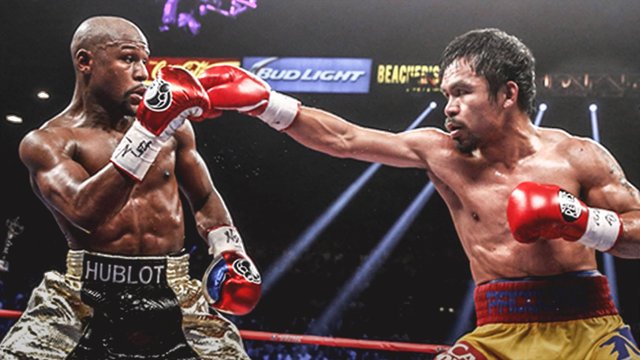 ---
SteemSports Presenter:
@brandonk
---
SteemSports Editor:
@scottybuckets
---
It's a question that's been pondered upon since their first (and plausibly last) meeting in 2015. Post fight, there were tons of accusations against PacMan's camp in regards to them hiding a supposed shoulder injury.. and some deluded fans actually believe Pacquiao won the fight.
---
Floyd's clear dominance over the now 40 year old 8 weight world champion showed that he was, and still is leagues above most everyone in the 147 (and most likely 154) pound division[s]. Floyd just may come back to boxing to cement this notion by beating PacMan again.
---
It was so interesting to see Keith Thurman, a near 30-0 champion who was over a decade younger than Pacquiao get outclassed in the ring as he did. Dropped by a swift punch in the first round, 'One Time' Thurman never seemed to recover nor did he want to engage over the course of 12 rounds.
---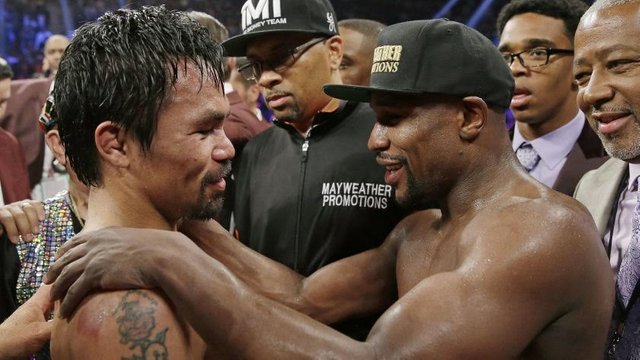 ---
It was pure dominance in my opinion, and the split decision in which one judge awarded Keith the fight shows that not even a legend is protected by the corruption of boxing. Even Floyd Mayweather was awarded a draw in a completely dominant fight over the younger Canelo Alvarez.
---
It was a shocking display of speed, durability and power that Pacquaio showed. In receiving Keith's belt and position for choosing another champ (to beat and eventually unify with)...PacMan once again controls all the cards.He has become the big ticket in Floyd's absence...
---
...and I wouldn't doubt it if Floyd is sitting a bit envious as he wants to prove himself once again. I will admit that Floyd taking Pacquiao on after over 2 years out of the ring is dangerous.. and in actuality he hasn't fought a true pro boxer in over 4 years (Andre Berto).
---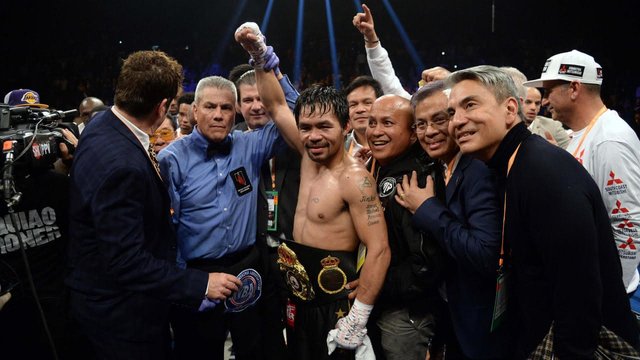 ---
The Conor McGregor fight was only a tune up of sorts... and that in itself was an exhibition. With Pacquaio staring across the squared circle, Floyd will have to deal with the wrath of a completely different beast. It will be interesting to see Floyd's confidence and resilience if he does invariably return to the ring.
---
Once could see that Floyd being in the ring at the entrance of both fighters means he has the itch, and if he does return, I'd still say the smart money is on the money man. He truly is the most gifted boxer of this generation and possibly the last... his defense is seriously perfect.
---
The biggest fight in history can only be topped by a rematch, and Pacquiao has only gotten better with age. No injuries, no excuses... I'd look forward to a rematch of the undoubtedly two best fighters of our era. Mayweather vs. Pacquiao 2, who would you take if we get that fight (sooner than expected)?
---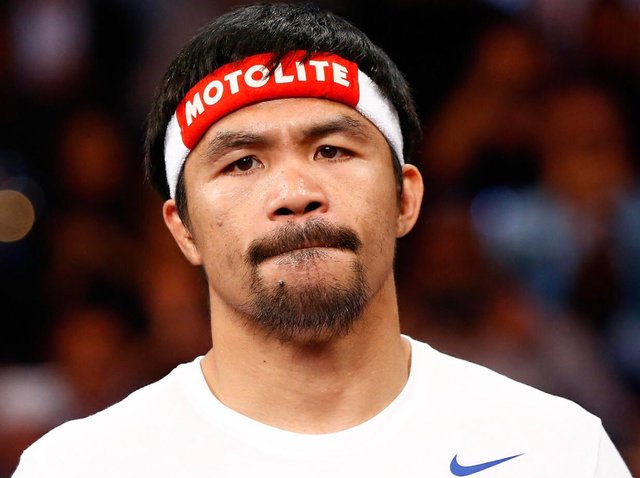 ---
Thank you for following
@steemsports
and you can find me
@brandonk
---

---

This is a
@steemvoter
subscription payment post. Thank you to Steemvoter customers for allowing us to use your Steem accounts to upvote this post by virtue of your free subscription to the
https://steemvoter.com
bot service.
@steemvoter
is proudly a
@buildteam
subsidiary and sister project to
@steemsports
,
@steemsports-es
,
@steemsports-ita
and
@minnowbooster
.