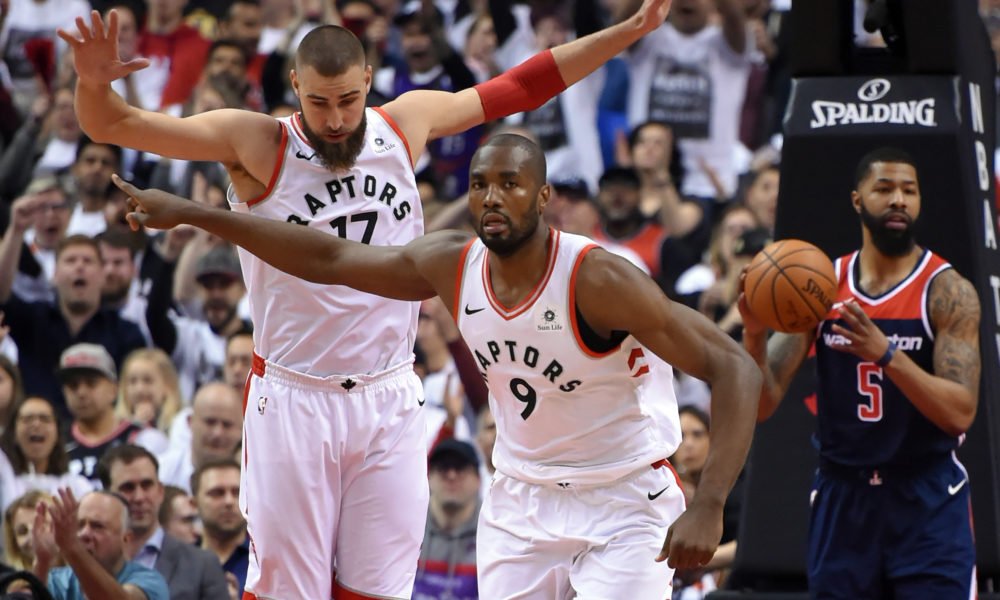 ---
SteemSports Presenter: @dwin0603
---
SteemSports Editor: @theprophet0
---
Serge Ibaka led the Toronto Raptors to a 114-106 win over the Washington Wizards to open up the playoffs on Saturday. Ibaka had 23 points, 12 rebounds, 1 assist, and 2 blocks; as the Raptors snapped their 10-game losing streak in playoff series openers. DeMar DeRozan had 17 points, 2 rebounds, and 6 assists. Meanwhile, Kyle Lowry had 11 points, 3 rebounds, 9 assists, and 2 steals. Jonas Valanciunas had 9 points, 9 rebounds, 2 assists, and 1 block. Pascal Siakam had 9 points, and 5 rebounds. OG Anunoby and CJ Miles had 12 points each. Delon Wright finished the game with 18 points, 4 assists, and 3 steals. Wright scored 11 of his 18 points in the fourth quarter. The Raptors made 16 out of 30 attempts from the 3-point line. CJ Miles hit 4 of them, Serge Ibaka and Delon Wright each made three. Toronto entered the game having lost 10 Consecutive Game 1s including 6 at home.
---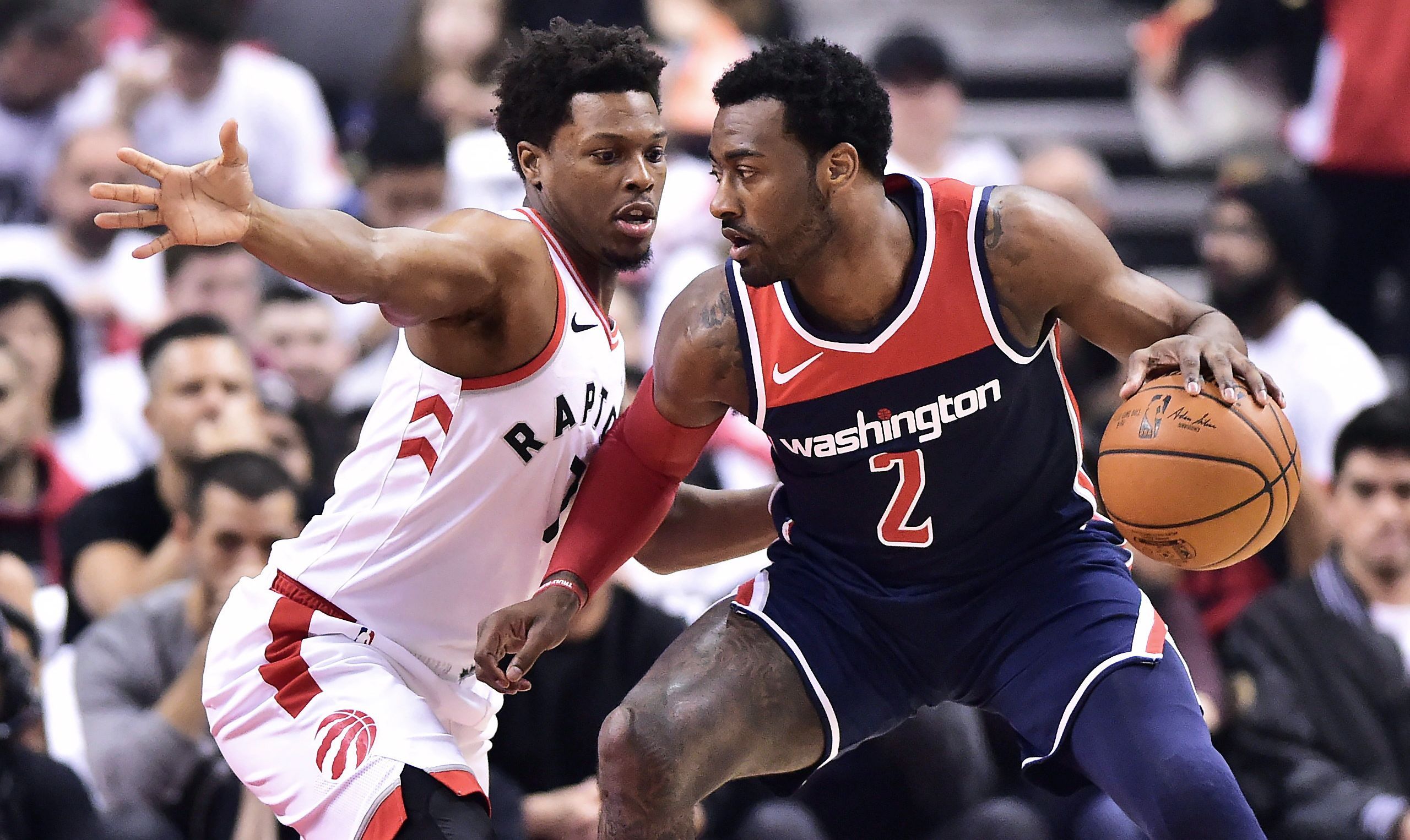 ---
The Wizards tried very hard to upset the Raptors, once again, in the first round. John Wall had a spectacular performance, both on the offensive and defensive end of the floor. Wall finished the game with 23 points, 3 rebounds, 15 assists, 4 steals, and 2 blocks. Markieff Morris added 22 points, 11 rebounds, and 6 assists. Meanwhile, Bradley Beal had 19 points, 2 rebounds, 4 assists, and 3 steals. Marcin Gortat had 12 points and 6 rebounds. Otto Porter Jr. had only 9 points and 5 rebounds. Kelly Oubre Jr. had only 3 points and 5 rebounds. Mike Scott had 14 points and 3 rebounds.
---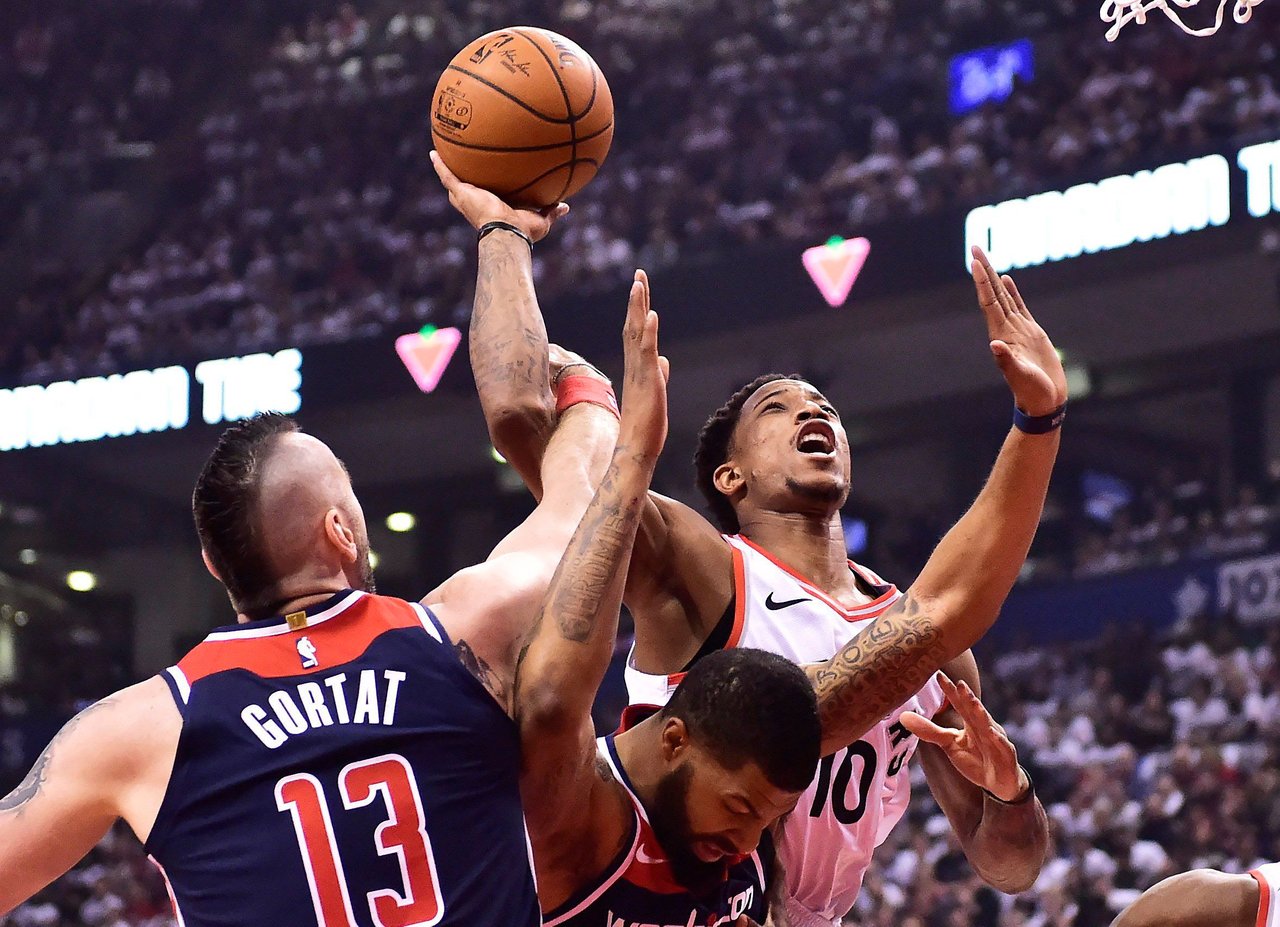 ---
Washington had the lead 91-88 early in the fourth quarter when Lowry was fouled hard by Mike Scott. It was a flagrant foul, because Scott used his elbow to knock down Lowry. Lowry then hit both free throws. After that, Delon Wright made a layup to take the lead, and then CJ Miles hit a 3-pointer to begin a 7-0 run that gave Toronto a 95-91 lead with more than 9 minutes remaining in the fourth. Kelly Oubre Jr. and Marcin Gortat took the lead back with a dunk and a 3-pointer, but Miles and Wright both hit a 3-pointer that helped the Raptors' outset an 8-0 run and put them back in front 103-96 with more than 6 minutes left. Thereafter, the Raptors never trailed and took away all the Wizard's buoyancy. The number 8 seed Washington Wizards gave the Raptors a hard fought game,but the Raptors managed to survive. Game 2 will be on Tuesday night in Toronto.
---
Thank you for following
@steemsports
and you can find me
@dwin0603
.
---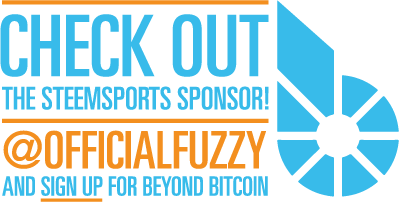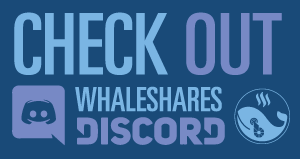 ---

---