Hi Friends!
Well it's another glorious day here in Vancouver: cool clean air, warm sun and deep blue skies.
Here's Robson Plaza with TD headquarters on the right.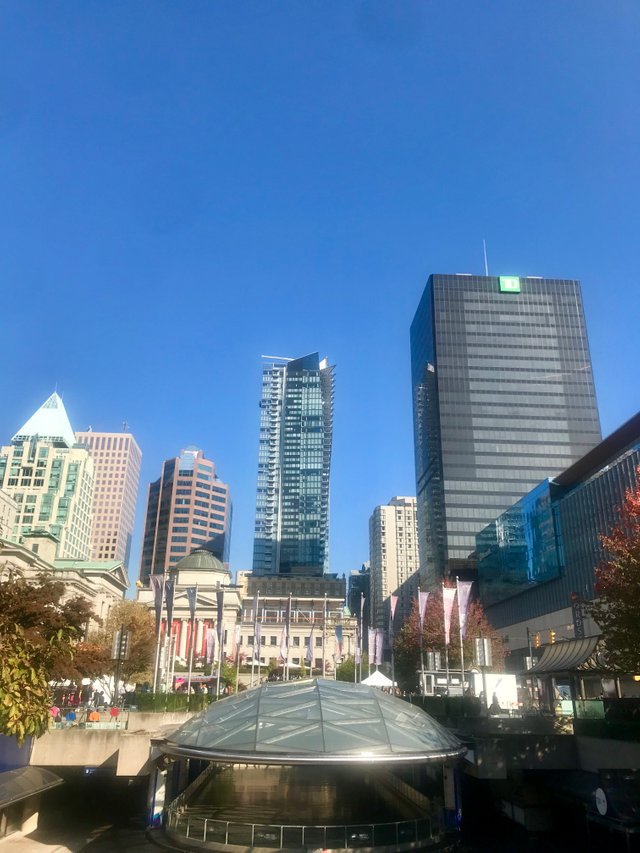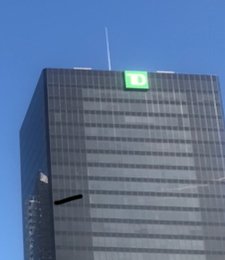 Me n Leon were up early and at the office, keeping track of various operations of TD Corp, which included, keeping up to date with SSG. So i was amused, and pleasantly surprised, to see that @dfinney & hubbs had taken a little roadtrip, and were now in the city!
I was also sure that i could identify at least one of the materials from her post... here, take a look!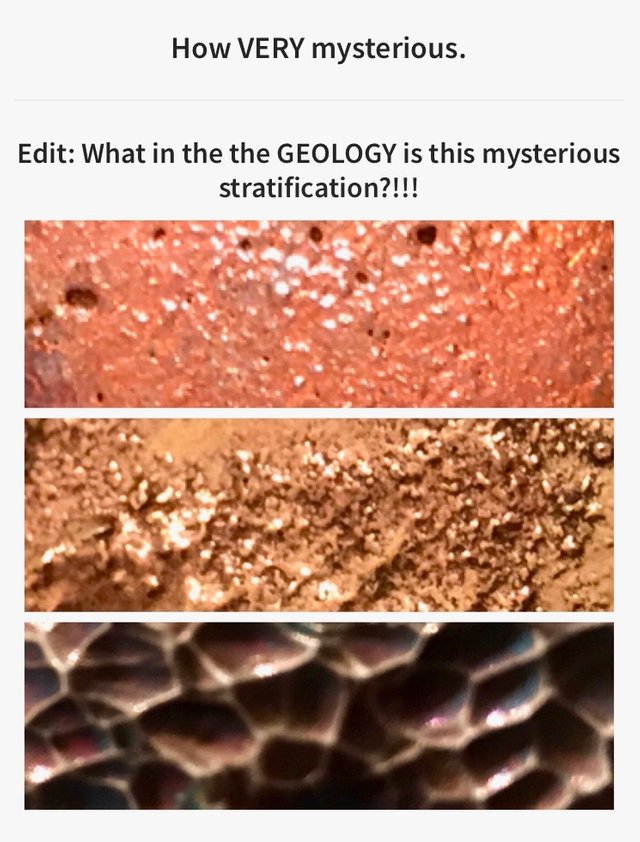 Something there looks like a wood pour, and it looks a lot like a silver wood pour, but other than that, i'm not sure. Ummm, maybe some copper?
Anyway, we got to chatting on the dl channel and decided to meet. I had my secretary clear my afternoon and me n Leon met up with @dfinney downtown at VBCE Mainbranch. Here, the gravity of the situation began to set in, and by this i mean the weight of the fucking package @dfinney gave me! ...Because our social meeting was fun and funny and mostly SSG musings and schemings and talk about what a bunch of A-holes we all are for provoking one another to buy all kinds of fancy and obscure shit, just so we can show it off!!! Bah ha ha — it's been months and months since i bought a randome year Maple... Anyway, it was super fun, and a great precise strike as her hubs had an appointment for an hour, and Mrs. D was getting off work in an hour. And so we hung out for a bit, and then went for a little walk down to the Promenade looking over Burrard Inlet and the North Shore mountains.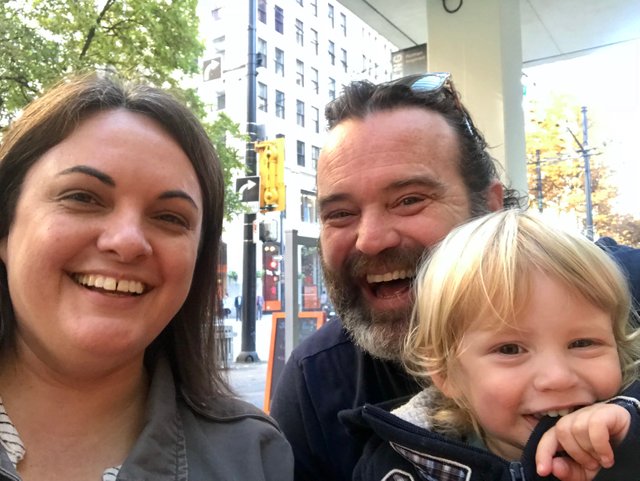 But not before going in for a little plunder! We stood in line savagely for like 3 minutes and then fought our way up to a cashier window. Leon showed no mercy and zero remorse as he brutally murdered the buttons on the interac machine. @dfinney kept the six, and mighta' stabbed someone in the throat, but i can't quite be sure. I asked for a few things that they no longer have (like the incused maple for example — hmmm, that's interesting) and decided to go for a Chinese Panda — they list '16 & '17s — but what came out was better. So i STOLE IT!!! (...for $30.40 cad) and we all high-tailed it out of there: me pocketing the goods, Leon nibbling a cookie and @dfinney shooting lasers out of her eyes and farting rainbow emojis!!!
Check out my new teddy bears!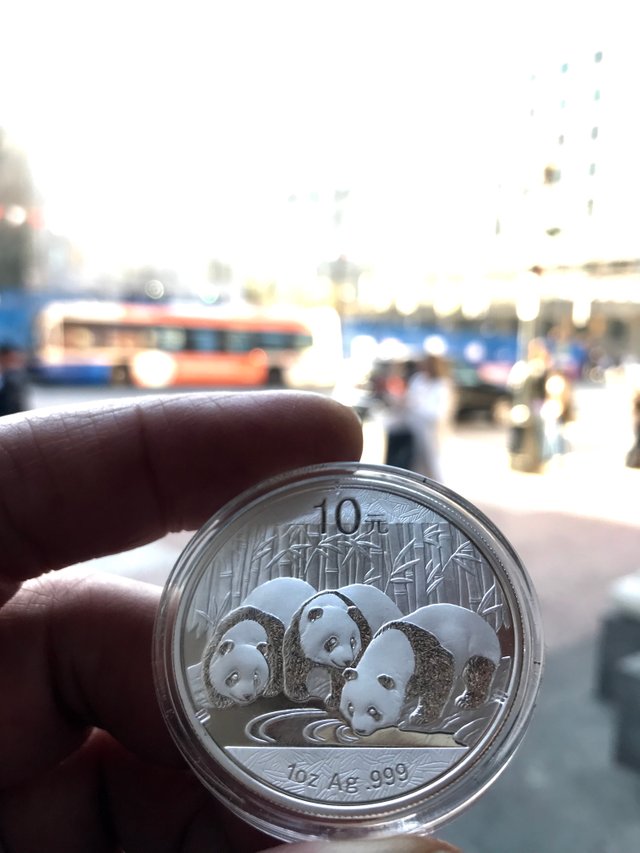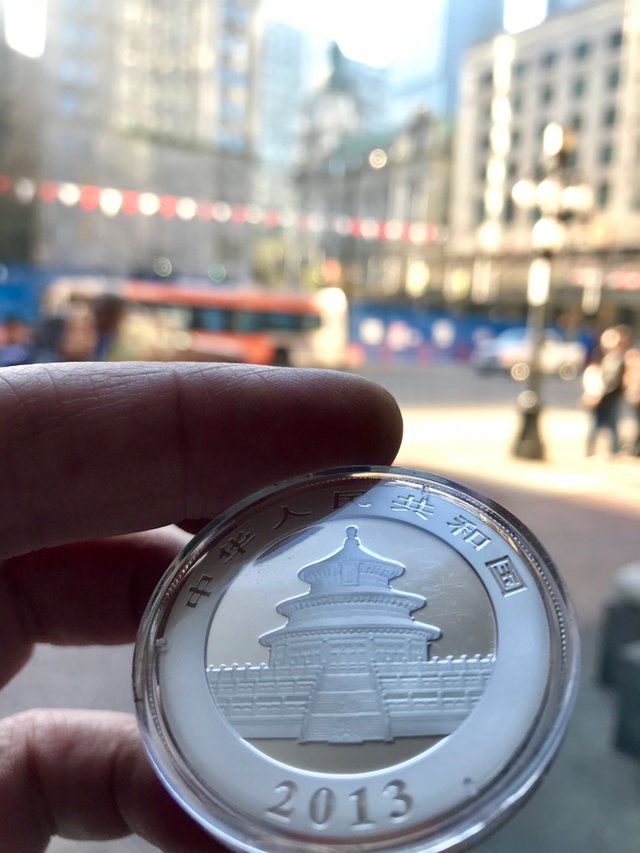 Veddy snazzzay — it's good yah?
So yeah, yeah, yadda, yadda, what's in the bowl bitch!!!? O, you mean this bowl...?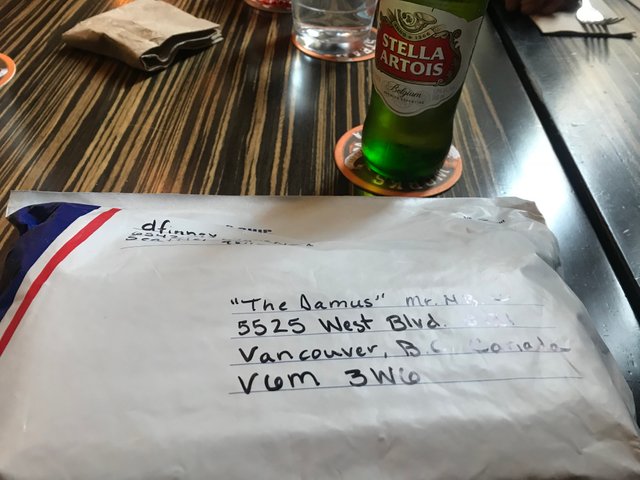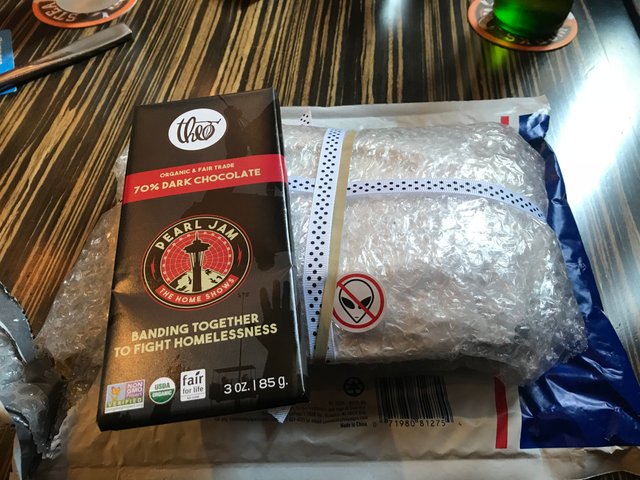 Well for one thing, there's a pretty cool Pearl Jam chocolate bar — how awesome is that!!? — i'll give it a 10! (😜😜😜 see what i did there?)
Hmmm, and look at all this stuff!!!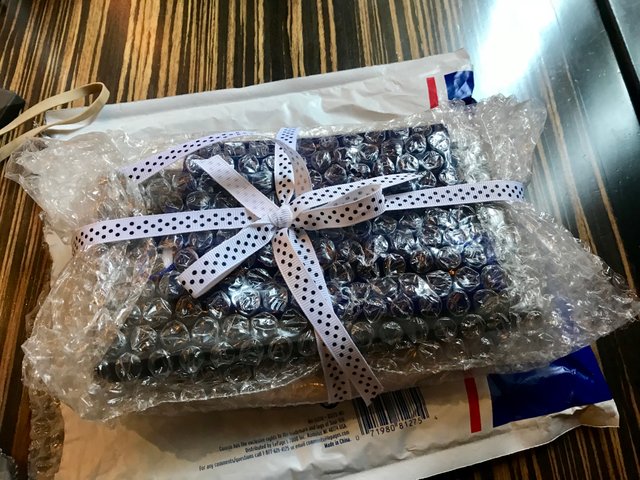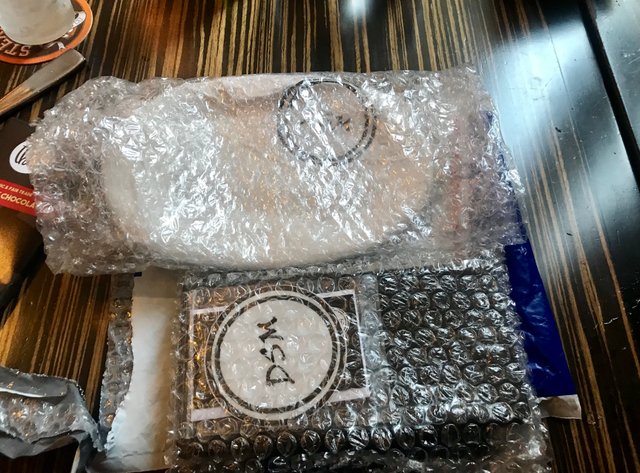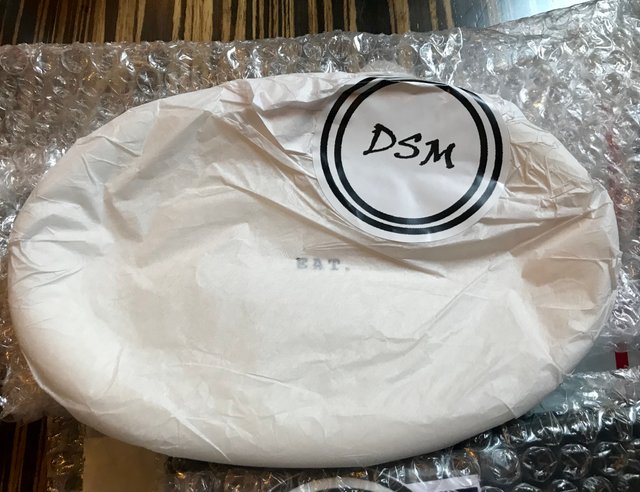 Well, it's from @dfinney via @dixisilverminer so i know it's gonna' be great — and apparently, a few other SSG members mighta' had a hand in turning this into a reality too — but it was @dfinney who made it all happen, and then delivered this big-one-up right to my very ass in person!
Now i have one other pic to share which sheds some more light on what the mystery material was from d-fin'a post, but the truth is, me and Mrs. D were having an after work drink when i opened it, and Leon was spazzing from getting too much stackitus remedy all at once — ffs damus!!! You gotta' keep the meds out of the chillun's hands! Anyway, there was no way i could do justice to the remainder of this unboxing, and so, i put it away...
But,
⚡️⚡️HOLY-FUCKING-AMAZE-BALLZ!!! ⚡️⚡️
What was inside is truly epic. Like spectacularly and reedonk-a-lonkingly epic! I couldn't even believe my eyes! I still can't fucking believe it!!!
...but i'm on a bus out a town to go see a fam member who needs a drinking partner and some solid advice — so here i am to save the day!!!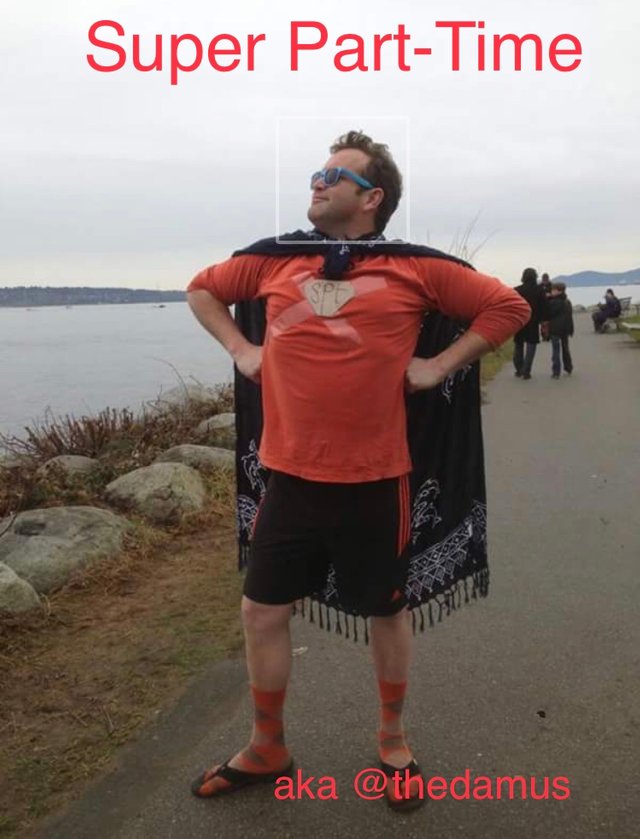 Okay, fuck! I'm in full ramble mode now...
Many thanks to @dixiesilverminer, Mrs Dixi, anyone of you Asskickers who had a hand in this, and of course a super-duper thank you and a big hug n kiss to @dfinney, who made it happen SSG style!
Mind. Still. Blown.
AND!!! To top off that beez-nass, just a short while ago i learned i had won this: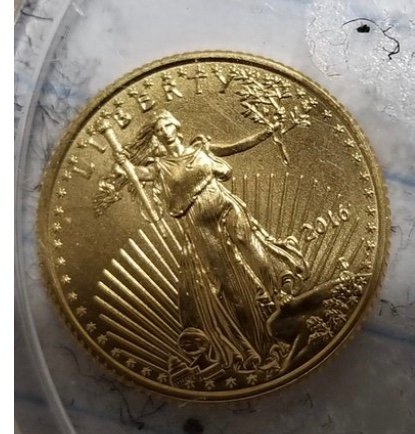 (Thanks Ray-Ray!!!)
And that was after eating this: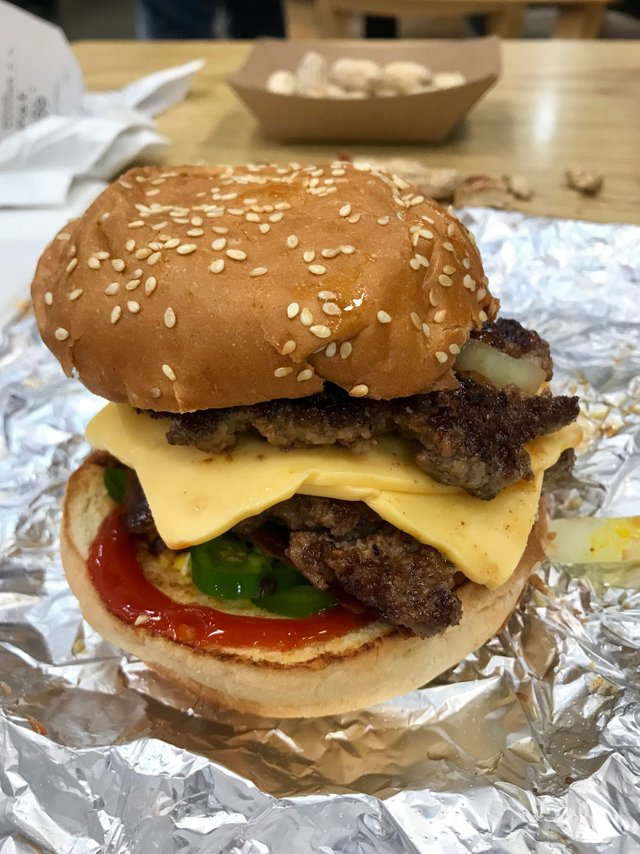 Which is a further clue to what @dfinney was on about in her post from this morning. And so the pieces are starting to come together...

...wait for it, ...wait for it...
...wait for it
Ummm, yeah. Yer gonna' have to wait for it until i can get home and do this big smac-down some justice with some decent iphone photography and a calmed mind.
Got Silver?
Cheers! from @thedamus
🍔🍔🍔🍔🍔🍔🍔🍔🍔