Starting in 1999 the US Mint issued a 10 years program that honored each of the nation's states in the order that they ratified the Constitution or were admitted into the Union. They chose the $.25 coin to be the vessel of the homage.
All the coins obverses show the same profile of George Washington and the reverses were usually chosen in popular contests in each state.
All the coins that I am presenting here are NGC PF70 Ultra Cameo with 90% silver purity and weight of 6.3g.
The first coin is the 2004 "Wisconsin". It features a cow, a cheese and ear of corn. These symbols show Wisconsin's agricultural contribution to the country.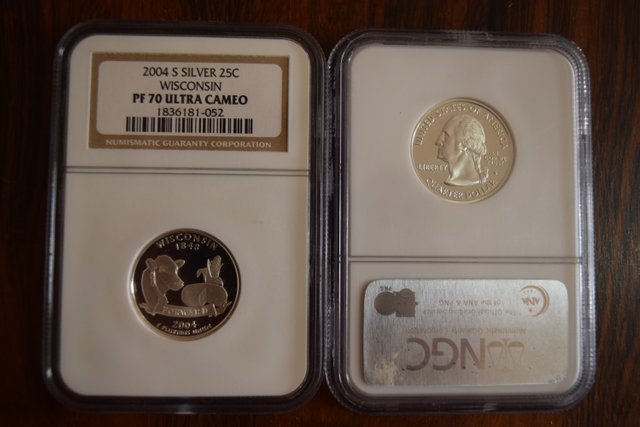 The second coin is the 2005 "California". It features John Muir. He was a conservationist and naturalist who devoted his life to the preservation of Yosemite National Park.
The third coin is the 2005 "Minnesota". It features two people fishing on a lake against an outline of the state. Minnesota is known as the "Land of 10,000 Lakes."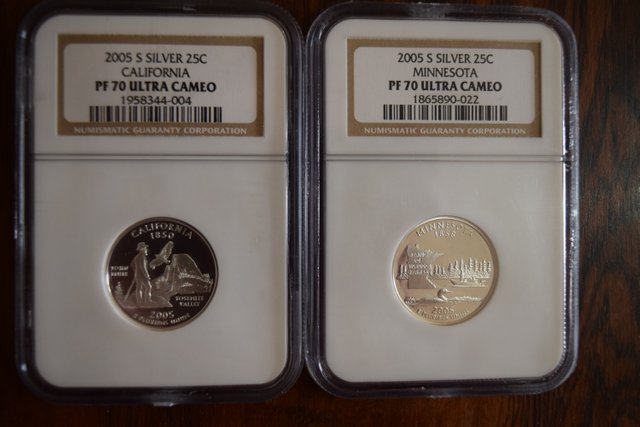 This series will continue very soon.
I hope you have enjoyed this article.
Thank you for reading. Please comment, upvote, resteem and advise me.