I have been in love with these squares ever since I got my first one during #anarchapulco from @kennyskitchen. I have never seen or heard of these before that point. I wrote an article on the Suns of Liberty Mint while I was still in Acapulco, right after I received my first one there. If you would like to know more information about the mint and its founder David Breger, click the link above to check it out.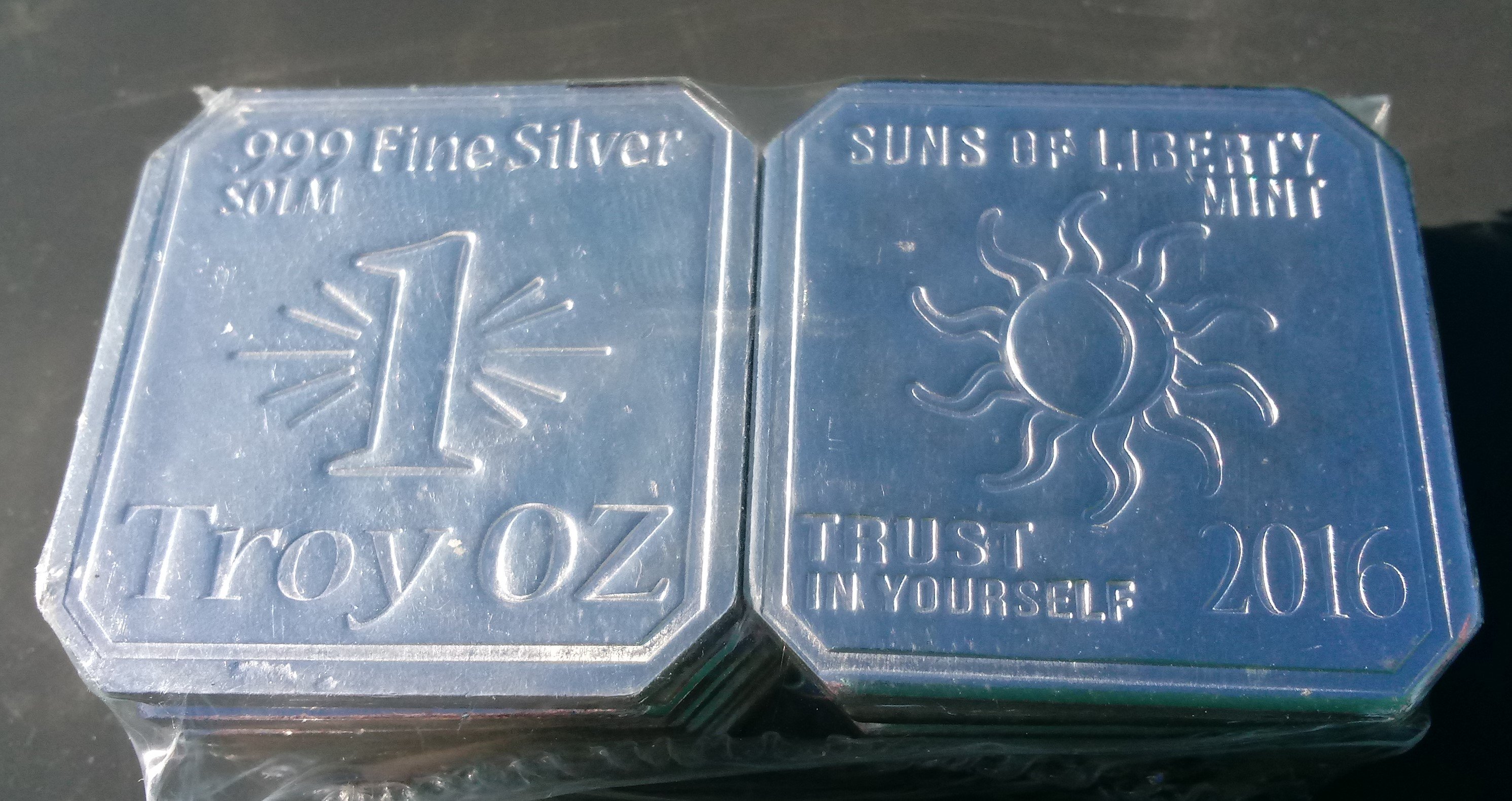 Why do I think this these squares are cool? Well first off the name is Suns of Liberty, instead of Sons of Liberty, which is creative in itself. Secondly the symbol on the obverse of the square appears to be a phase of an eclipse, with the moon passing over the sun, dope. The best part though is the slogan stamped on the square that states, "TRUST IN YOURSELF", which is by far the best slogan I have ever heard of being associated with a precious metals mint. This slogan of coarse advises to trust in yourself over the government and authoritarian figures.
The original Suns of Liberty square I got from @kennyskitchen in Mexico (obverse)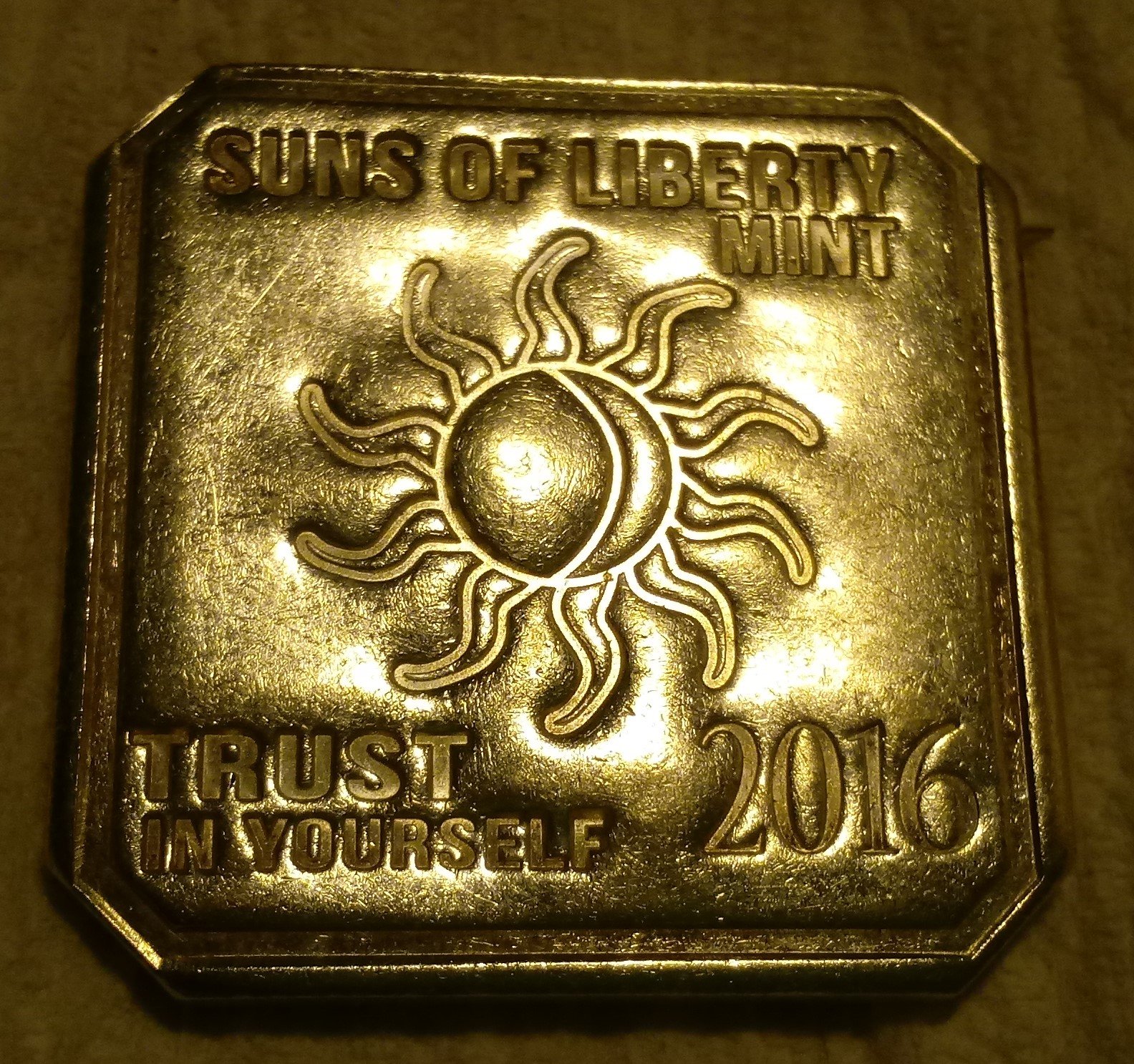 The reverse of the square has a big "1" in the middle shining light in every direction. The "1" also has the "troy ounce" tag after it, implying the square is 1 troy ounce of silver, which they always are at least. Above the "1", it has ".999 Silver" and the "SOLM" tag stamped on it as well.
Reverse of the original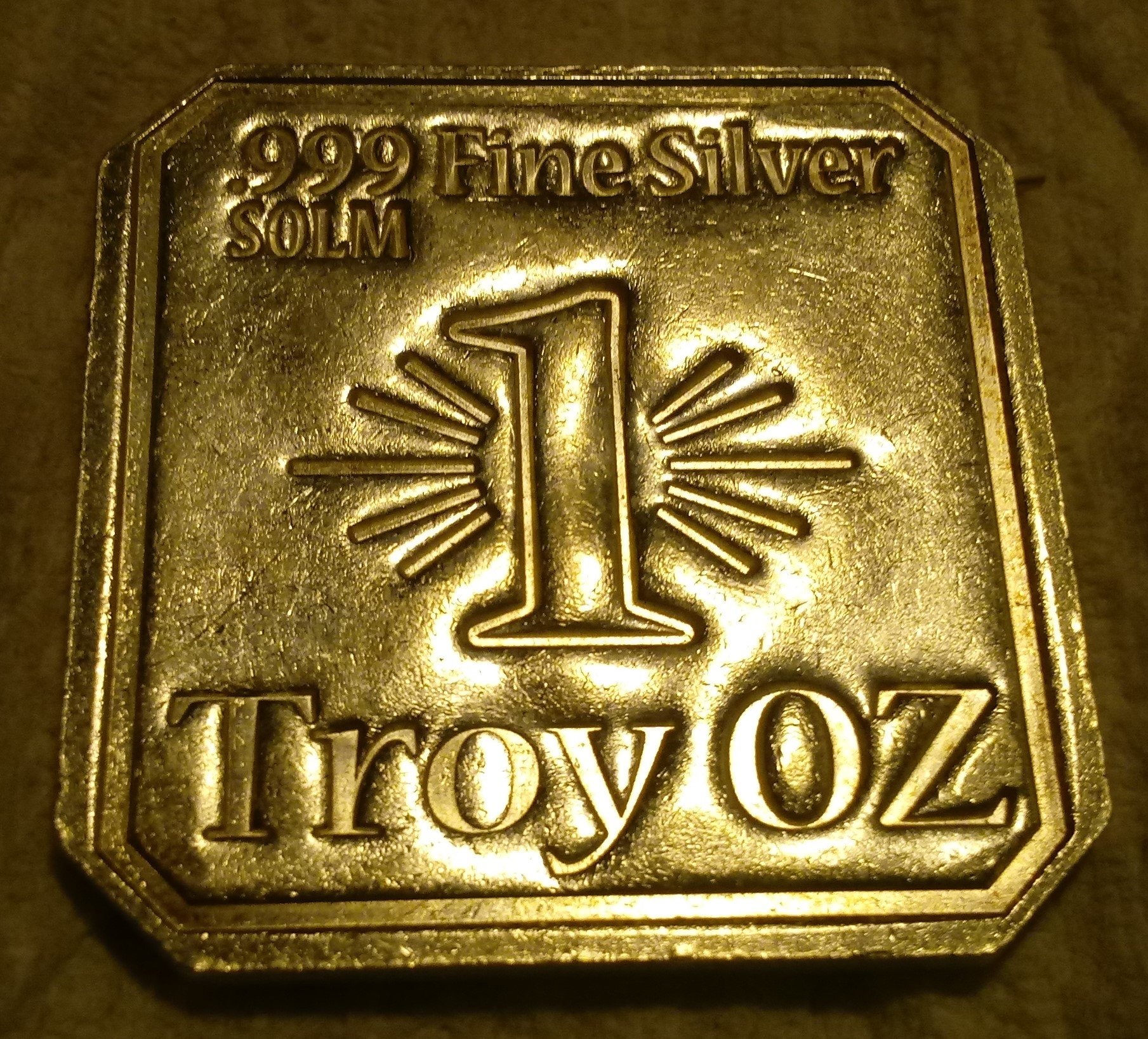 After a bit of research, I found a vendor who knows the founder of Suns of Liberty (Dave Breger) personally, that has 10-packs of these squares available in perfect mint condition, still sealed in the original packaging from the mint. Here is the un-boxing video of me opening the package with my ten 1 oz silver Suns of Liberty squares from 2016, one of the last designs printed by this mint before they closed their doors indefinitely.
Music by : STS9
If you would like to order some of these yourself, you may have to wait until the price of silver goes up and someone else wants to sell their hoard, as the listing for this item is no longer available on Ebay. I spoke with the guy I purchased these from today and he said I bought the last pack. He also said he only had two left, he sold one last year, and the last one to me. This is the only guy I have found that still has quantity of these, so it is likely that since he is sold out, it will be very difficult to find deals on these in bulk that are not set at whatever the current retail collector's price will be. You can still buy these individually, but usually for much more per ounce, and not always in mint condition. I scored at the right time with this one, I was watching his ad for months.
J & S business card in case you want to contact him about his other items, here is the link to his Ebay page Joseph is a retired steel worker and has been dealing with silver bars, rounds, and Morgan dollars for about 40 years.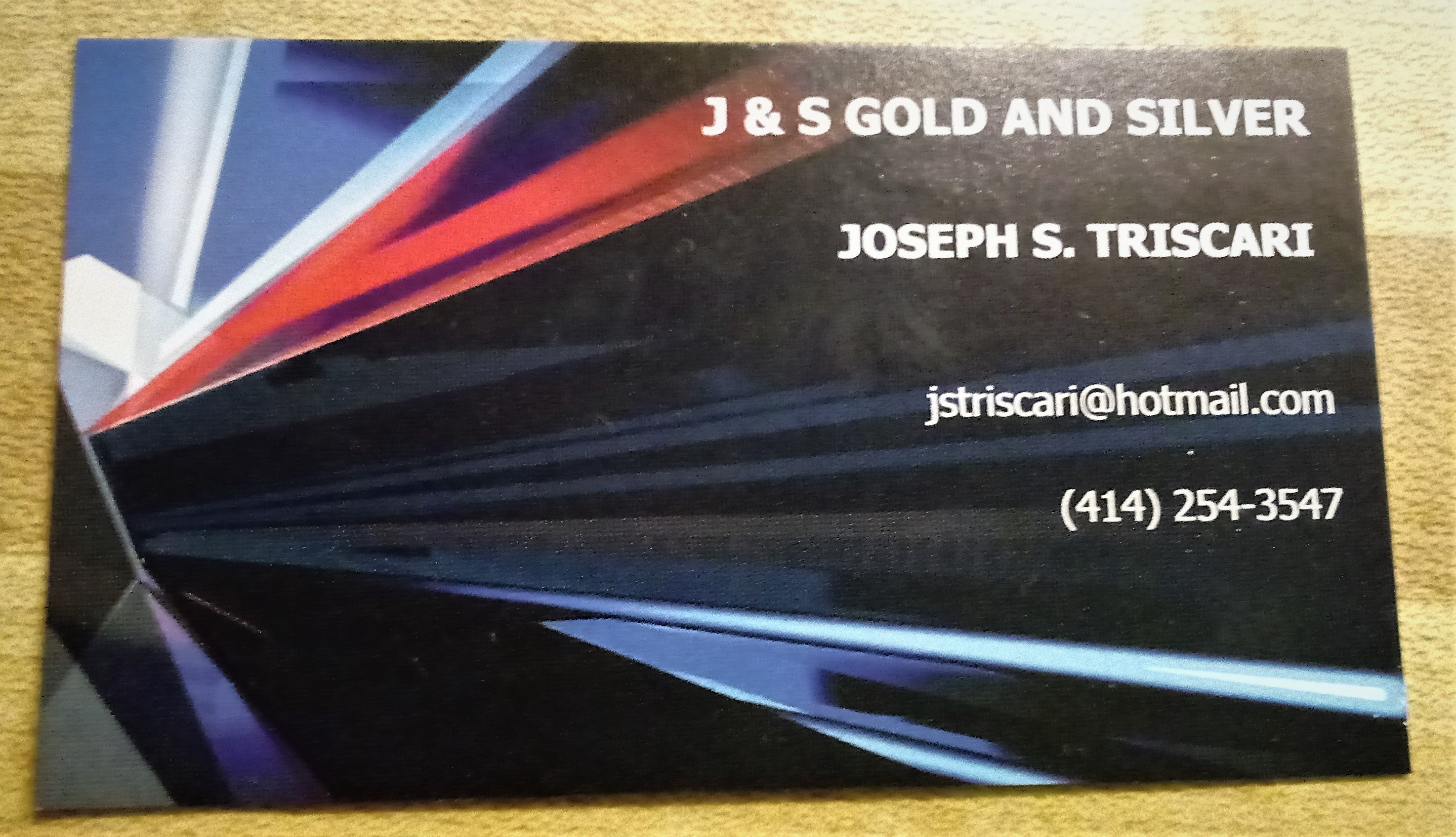 Here is the side of the 10-pack of SOLM squares I ordered from J & S Gold and Silver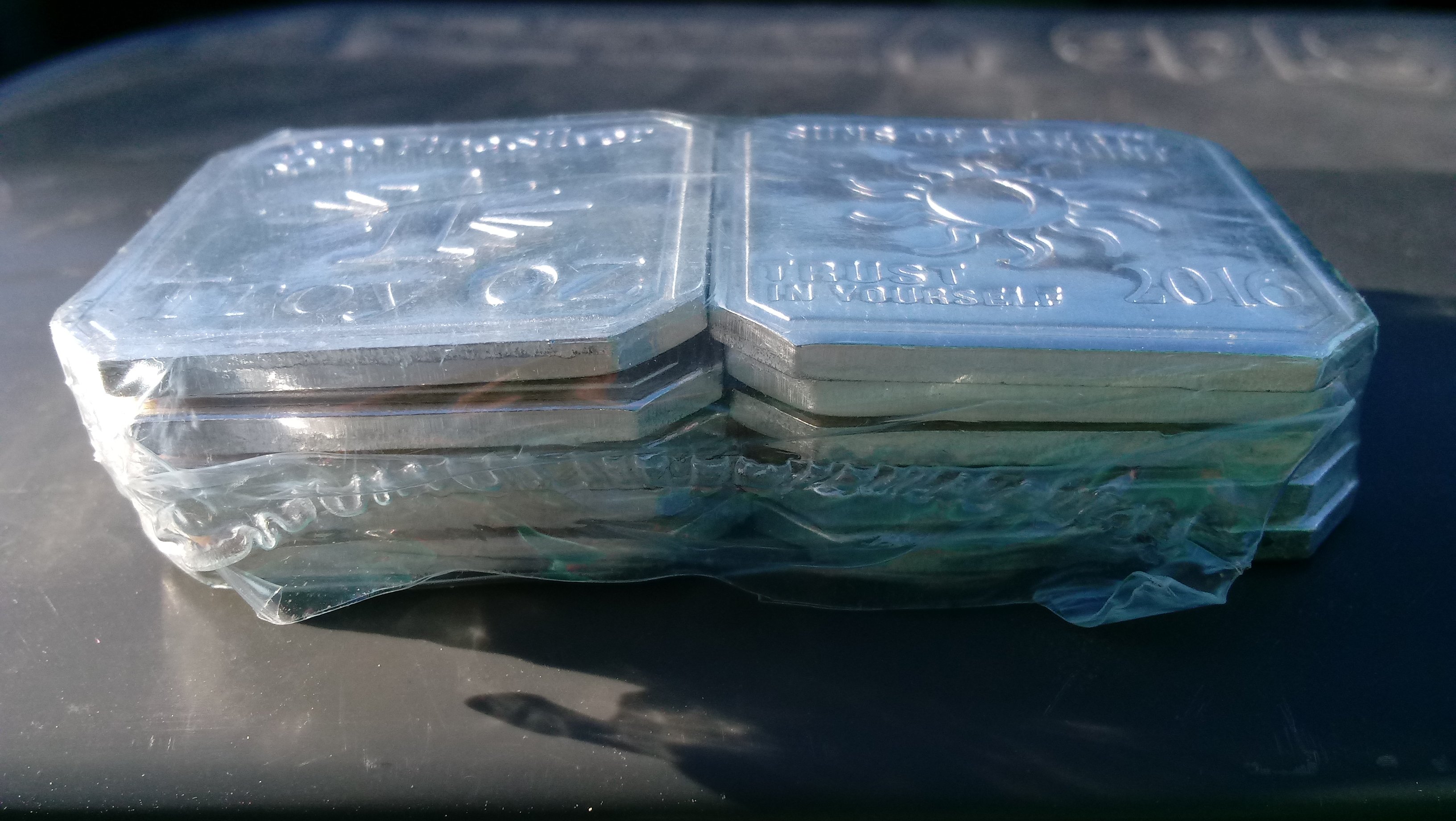 & the pack flipped around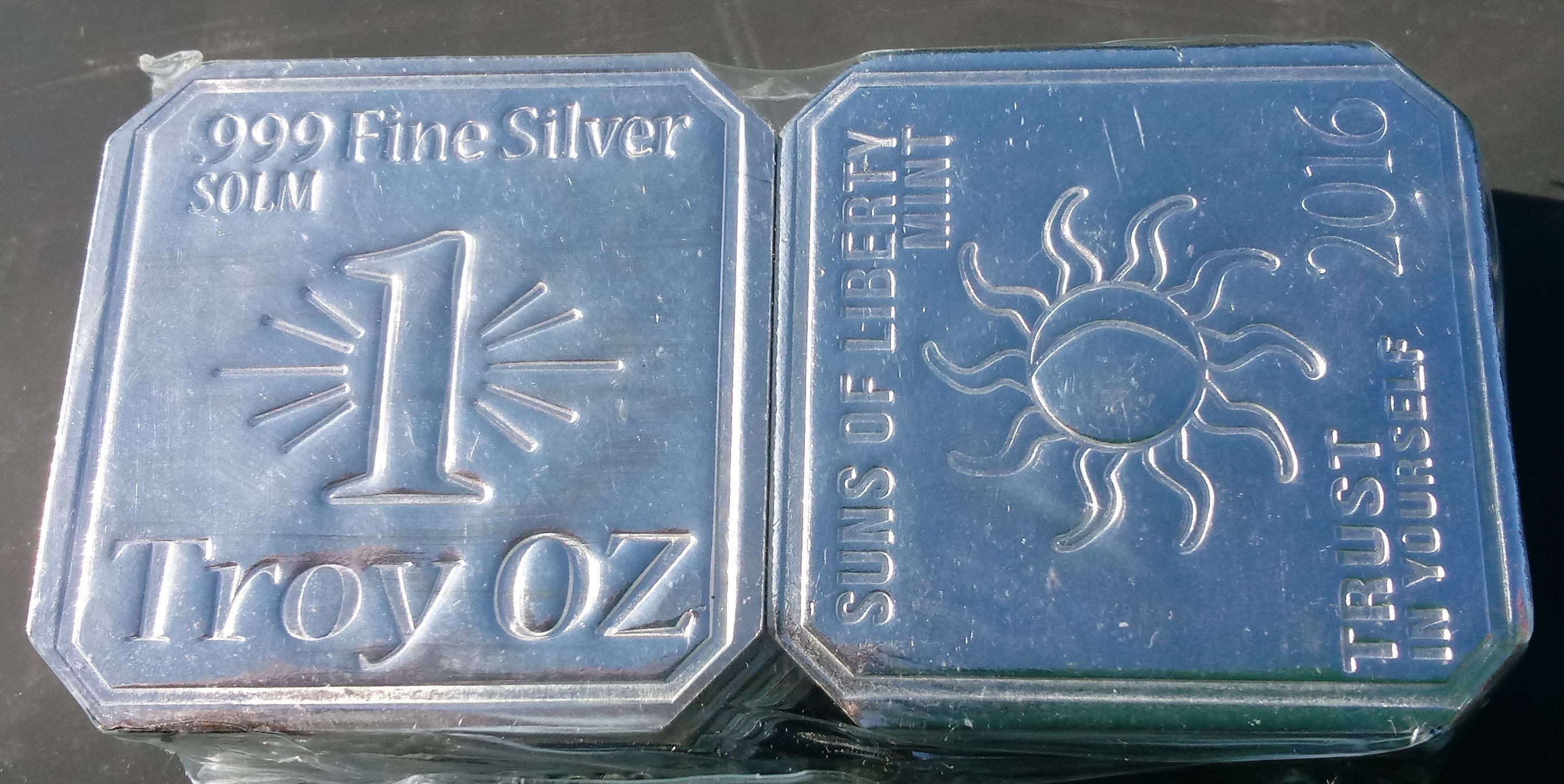 I hope you have enjoyed this experience with me, as I had no idea this was the last 10-pack he had when I bought it. If I would have known that, I likely would have gotten them much sooner. P.S. - I will have these at my vending stand during the #anarchapulco & #anarchaforko conferences in Mexico next February.
All images in this article are originals photographed and owned by @elamental

In case you missed them, check out my other recent #steemsilvergold posts:
CLICK HERE to view my article on The Mexican Silver Libertad 1 oz. Coin (Plus a Video Testing Magnetization of Silver)
CLICK HERE to view my article on the 2 oz. Silver Griffin of Edward III Silver Coin from the Royal Mint's Queen's Beasts Series
CLICK HERE to view my article on the 1 oz Proof Bitcoin GUARDIAN Commemorative Silver Round from Anonymous Mint
CLICK HERE to view my article on this MS69 Graded 1oz. PURE GOLD Red Dragon of Whales Coin from the Royal Mint
CLICK HERE to view my article on the Red Dragon of Whales (Silver) & the Queen's Beasts Coin Series from the Royal Mint:
CLICK HERE to view my article on The 1st EVER PLATINUM COIN Produced by the Royal Mint: Also MY 1st EVER Piece of Platinum!
CLICK HERE to view my article on My First Hand Made Silver Wire Wrapped PENDANT!
CLICK HERE to view my article on My Silver Story & Where I am Now: My Steemit Story Part 3
Blessings my friends, & stay tuned - into the right frequencies.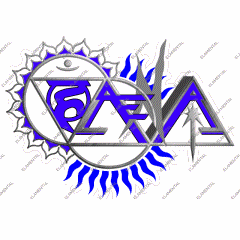 TM
PLEASE CLICK HERE to view my blog with all my recent posts on cannabis, silver, Steemit, cryptos, underground conscious Hip-Hop, healthy living, festivals, and MY STEEMIT STORIES! & have a BLESSED DAY!!