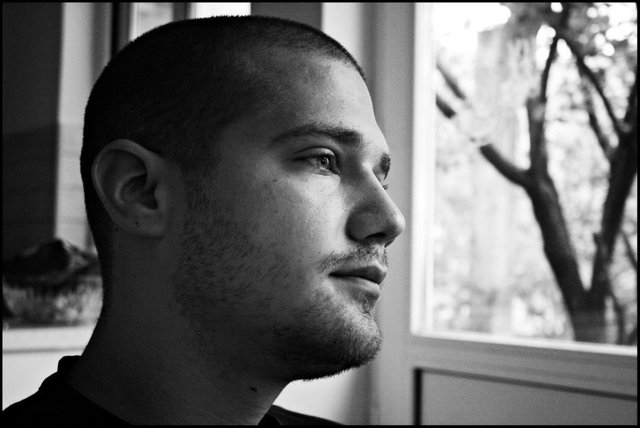 I was always up to any challenge and I have been through many in my life for now. And I will be in many more yet to come. It is not desire to win, it is not thirst for fame. It is what makes us keep on. Something that touches you, keeps you moving. Slap your face and tells you not to stop and look behind. And this challenge as well as Steemit School is great invention by @dobartim.
I always used to be different and on my own. And yes, I know, many say the same. But, they do not know for real how it feels like. Because being that really good actor makes like one in a million. But anyway, life makes you happen as a human being. But life doesn't give you too much to start with. At least you think that is the case. Well, you do have a brain and let's say the urge to develop the brain. Trust me, when you start reading the articles, poems, stories and similar here on Steemit, you can say you have something you never did before in such a way. You felt something real over someone's writing!
Anyway, one day I was at the bar with my friends, and one of my friend's girlfriend is from the USA and she writes articles and blogging. She saw some of my stuff and pointed me for Steemit. Her account is @alexcote. To be honest, when I started, I didn't see much of the platform and was kind of impatient and similar to that. I suddenly found myself thinking about to quit and I did for a long time. Just recently, I really started investing my time and patience into all this. What was the trigger? The trigger was the comment left on one of my stories that invites into Steemit School Discord Channel! Why? Well, if you ever read any of those books that explain how to properly attract something you want and to be powerful in such a things, it says that only when you close your eyes and through your own eyes you can see something you want so much, only then you actually attract. But, if you see yourself doing something you want the most, you have so much more to practice. Anyway, I started seeing what I wanted. I started with Steemit School and Steemit again. And, of course, I am very determined about that for a reason. I believe it carries much more than it looks like.
Many keep asking why Steemit? Well, you have to keep on mind that everything similar is pretty much new. But, leaking is not the part of the communities such as this one. I believe that Steemit and many more will reorganize and take over some of today's biggest networks and possibilities are endless. As you grow step by step you will see and notice how your income and your power and possibilities also grow. You will feel the urge and at the point, you will be thankful to yourself for not giving up. Because giving up on anything is not something regular everyone does, it is particularly your option and at the end decision you made for the following future you are, again, not sure about.
Considering business area of doing Steemit, I really cannot say much for now, but I can say that for sure, I believe and know, will do good, not only good, very good in the market which will allow us to share and win together as well. But, as with everything, so you do have to be patient and determined with this as well, if this really is what you want.
Also, I would like to say few words about this community. I would like to thank to @nikolina , @flysky and @dobartim for standing out and really helping me in better understanding of the whole picture. It is very peaceful and calming to talk and I encourage everyone to try, ask and share. Every piece of information I asked was given to me and I am really thankful for that. I remember the first night when I tried to write the answer on all the messages until @nikolina invited me to live chat which, trust me, was much easier and more, let's say, domestic environment. However, the whole community is based on sharing and helping, which if it has more in this world, the whole world would be such a lovely place to live in and experience all the beauties it has to offer.
Well, the only thing I am sure in this life, no matter what you do in your lives, if you do it with purpose, understanding and give it some time, you will never regret of any deeds done in past. Because, everything that is done is behind and it is there for a reason. The important thing for everyone's life is your future. So, if there is something you are passionate about, now is the time for you, me or whoever to start, because the time will never go back, it goes only forward.
All in all, I acknowledged patience for a start and all the thank you I can give I give it to you. I hope all of you can understand me and with all my heart I offer any kind of additional help for each one of you if it is needed. I am all open up for you, because all of us together can make it happen!
They say, one whale in the ocean is big and magnificent, but as an individual he might die soon. But, there are many fish in the sea and all of them together with thousands of eyes care and help of each other, so their extinction is not even questionable.
You can enter the competition here:
https://steemit.com/steemschools/@dobartim/steem-schools-ultimate-challenge-5000-sbd-prize-make-best-steemit-story-of-your-way-of-success-day-7
Be a part of our family on Steemit School discord channel https://discord.gg/9Yb3AMR