Everyone has a chance of winning, multiple times over and over with all the amazing contest's and challenges taking place within the steemit community and within our various other groups with The Steemit Rewards Quest and everyone can earn rewards and win but there will only be one Jackpot Winner...
How to Win the Jackpot!
The first person to complete all 10 steps in the Steemit Rewards Quest within the designated time frame (Window of opportunity) is the winner. If there is no winner and nobody completes within the designated time frame a new quest will begin and the SBD will roll over and be added to the next Quest. Complete the Quest within the designated time frame and You Win The Jackpot!
The Jackpot Winner will be announced just shortly after the Quest finishes on the 31st March 2019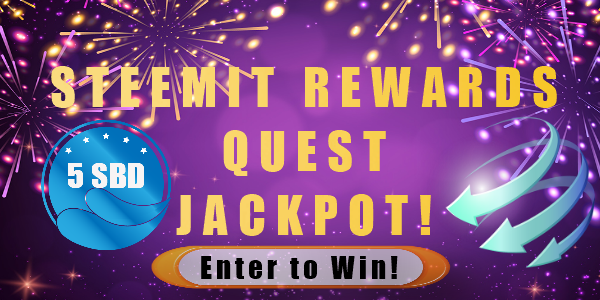 The Quest is free to join and always will be free and it's open to both existing steemit users and new users. There is no registration or sign up necessary but you will need to provide proof of actions in order to receive any bonuses, awards or prizes.
Ready to Start?
Get started today with zero out of pocket expenses, take part in the fun and start getting rewarded for doing the stuff you would normally do anyway but would not normally be rewarded for.