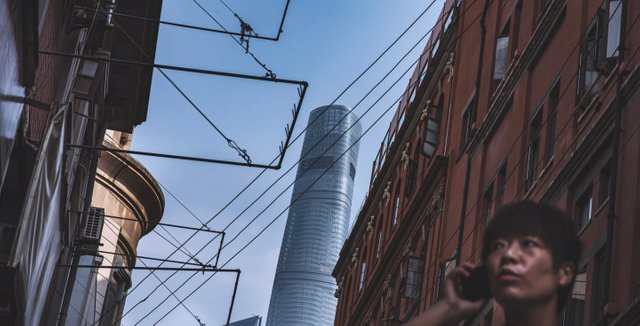 | Camera | Lens | Aperture | ISO | Shutter S. | Focal L. |
| --- | --- | --- | --- | --- | --- |
| Nikon D750 | Tamron 24-70mm 2.8 G2 | F9 | 100 | 1/200 sec | 85mm |
 
Please make sure to watch the photo in Full Screen

Good day guys!
 
Today I share another image of my most recent trip to Shanghai. It shows a women on the phone with the Shanghai Tower (second tallest building in the world) in the background.
 
It might look like a lucky snapshot at first but there was actually a lot of "work" going on behind this picture.
 
In Streetphotography I always try to Integrate 1 or more person/persons into a nice background. This time it's the walls of the building from the left and right side and also the tower in the background.
 
Also the perspective was quite tricky as when I stood there straight the tower would be cut off - So I had to go down to my knees to find the perfect spot.
 
Also the subject (women on the phone) did not just randomly appear. I had to wait for a fair amount of time to see her walking by :D. Overall It took me around 45 mins to take this shot :))
---

Hope you guys have a great day ahead!
 
Best,
Chris
 
| Country | Location | Year |
| --- | --- | --- |
| China | Shanghai | Oct. 2019 |






---

---