Earn Superiorcoins AND SBD!
If you are earning SBD by writing and upvoting posts on Steemit then the perfect synergy to work with this is the Kryptonia Community. As well as earning your usual rewards on Steemit, you can increase your earning potential with superiorcoins, and use these superiorcoins to get upvotes on your own Steemit posts.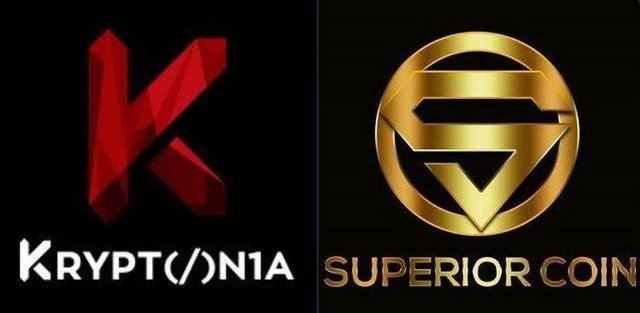 I have written many times of how Kryptonia works hand in hand with Steemit, but as it has been a while I thought it useful to write an update to show exactly the earning potential available via Kryptonia and Steemit.
As well as being able to allocate earned coins for upvotes (and other tasks) earning the coins is where the money is. In fact as Kryptonia has grown, so has the earning potential as well as the available tasks. On a typical day my earnings average around 700-1000 coins, and this is not all connected with Steemit, there are tasks paying you to click on advertisers, retweeting, entering competitions, signing up for new faucets and much more.
And you can exchange your coins for SBD through various exchanges, (See my micro exchange offer at the bottom of this blog.) They have also launched a faucet where you can earn 10 coins per 10 minutes. (You will need a Kryptonia membership before you do. and you can sign up here
And the fun (and coins.) Don't stop there, use either kryptonia or superiorcoin as a tag in your Steemit blog and set a task to upvote it in Kryptonia and you may get a juicy upvote from their bots. Depending on the number of coins allocated determines the value of the upvote.
It does take 14 days for coins to clear into your account for usage so if you do want a quick 2100 coins instantly, send me 1 steem and include your Kryptonia username. (See below for details.)
Start Earning Today!
So, to get started, simply sign up for Kryptonia HERE
Thanks for reading.
Image Credit: Kryptonia
Exchange Steem for Superiorcoins
Send 1 Steem to @socialmediaseo and include your Kryptonia ID for 2100 Superiorcoins direct in your Kryptonia account.
Want More Followers and Upvotes
Join the #Steemengine today HERE
---
Posted from my blog with SteemPress : https://blog.socialmediaseoservices.co.uk/blog/earn-more-with-steemit/
---