Trading Journal #18: Riding Gold's bullish trend
Important Notes:
I update the zones of my tradingview charts every morning.
I make daily zones (green boxes) and 1h zones (blue boxes).
I am a scalp to swing trader. I often look at the following timeframes: 15m, 1H, 4H, 1D.
I only observe/trade two Forex pairs: GBPAUD (British Pound vs Australian Dollar) and XAUUSD (Gold vs US Dollar).
I journal both my losing and winning trades.
I don't claim myself as a guru. I am still working on refining my strategy. Thus, whatever you read here shouldn't be taken as a piece of financial advice.
Note: A zone is a premium price area in which no one wants to give up the price. Zones usually serve as strong areas of support and resistance. Therefore, the price is expected to move from one zone to another.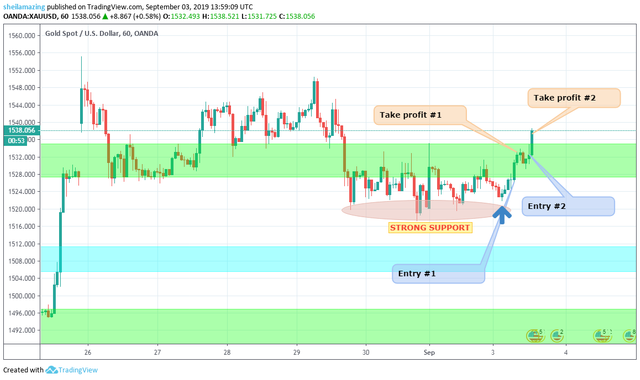 XAUUSD on 1H timeframe
For the past few days, the XAUUSD pair retested a minor support zone. It bottom-touched five times. The price finally broke out the fifth time (blue arrow). After seeing that the support strongly holds (the candle ended up higher than the previous one), I set BUY order. I set my target price on the next resistance.
I waited for a pullback to re-entry and set my TP on the next resistance. My TP was hit minutes ago. At this moment, the price is still rising but I'm already done. My targets were already reached and I am already contented with the gains.
I am expecting the price to pull a step back before going up once again. As you can see, the price is in a strong resistance zone (previously a support zone).
My first TP was hit after 3 hours while my second TP was hit after an hour.
PS: The reasons why I am having this online journal can be found here:
Officially Documenting My Trading Journal Online
---
Posted from my blog with SteemPress : [https://pinayteenvestor.com]
---