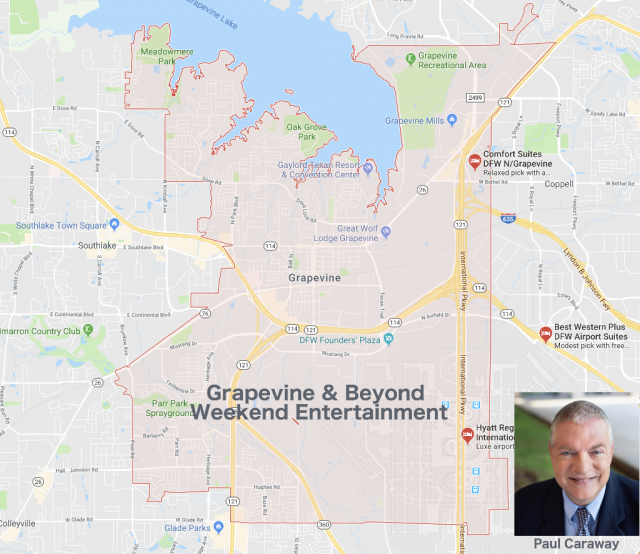 ---
The Palace Theater is a 1940's theater and it is where The Grapevine Opry performs . The other time it is used as a movie theater. Bring a same-day local restaurant receipt for Free Popcorn!
Here is the schedule for this weekend below:
32ND ANNUAL GRAPEFEST®- A TEXAS WINE EXPERIENCE, PRESENTED BY BANK OF THE WEST
Bring in a same day receipt from any Grapevine restaurant and get a FREE POPCORN at the Concession Stand! Outside food and drinks are not allowed in the theatre. Thank you.
For ticket assistance, please call Grapevine Ticketline at 817-410-3100.
More details for Palace Theater.
Other fun activities:
1209 S. Main St., Grapevine, TX 76051
Parking for GrapeFest available
Ride the train from Grapevine, Texas to Fort Worth, Texas and visit the Stockyards!
This is what Grapevine, Texas is known for. In the fall is Grapefest featuring wines from all over! (See my previous blog for more details by clicking here.)
---
---
Each day at Noon, 3 p.m., 6 p.m. and 9 p.m., Nat and Willy emerge from the Grapevine Glockenspiel.(If wind is gusting over 25 mph the show may be canceled for safety reasons!)
Test the limits of your imagination with over 2 million LEGO bricks at your disposal. Build and time your race car at LEGO Racers Build and Test, or stroll through MINILAND where you can view some of DFW's most famous landmarks miniaturized with LEGO bricks.
You can see all forms of sea life, from starfish to seahorses and sharks to jellyfish, at this 45,000-square-foot aquarium. More than 30 displays housing more than 5,000 sea creatures, featuring both exotic saltwater and native freshwater sea life, anchor this two-story attraction. You can even feed live Stingrays!
Open Monday - Friday - 10 a.m. - 8 p.m.,Saturday - Sunday - 9 a.m. - 5 p.m Events and Activities throughout the year include First Fridays at the Farm, Farmhouse on the Grape Vine Prairie, Frugal Farm Wife, Spring into Nash, Fall Round-Up, Dairy Day, Victorian Christmas and many more. The best part is admission is free. The historic structures and exhibits are open during special events or during a scheduled tour and participation fees may apply.
Plus...
Lake Grapevine If you like being on the lake there is Stand Up Paddle (SUP) boarding available from DFW Surf.
Glass Cactus Nightclub - Doors: 8pm, Show: 9pm (unless otherwise noted)
Friday, September 14
Kyle Pokoj
Saturday, September 15
Velcro Pygmies
Willhoites website
Friday, September 14
Rumble Kings
Saturday, September 15
Rumble Kings
Sunday, September 16
No Music
Tolberts website
Friday, September 14
The Coppertones – Rock and Soul
Saturday, September 15
Forever Mac – Fleetwood Mac Tribute
Sunday, September 16
No Music
TapIn website
Friday, September 14
Jet Poets
Saturday, September 15
Jet Poets
Big Daddy's Ship Store website - Outdoor kitchen and live entertainment are all weather permitting!
Friday, September 14
RPM 7pm - 11pm (acoustic rock duo)
Saturday, September 15
Roller Trio 7pm - 11pm
Sunday, September 16
Joe Tucker all day
Back Porch Tavern website
Friday, September 14
Grupo Stampede
Saturday, September 15
Jo Hell
Sunday, September 16
Happy Hour All Day
Big Fish Seafood Grill & Bar website
Call (817) 481-2010 for current entertainment.
Main Street Bistro and Bakery Grapevine website
No music this weekend - It's GrapeFest!
Sloan & Williams website No music this weekend - It's GrapeFest!
Grape vine Springs Winery - Night Watchman Ghost Tour
Thursday, Friday, Saturday (check there website out for all the details!).
She Loves Me
Sep 28, 2018 - Oct 22, 2018
For more information & to purchase tickets go here.
Texas Star Dinner Theater
"Where Historical Meets Hysterical!"® Take a lighthearted trip back to the Wild West and experience a comedy, western murder mystery at the Texas Star Dinner Theater located in historic downtown Grapevine.
To stay in the know about what is happening in Grapevine listen to KGVR The Grapevine right Here!
Other Happenings Outside of Grapevine:
Dallas Observer - Event Calendar
Jim Austin Online - Event Tickets
Thrillist Dallas - Events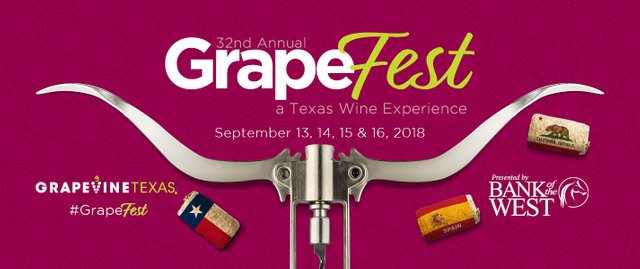 Want to know what GrapeFest is all about watch the video below! For More details check out my blog
All About Grapevine – 32nd Annual GrapeFest® – A Texas Wine Experience
! You can also see information on Paul's Show at
The Scene - Live- September 12th 7pm CT - Special GrapeFest® Addition
. You can buy your tickets
here
.
---