CENT SOCIAL PLATFORM - REWARDING CONTENT CREATION AND SOCIAL ENGAGEMENT
INTRODUCTION
Just as the Internet revolutionalized the age of traditional advertising, marketing and information access, the blockchain is also revolutionalizing content creation by creating avenues for social media platforms to be decentralised. This system enables these platforms to reward content creators as opposed to how the existing platforms are being run. In the existing platforms, majority of the revenue goes to the owners of the platform leaving little or nothing for content creators. Before the blockchain came into existence, existing content hosting platforms like YouTube had a business model that rewarded users for generating high amount of traffic or engagement through their content, the feat about this is that not all content creators have a huge audience enough to attract rewards or attention from Youtube for the content they create and this doesn't male their content any less better than the ones being rewarded, therefore the imbalance in their reward system is highly glaring.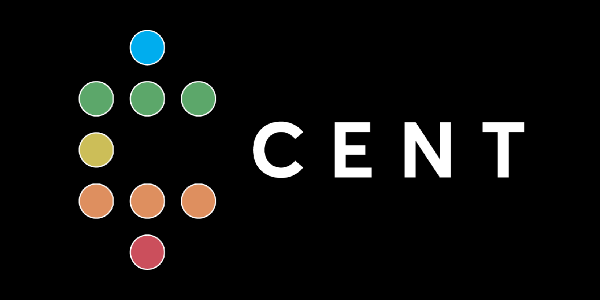 Now thanks to the blockchain, the shift from centralization to decentralization and the total revamp of the existing imbalance in content reward system can be realised. One of the platforms putting all this theory to practice is the CENT social media platform. CENT was derived from the two core words that describes the aim of the project - De-cent-ralizeand In-cent-ivize social behavior on the platform. It works as a result of a contract written - pieces of codes and maths - on the Ethereum blockchain,
It allows people to "request" anything of the network and provide a financial bounty in ETH (ether — the cryptocurrency of Ethereum) to incentivize the best responses. A key differentiator of our system was that the userbase (not the requester) voted on which responses get the bounty.
This means that through the use of bounty, users can grow their audience more organically and at a faster rate, as people themselves are in total control to incentivize responses and the best responses determined by the user-base gets the bounty offered. The bounty system was made to specifically be used for three categories of behavior, Answering questions, making custom content, and reacting to someone's project/music/video, generating enough value for people to place a financial bounty on them, apparently all activities performed on the platform is subject to being incentivized.
CENT Social Media is backed by the token, Cent, which is an ERC20 token on the Ethereum blockchain, issued to users when they set a bounty. According to the proposed whitepaper, the higher the bounty set, the more the rewards in Cent token, as an attempt to increase the rate of bounties set. The token earned can also be used in app, to boost exposure and interaction, paving way for it's own attention economy.
These day's, there are millions of sites teaching people how to work from home, some of these information come for free while others have to be paid for, out of them, some are scam and others will only waste your time. And it keeps escalating everyday as more people are going out of jobs and even school leavers need to do something to enable them earn income, and I don't see this situation getting better anytime soon. It is evident that the technological shift we are experiencing is saying one thing, automated systems for incentivized behavior. The era has come where computers and programs are going to take over the processes formerly handled by humans just by infusing simple algorithms to assignments. Meanwhile, for humans, simple integration of these technological advancement pave way for this shift when we make use of tools such as blockchain in living our life.
Now let's get into the real business, maybe you've just found yourself a new home for your content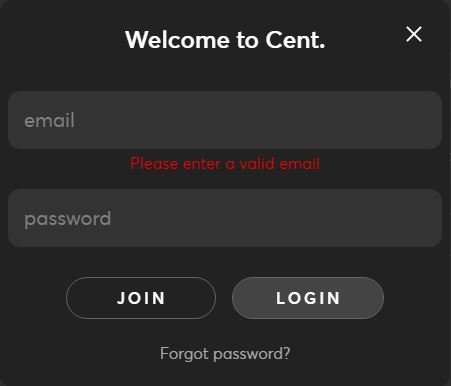 HOW TO SIGN UP ON CENT
Go to CENT website.
Enter your email and password
Click join
Another dialogue box pops up requesting for username, fill it and that's all, you're in, don't forget to verify your email.
---
USING CENT
After logging in, I was redirected to the home page layout, even though I didn't understand a thing at first, the night mode option calmed my nerves, it was the first button that made sense to me, which I clicked immediately. Here is how the home page layout looks after signing in.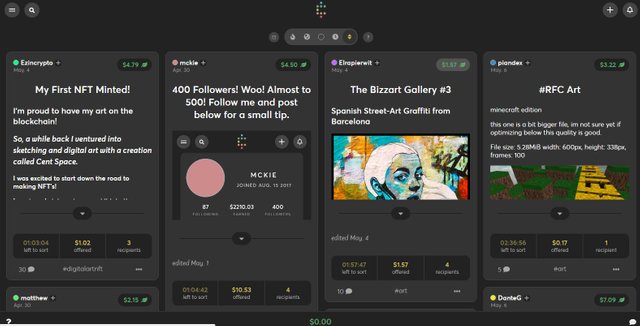 Like I said buttons buttons buttons, I felt like I was in an airship
---
The site sure takes getting used to, my first time surfing the site, I felt like I was in an airship, so I picked a random buton and clicked it, I'm not a genius, the button had a question mark, and lo and behold, it was the right button that gave me a quick brief explanation of the function of the other buttons. The question mark button is just beside the main buttons beneath the CENT logo.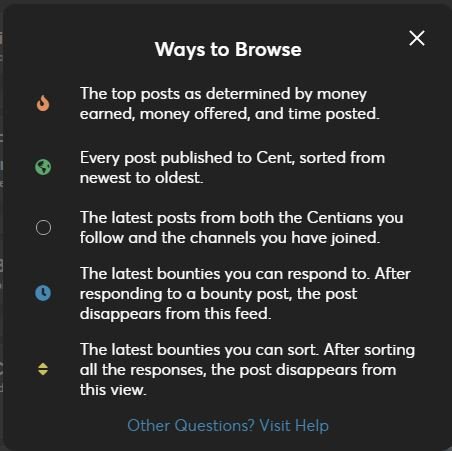 ---
But there were about 20 more buttons(exaggeration) that had no explanation. This airship is going to the ground...devs help!!!
In life I've come to learn that what won't kill you will only make you stronger, so why not click them all and find out what each does. So since we all want to learn how the finances worked, I identified the money signature button($0.00) and gave it a click. The more I clicked the more the platform got interesting, I was led to another page which contained the account information, as shown below.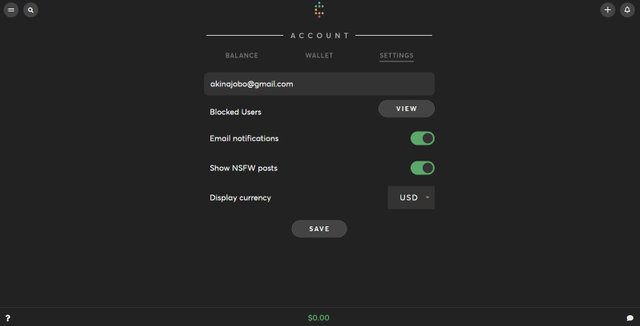 The Account panel is divided into three sections, Wallet, Balance and Settings.
Balance shows information about your Ethereum balance with a history of spent and received transactions. Also, there's a link attached to setup your account with either a coinbase wallet or metamask.
The wallet section displays your current balance in CENT token and is only accessible after linking of account with metamask has been done.
The settings section displays your email information, blocked users list, Email notification toggle, Show NSFW posts toggle and Display currency options which are in ETH and USD.
At this point, I could already figure out the functions for the other buttons. The platform has an in web chat client that allows instant messaging and transfer of ETH within users, the button of the chat is located at the buttom corner to the right, while at the extreme left bottom is a button with a big question mark that opens the help webpage.
At the top right corner there are two buttons, one is notification and the other is to make a new post(it carries a + sign).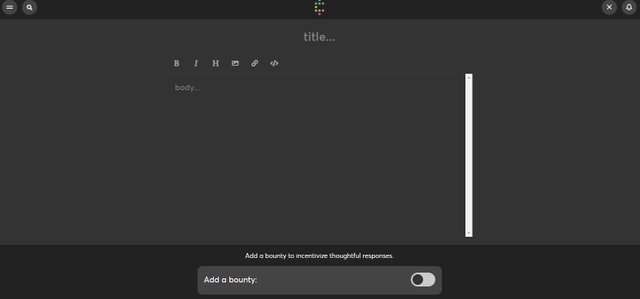 After clicking on the add new button, you are taken to the page where all the magic happens. After the post has been completed, there's an option below to set the price of bounty you will wish to incentivize people with, when this has been set, you add the categories and make the post.
REMARKS
The CENT platform is ranked 95th on the State of Dapps ranking with 91% of user activity recorded. Like I mentioned above, the platform takes getting used to, at first it may feel like a spaceship, but eventually the functions make sense and are easy to navigate. I like the idea of in-web based chat client that allows users to send instant messages between each other without having to leave the platform. Other existing blockchain social media lack this feature and have to move to chat clients like discord or telegram.
CONCLUSION
CENT has come to revolutionalize the way content is being rewarded, providing a way for people to earn through their social activities within the platform. As nice as this platform is, It's going to take a lot of patience for newbies to find their way around. They will also need to learn about ETH or the dev team may provide tools that seamlessly allows newbies to transact within the platform without having to know much about how ETH works.
I rate the dapp a 4 star dapp.
What do you think about CENT? Will you like to earn ETH for your social activities and content?
Thank you for reading
Images are screenshots from my usage of the platform
---
Posted from my blog with SteemPress : http://steemhosting.com/kilimanjaro/cent-social-platform-rewarding-content-creation-and-social-engagement/
---