Book Review: The Crucifixion and Resurrection of Malachi the Queer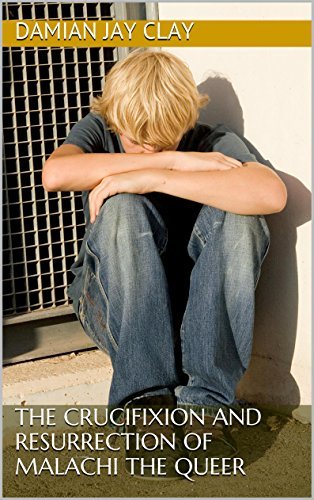 I just read the most amazing book, in as close to one sitting as I could possibly manage. Couldn't put it down.
Those of you who follow my blog know that Damian is a dear friend of mine. I knew he was talented. I knew, and yet there is a big difference between knowing it, or spending an entire novel falling in love with his characters--seeing what they see and fearing what they fear.
For me, gender and sexual orientation have always been like eye colour, height or the parents you're born to. Not something you have a choice in. While I rationally know this opinion is not shared by everyone, its opposite is so foreign to me that i can't begin to fathom what goes on in the closed minds infested by it.
I've never had to worry about it--never been directly confronted with the effect bigotry has on its victims. Rationally, I know horrible things happen to amazing people for no reason within their control, but it by falling in love with Malachi that I began to see beyond my own experience and theoretical knowledge.
It's just so not a factor for me that I tend to not see the headwind members of the LGBTIQA+ community have to deal with.
But I cried and laughed with Malachi. I could tell you that his story is one we should all know. Because the horrible things that happen to him throughout the course of the book are very real for many people. But I won't say that. Because while it may have been the reason for me to start reading it, it certainly wasn't the reason I sat glued to my seat, utterly incapable of putting it down. I read in the morning over breakfast, and at work during my lunch break. I read while walking to my bike so I could get home.
And that is what tells me it's a story worth reading. Books can carry all the messages they want but unless they manage to grip a reader by the neck and keep their face on top of those pages; unless they manage to make you, the reader, care about the things that happen between their covers; that message will never stick.
So go. Get that book and read it. Malachi is waiting to meet you!
Hugs
Jasmine
---
Posted from my blog with SteemPress : http://jasminearch.com/index.php/2019/03/22/book-review-the-crucifixion-and-resurrection-of-malachi-the-queer/
---
If you would like to read some of my other work, feel free to have a look around on my off-Steem blog page by clicking the banner.
My library there contains all of the pieces I've written since starting my blockchain adventure.

---
As a writer, finding the right community–the right tribe–makes all the difference.
For me, that's the INKubator. I'm one of the admins there, and I have to say I've never been more proud of something I helped build, than I am of the INKubator.
We help each other improve, lovingly drown each other's drafts in red ink, and help each other brainstorm.
But we're more than a writing club. We're a family. We root for each other as we submit pieces for various publication venues.
We cheer and join in victory dances when a piece is accepted. We support each other through the disappointment of the inevitable rejections.
We hang out, playing as hard as we work, and from the madness of our conversations, more stories are born.
As a community, we span the globe, with members from Asia, Australia, Europe and the US, so chances are there will be someone there if you should decide to drop in.
If we're quiet, that's because we're writing.
If you love writing, we'd love to meet you! Click on the banner below to pay us a visit.


Steemitramble


Steemitengine