New website is now live!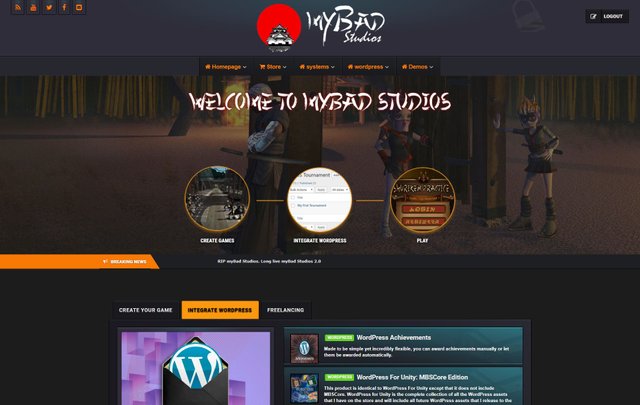 After many years of having the same, blank looking business-y website,
myBad Studios
has finally upgraded to a more appropriately themed look.
Not only does this new look offer a cosmetic face lift but it also brings with it some exciting new features!
Probably the most notable one of them all is that you now have a profile page that gives asingle page overview of all your personal details, your past orders and a complete list of all your purchased products, ready to be downloaded right from one place. No longer do you need to go hunt for your downloads inside the shop by going to each individual product's page... just click on the big icon that is right in front of you. Job done. :)
In addition to this, for the first time ever on this site, members are able to look up other members as part of the eventual push to become a more social site. While you get to see all your personal details and have links to edit those details when you visit your own profile, visiting other users will only show their public display names, the products they have bought and any awards that they have unlocked on the site. Another new feature to be added.
Which brings me to the other thing. A lot of time and energy has gone into developing this new site but it is not 100% operational at the moment. There are a number of new and unique features that I wish to add to the site so while you will be able to see what you were able to see before, you might come across some sections of the site that indicate the feature is still under construction. Please bear with me as I upgrade this site into something truly wonderful over time.
For one, I intend to not only give a product description when you look at something in the store but to also provide you with tutorials and FAQs and videos all neatly separated into relevant tabs. There is a lot left to do, a few kinks to work out and a whole lot of wow currently on display with only more to come!
I hope you enjoy the new look!
Ryunosuke Jansen

---
Posted from my blog with SteemPress : http://mybadstudios.com/blog/new-website-is-new-live/
---