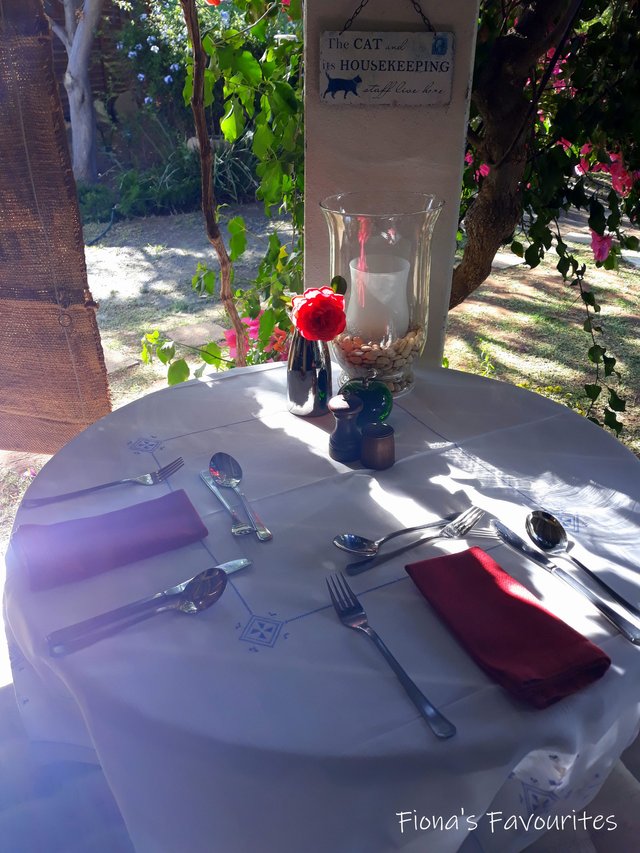 Of late, in South Africa, and as I keep on mentioning, we've been having
loadshedding
. Actually, if you play(ed)
SimCity
as I did in the late 90's, you'd have known them as "brown outs" if you'd grown your city too big too quickly. It's about the only computer game I've played (other than one or other game of solitaire), and that was on an already ancient ICL Elf and before the advent of a GUI.*
Fortunately, the lights haven't gone out for nearly seven days. However, the last time they did, when came on, I tripped the light fantastic. Literally. They were scheduled to go off at 22h00 hours. They did. We had forgotten and were engrossed on some Friday, end-of-the-week easy-to-watch drivel on the box. Although it was full moon, it was on the wrong side of the house, so it was as dark as night. I ferreted out my phone and a candle and headed upstairs and asked The Husband who was making our ritual cup of tea, "You'll make sure all the lights are off, won't you?"
Never giving it another thought, I settled under the sheet and did a little candle-lit reading before we "turned out the light". It seemed about two minutes later that I woke up and the house was ablaze. So, in my sleeping stupor, I need to turn the lights off. In case I haven't mentioned it already, we're in the throes of a heatwave. So, heading towards the stairs I realised that the soles of my feet were dry and slippery.
"Put on your flops," said the little voice in my head.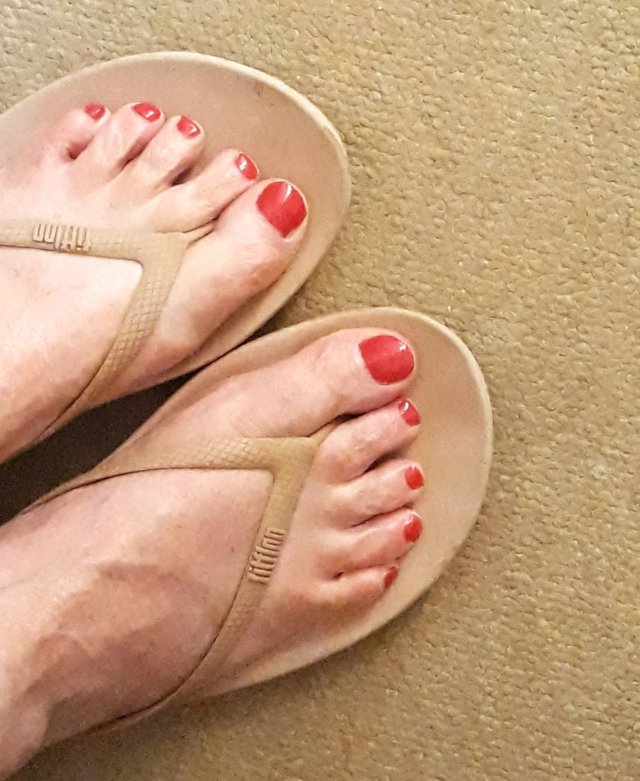 "Ag, no," said the other sleepy, more stupid voice in my head.
Three quarters of the way down the thirteen-step flight of stairs: slip-trip. Crash. M-o-a-n. Like a the wounded cow I was. I landed on my posterior which is relatively well padded, but where my spine abruptly ends because the coccyx is long gone. Because of chairs having been pulled from under me when I was about six or seven. Thanks to the momentum, I fell backwards with the spot marking an old spinal injury positioned to catch the edge of the step above.

M-o-a-n
G-r-o-a-n
The Husband roused to find a mo(o)(a)ning cow at the bottom of the stairs. He helped her on to her feet and up the stairs.
Fortunately, I had a card of painkillers in the bedside table and was able to take a couple. Let's just say that they didn't really help. Everything hurt. Front, back. Moving was agony. The following morning, being Saturday, was market day. There were things to do. Somehow, they got done. The Husband lifted, carried, fetched and bent. I could do none of it.
But the market I did. Slowly. I sold all the jam tarts (bar one which The Husband enjoyed) and the cheese and sun dried tomato muffins that I would normally not have made.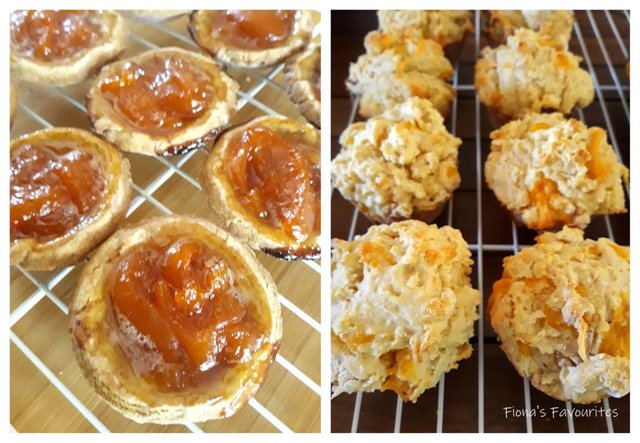 Tarts made with home made peach jam; cheese and sun dried tomato muffins.
My market friend, Chicken Pie Janet, has been laid low with a muscle spasm so I did a few different things I'd not normally have done. I'd never do chicken pies. Nothing could ever match hers.
Then it was time to get back into the kitchen to prepare for Sunday Supper. For the first time in a month, not only did we have enquiries, but they converted into bookings. We had a full house.

Full House Sunday Supper
The menu for this week's Sunday Supper was simple.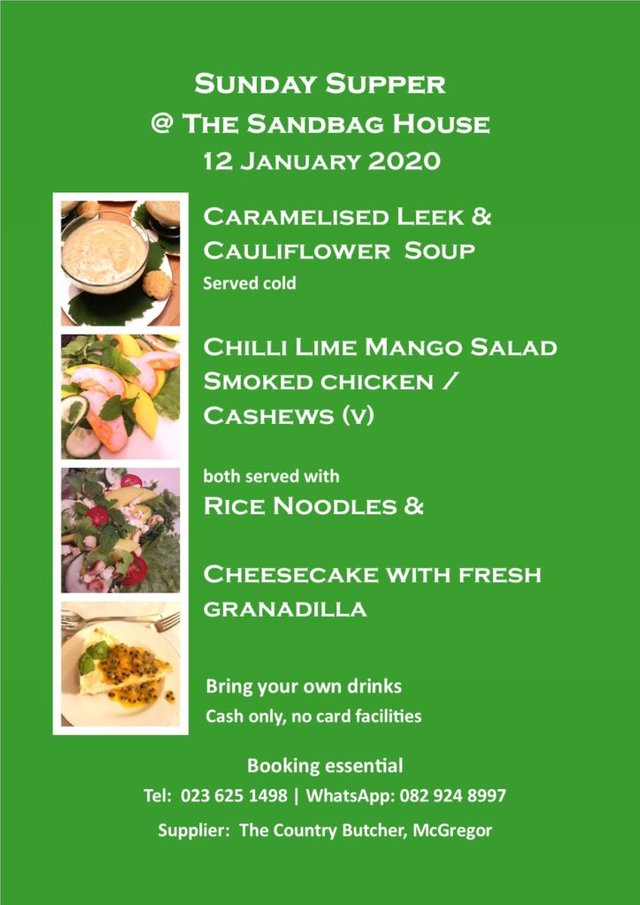 But. My usual practice is to prepare the soup and dessert on Saturday afternoon and the main on Sunday. There should have been very little "big" prep for the main course but I cleaned out The Country Butcher's stock of smoked chicken and I was concerned that I would run out. There were be eight diners and ten people to feed (including The Husband and I), and none of them were vegetarians or vegans.

Implement Plan B
I hastily had to conjure up a plan B and remembered the gammon that had escaped Christmas. For the first time, ever, guests would have options for their main course to which I added melon and ham as an alternative to the mango and chicken.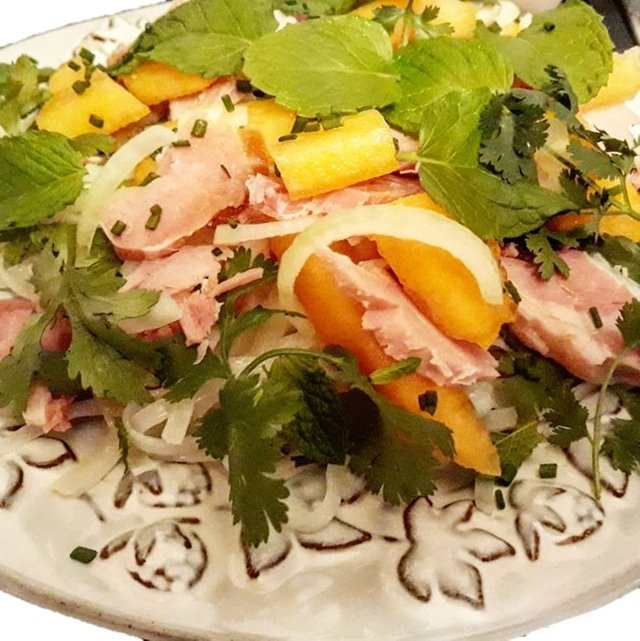 Chilli Lime Melon and Ham Salad served on rice noodles
In a fair amount of pain, I had to think of the least agonising way to do that, so I cooked it in the slow cooker. It cooked at the same rate that I was able to move. Somehow, I got myself through Saturday and by about 6pm, the soup - a banting take on a vichyssoise - and the cheesecake (with grating help from The Husband) were done. Recipes for these to come - in time.
Sunday dawned and every bit of my torso ached and hurt when I moved. Just getting myself from horizontal to vertical was a challenge. Bending from the knee was mandatory and not recommended. The day was a steady, achy plod to get things ready for the main course and set the tables. The Husband always rearranges the furniture and sweeps. He had to help drape the cloths.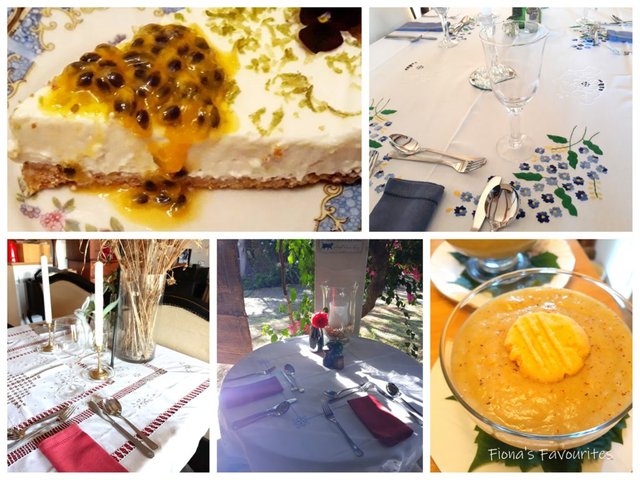 Cheesecake with fresh granadilla (TL) and the caremelised leek and cauliflower soup (BR); the tables ready and waiting for diners.
Chilli Lime Mango Salad - Three ways
This is a great supper for hot summer days or evenings. Sunday was day two of what has been a six-day heatwave of temperatures in excess of 35ºC (95ºF). This time, when I set the menu, I trusted the man in the weather app. It's also the time of year when we can have diners who are omnivores, vegetarians or plant eaters. This salad fits all those bills. It's built around fresh mangoes, three fresh herbs dhanya (coriander/cilantro), mint and chives as well as onion rings. The dressing is equally simple: runny honey, lime juice, chopped chilli and olive oil.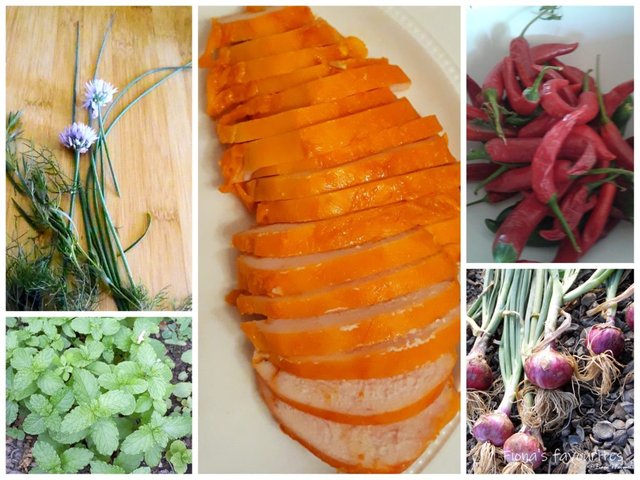 Most of the ingredients for the salad and dressing. Red onions are prettier, but white will do if you don't have any.
It can be served on a bed of leaves and with couscous, or on a bed of noodles, with a side of green salad. The choice of protein, as I've mentioned, is smoked chicken for the omnivores. For vegetarians, it's feta cheese with cashew nuts and for the plant eaters, either lose the feta or substitute it with a vegan cheese.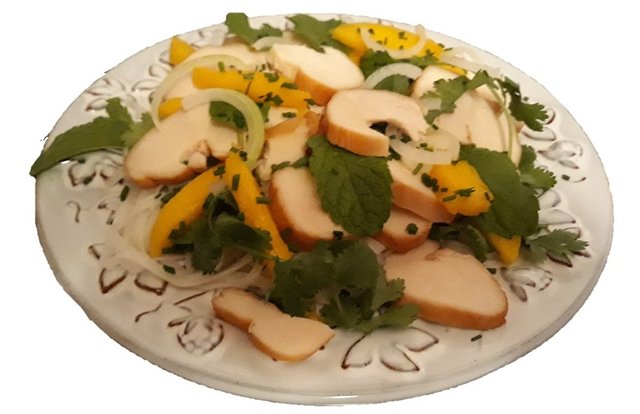 Smoked Chicken and Mango Salad on a bed of rice noodles.
Download a printable version of the recipe here.

A last word or two
It would seem that our diners enjoyed their evening.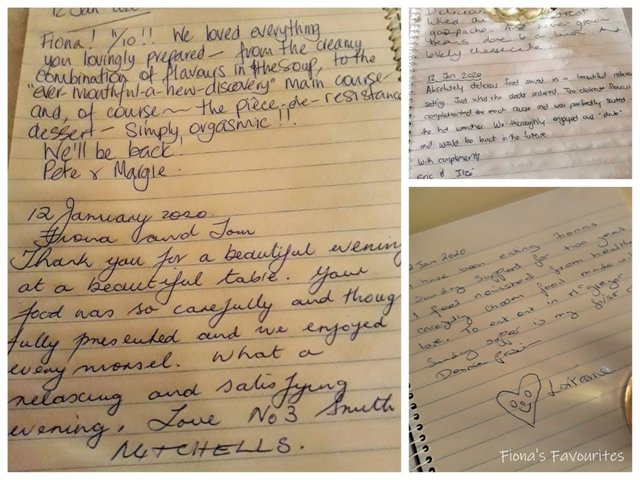 With hindsight, and now I'm in a lot less pain and a lot more mobile, I have absolutely no idea how I pulled Sunday off. Next time there is loadshedding, I hope not to be tripping the light fantastic.
*Graphic User Interface - for the uninitiated. Invented by Steve Jobs and adopted by Bill Gates and responsible for mice.

Until next time
Fiona
The Sandbag House
McGregor, South Africa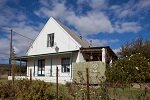 Photo:
Selma
Post Script
In addition to
WordPress
I blog on a number of platforms:
Steemit - a crypto, social network and blogging platform, to which I post from WordPress using the SteemPress plugin.
If you'd also like to use your WordPress blog to earn crypto, join us on SteemPress.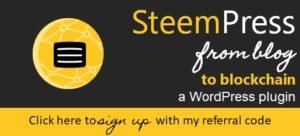 My WordPress site is hosted by fellow Steemian, @gmuxx, with fees paid in crypto currency: Steem Based Dollars. If you want more information, join the Steemblogs Club on Discord
Should you join the Steem platform, you are welcome to contact me on Discord on be sure to look out for the Steem Terminal - a dynamic team of folk who will happily guide you through the apparent quagmire of blogging on blockchain.



Instagram is a mostly visual platform where I post microblogs about fluff: usually food and the cats as well as posts that sometimes promise hint about future WordPress posts.
---
Posted from my blog with SteemPress : https://www.fionasfavourites.net/2020/01/16/tripping-the-light-fantastic/
---