Some parents do not like to play with their children, as they consider it a tedious task. But sometimes you need to forget about your affairs and take 10 minutes to play with the child. If you do it regularly, the child will learn to interact with other people, feel a surge of energy and feel happier as parents.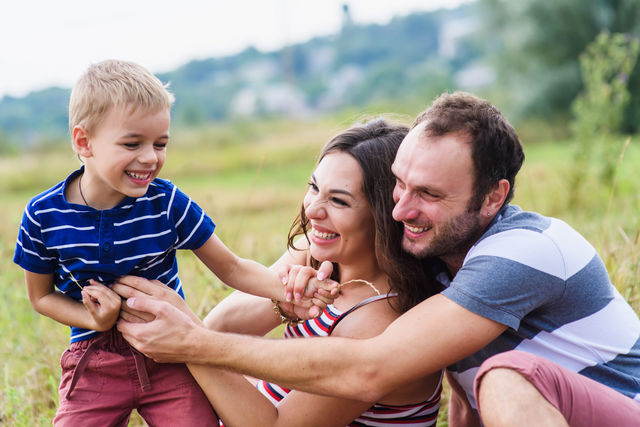 Source
Children need to play. All mammals play: they develop the necessary skills for life, from the search for food to the interaction with others. Children also express their emotions through games.
Every day, the child is forced to deal with complex feelings:
fear (think that a monster lives under the bed),
jealousy (think you love your younger brother more than him),
shame (in kindergarten all children laugh at him),
Panic (afraid you do not have time to do something),
anger (in kindergarten that a classmate passed without queuing in front of him),
disappointment (parents do not always want the same thing as him).
Normal situations for children provoke various feelings in them, and children express them through the game. Laughter reduces the level of stress hormones in the body and increases the level of happiness hormones.
Children respond more physically than adults. When they are emotionally exhausted, they expel all the energy through the body. This is one of the reasons why children are more energetic than adults.
Parents can use this for their own benefit. When they play with their children, they laugh and scream, releasing negative emotions. In other words, the games allow the child to avoid hysteria. The games also help the child to master the emotions. Finally, the joint games bring parents together with the children.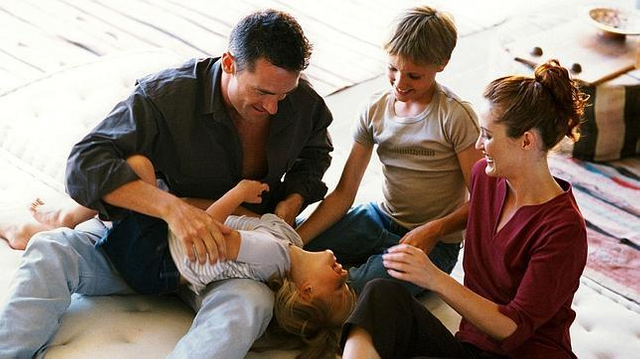 Source
Of course, parents may be tired at the end of the working day and prefer to relax instead of playing with children. But you do not have to play for a long time, just take a few minutes.
You may not believe it, but many parents say that playing with children gives them energy. This is because we are tired of the tension and irritation that we accumulate during the day. By playing with children, we reduce the level of stress hormones in the body and, therefore, we have more energy.
Therefore, when a child asks you to play with him, organize how much time will be spent on him. Do not be surprised if the child repeatedly asks you to play your favorite game with him during the day.

Recommendations on how to use games with a child in different situations: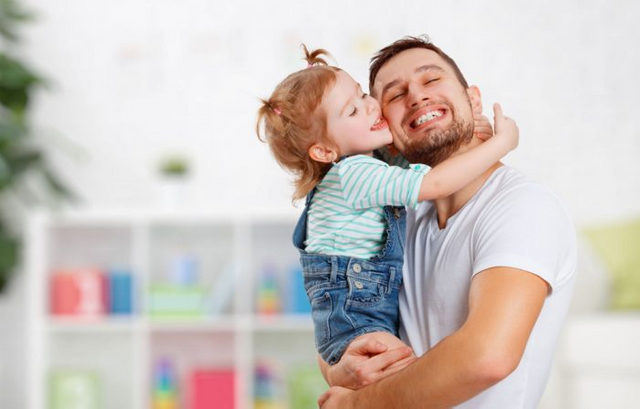 Source
When a child is naughty
"Do you want to hug again?" Let's do it. "Hold the strong baby for as long as you can, do not loosen your arms until the child asks you to do it.Say," I love you and I will not let you go.Promise me that soon I can hug you again. "Then smile to the child and say: "Thanks, I needed it".
A more intense way when a child has a younger brother or sister or you want to encourage a child to discipline
Let the child know that you love him. Pursue it, embrace and kiss. Then release it and repeat these actions again and again: "I need you. I will not let you go. I want to hug you, do not go. I'll catch you anyway, I have to hold you. You run too fast, but I'll catch you anyway. "
This game dispels all the child's doubts about the fact that his parents do not love him enough (many children who have younger brothers or sisters, as well as children who behave badly) are susceptible to this doubt. Children love this game.

Version with both parents.
Organize with your spouse a comic battle for who first embraces the child: "I want to hug him". - "No, first me." - "No, I'm the first, I want to hold him more tightly." "No, I'm stronger."
When a child is angry
"I think you're in a bad mood, I have an idea You can say no when you want, I'll say yes, and you'll say no in the same tone of voice When I say" yes "in an angry voice, say" no "in an angry voice, If I shout "yes", do the same. "
When a child is very excited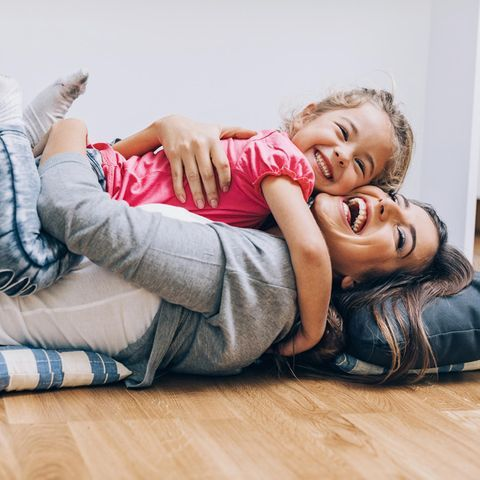 Source
"You have so much energy now, what can you do about it? You want to turn around so I can see you, you'll be safe here.
Find a safe place where there are no other people and let the child run or circulate. When you get tired, hug him and say, "It's fun, but sometimes you need a little help to calm down. Take some deep breaths. One, two, three ... Well done! Do you feel more calm? Now you know how to calm down, and you can do it yourself. Now let me hold you, and then we read a book. "

When a child refuses to obey you.
Give your child the opportunity to feel the power and outwit the "terrible monster": you. Approach the child and tell him in a terrible voice: "Now I will catch you and show you who is in charge of the house!" But when chasing a child, always give him the chance to dodge and get away from the chase.
Stay away from him and pretend he can make him stop. You can also give your child a "magic" pen or pillow, which can make you stop. With each stroke of the pen, fall to the ground, this will make the child laugh. Let the child feel his strength: "You are so strong! I almost fell when you pushed me.

When children fight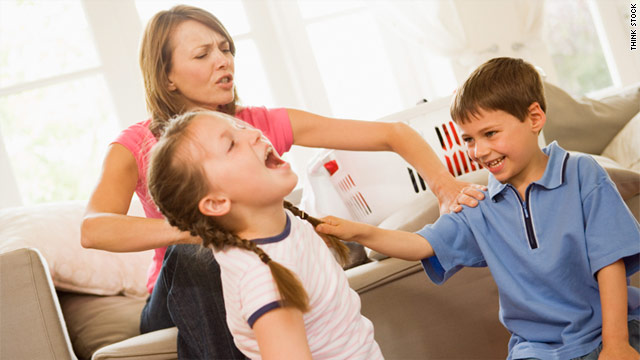 Source
When the passions diminish, ask the children: "Why did you stop fighting? Fight farther. "As they continue, enter the role of television commentator:" Today, there are two sisters in our ring who can not find a common language, I wonder if they can get along. Stay tuned to see what happens next.
Keep in mind that the older sister is trying to command and the younger sister is provoking her, both girls want to take the same piece of sausage, can they do this, they are smart enough to understand that there are still sausages in the refrigerator. with us, the children laugh, and the tension between them will diminish.

When a child is in a bad mood.
Every day, spend at least 15 minutes on touch contacts. Touching the baby Do not limit this time to yourself: kiss her nose, rub her hair, etc. Even if you are 8 years old, treat it as if you were just beginning to speak: lower it in your arms, play the games you have. I played when the child was still small.
Do not use tickling, this can cause resistance to the child. Just hug the child and pay close attention. If you need additional help to return the child's good mood, you can see the photos of your older children. Say: "You were so sweet, almost the same as now."

When a child is naughty
The capricious behavior of a child is a manifestation of impotence. When he accepts the role of a "big boy" and does not want to listen to these whims, his feeling of helplessness becomes even stronger.
You should not encourage this behavior and move on. Instead, trust that your child can express their needs in a normal voice. Offer your help to help your child find a way out of the situation. Make it a game: "Where did your normal voice go? He has just been with you. I like it when you speak with a normal voice. Where is he lost? Maybe in the box with toys? No Oh, here it is. You speak again with your normal voice. I like it a lot Now tell me what you want.
If this does not help, the child probably needs more tenderness. Maybe you need to give him the chance to cry.

If the child can not sleep at night.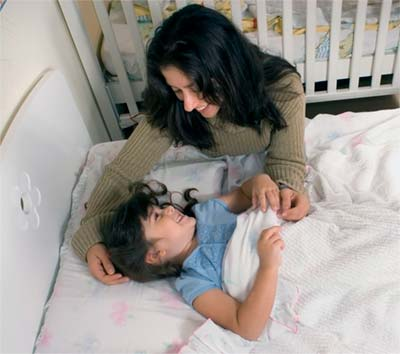 Source
Say "good night" to each part of the child's body, touching them gently and doing a light massage: "Good night, right hand, good night, left hand, good night, right shoulder, good night, left shoulder ...". Take your time, give your child time to relax completely. The more you relax and stay in touch with the child, the better it will help you feel your body.
When a child screams
Allow her to express her feelings: "You complain so much and you scream today. Well, you have three more minutes to scream. I put on the headphones and turn on the timer. You can scream as loud as you can. After that, we started talking again with an ordinary voice ".
When a child experiences difficulties (for example, first days at school or illness)
Play a scene: a stuffed toy plays the role of one child and the other, mothers. Children feel more comfortable perceiving scenes with toys, but some prefer to participate in themselves. In this case, you can say to the child: "Imagine that we are playing in the sandbox. I want to play with your typewriter, but you do not give it to me. "
Playing situations that cause stress to a child helps him to better control his emotions and to feel the power to face situations in which he feels helpless.
If such games make the child laugh, it helps him cope with anxiety and improve his health. You will probably want to play these games over and over again. They relieve your stress, help you deal with emotions. In the end, these games bring a lot of fun to the child.

Refernce:
1
2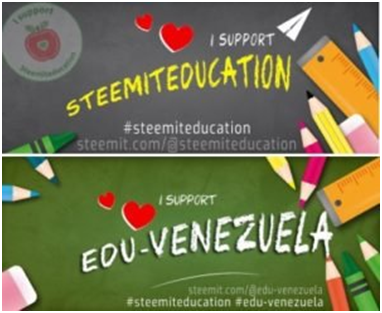 Would you like to know more about
@Steemiteducation
and
@Edu-venezuela
Join the discord
Here

---
Posted from my blog with SteemPress : http://deisip67.vornix.blog/2019/03/15/school-for-parents-imortancy-of-the-game-for-the-development-of-emotional-intelligence-in-children/
---