| | | |
| --- | --- | --- |
| Current city(所在城市) | 吉隆坡 | Kuala Lumpur |
| Weather (天气) | 阴30度 | Cloudy 30'C |
| Exercise (运动展示) | 体重运动 | Bodyweight Training |
| Focus(注重部分) | 全身 | Overall |
Prolog 前言
I'm working in PJ area. For God knows reason, these few days that area has absolutely no rain. It's kinda cloudy, but no rain. The weather is so warm and people felt lethargic with the light heat with no wind. Food experience wise, it was bad. I didn't take any photo as I'm meeting client at official event the whole day at different occasions, so it's not really nice to take out a phone and snapping photos before eat. Lots of roast pork in the morning, a huge plate of Chilli's fried chicken(whole breast and whole ribs) with a whole stick of corn cob and a huge scope of whipped potato, and dinner with a huge plate of fried rice.
我上班的地方在八打灵的地区。也不知老天怎么搞,到处都下雨,就是我那一区不下。天虽然多云,没有雨,可是太阳还是穿过云朵将热气带进大气层,在这里都感觉到整个人很闷热笨重,完全没有风,整个人感到黏黏酸酸臭臭,实在不好受。至于吃哪一方面,今天没有照骗。原因是三餐都有顾客而且在谈一些正经事,不好意思拿出手机让镜头先吃。早餐吃了一大堆烧猪肉和拌面,中午吃了炸鸡(整个鸡胸和鸡背),薯泥和一整条靠蜀黍,然后晚餐一大碟炒饭。

Workout 运动
Today workout were a little less thorough compare to the day before. I did not regret hitting the start button, so I guess that was alright. Since the whole workout involved multiple different style of planks, I'm submitting this post with
#plank-contest
for my dear friends
@minloulou
@ericet
and
@yanyanbebe
despite the challenge ended. Let's keep the planks rolling and wake it up once in awhile. Planks I did consist of high planks, which is the position before a push up for 30 seconds. Followed by a low planks, the one we usually do with full form, flat 60 seconds, and also the last crazy 25 reps knee to elbow touch.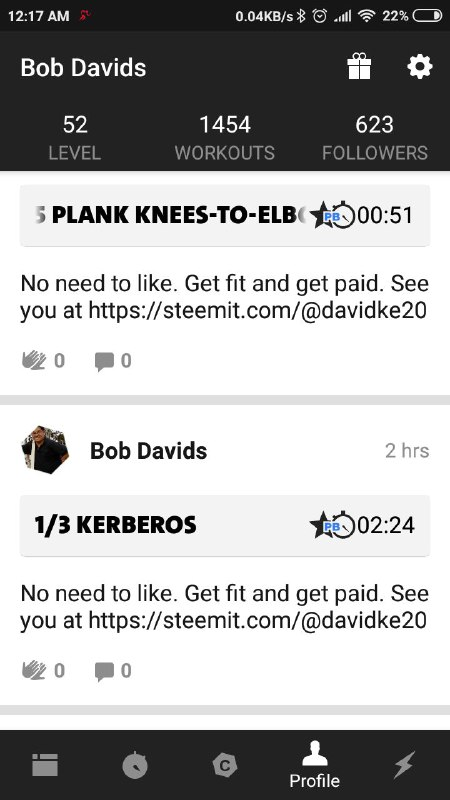 今天的运动课程比较轻松,按下了开始键以后也没有特别觉得后悔的感觉,所以算是轻松带过了。虽然30甜的平板支撑挑战已经结束,不过由于今天的运动课程涉及了好几项平板支撑的运动,包括了轻量版支撑,就是好像掌上压,不过不压下去,30秒。然后接下来就是一分钟的平板支撑,我们平时做那种。最后就是25次的膝盖碰手肘,这个几乎要了我的命。太难了!所以,今天特地艾特了 @ericet, @minloulou 和主办单位 @yanyanbebe,谢谢大腿们的关照。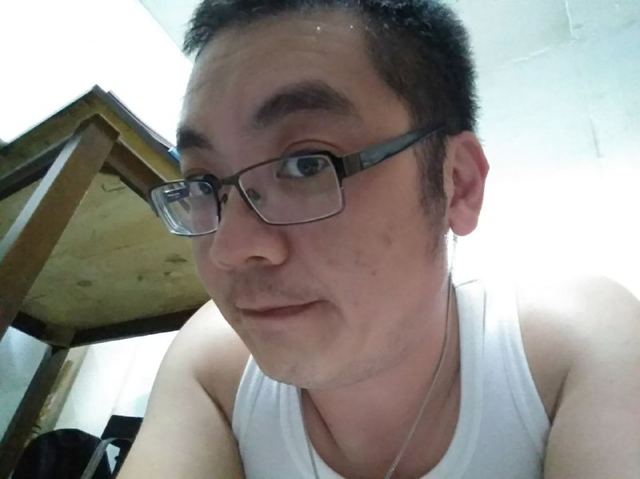 ---
I would like to thank all my friends and family who has been supporting me. Feel free to leave me feedback by clicking below yellow banner. > 谢谢大家一直以来的支持和对我疼爱有加。如果方便,请你点击下图到我的个人资料网页为我留言请我吃星星哈。

CREATE YOUR OWN @REVIEWME PROFILE TO START EARNING CREDIBILITY STARSFROM THE COMMUNITY! CREATING YOUR PROFILE IS EASY! JUST FOLLOW THE STEPS HERE ☜(ˆ▿ˆc)
---
Posted from my blog with SteemPress : http://davidke20.vornix.blog/2019/01/04/cn-sport-workout-diary-episode092-%e8%bf%90%e5%8a%a8%e7%b3%bb%e5%88%97%e7%ac%ac%e4%b9%9d%e5%8d%81%e4%ba%8c%e6%9c%9f/
---