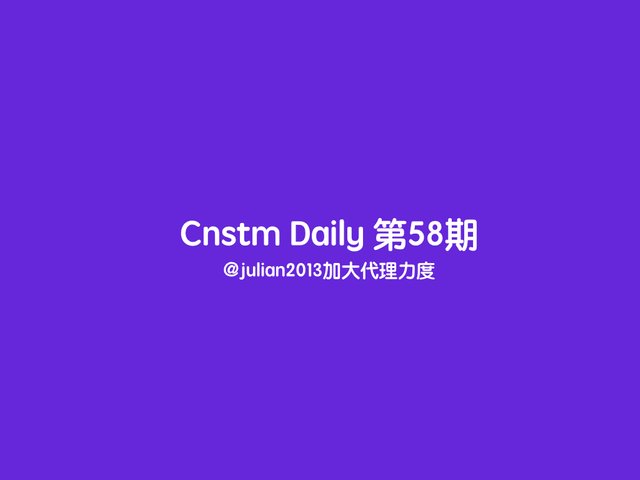 昨天,
@julian2013
加大了200SP的代理力度,在此表示感谢!
Cnstm是由STEEM中文社区成员联合成立的一支社区基金,Cnstm致力于促进Steem区块链协议的发展,去中心化应用(Dapps)的创新以及相关生态系统(尤其cn区)的建设。这是我们的宗旨,希望更多朋友一起来推进。

cnstm头条计划「2018-01-03」
为了支持cn区的创作热情,我们决定推出cnstm头条计划,对于在社区里发现的好贴,cnstm将对其一定比例的点赞。想尽快被我们发现,请在帖子的评论区"
@cnstm
"或者发帖时添加"cnstm"标签。
Cnstm孵化项目wherein昨天已正式亮相,大家可在www.wherein.io上下载体验(android已支持,ios预计一周内公开测试),wherein不仅不抽取费用,同时对于wherein Dapp发出的优质帖子cnstm会给予10%-50%的点赞,大家踊跃试用吧!
@honoru提议的头条文章计划已运行两周,效果还可以,转为正式运行。Cnstm会定期选择一位cn区优秀作者,为其每天发表的小说、散文或写作,连续点赞两周,点赞权重高达50%!第一期推荐@yune88,cnstm已为其连续点赞两周,第二期推荐@c-next,其写的峨眉山系列小说非常棒。
@weisheng167388 | 读岩井俊二《情书》2019-03
【特别推荐】@wherein | Wherein——一个基于Steem的生活方式分享社区
@lianjingmedia | 迈瑞医疗欺辱年轻人,跨年演讲忽悠中年人,权健蒙骗老年人
@mia-cc | 什么尊严?钱比较重要——电影《李茶的姑妈》观后感
【来自wherein】@morningshine | 一起去旅行拍摄
【来自wherein】@nineteensixteen | 细雨模糊了双眼
【特别推荐】@c-next | 神秘中国之峨眉,上古文明的非人类种族和超级人类

Cnstm现有代理成员57位,合计SP总数28489.250,点赞价值0.65美金
Cnstm为代理成员所有,全员共享,采取类似BTC工作量证明机制进行令牌发放,目前已发放令牌439200个,预计最终令牌总数2100万个。Cnstm支持STEEM中文社区项目和社区,近期会全力支持社区孵化的项目Wherein,后续Cnstm所有成员亦将分享Wherein的部分权益。
Cnstm希望cn区各项目和社区能得到很好的发展,亦将支持cn区优质项目,目前已对@cn-curation @team-cn @cn-activity进行支持,后续会支持更多社区和项目。
Cnstm令牌待发放列表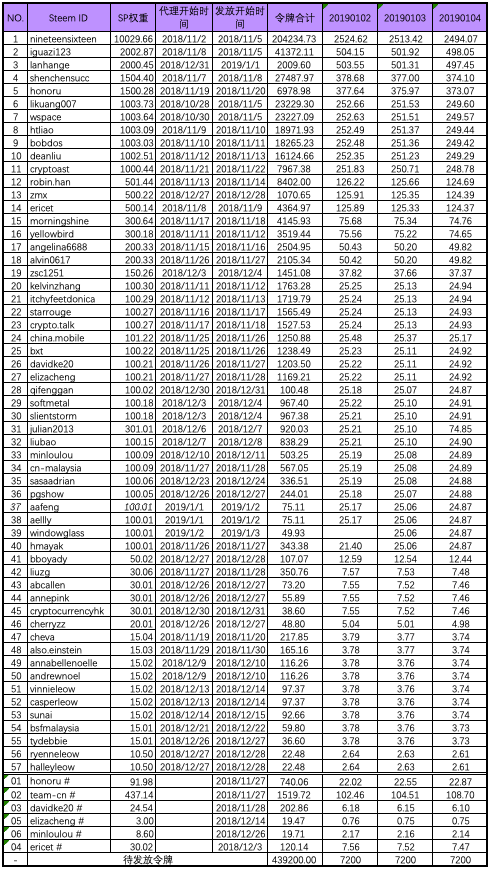 Cnstm代理人列表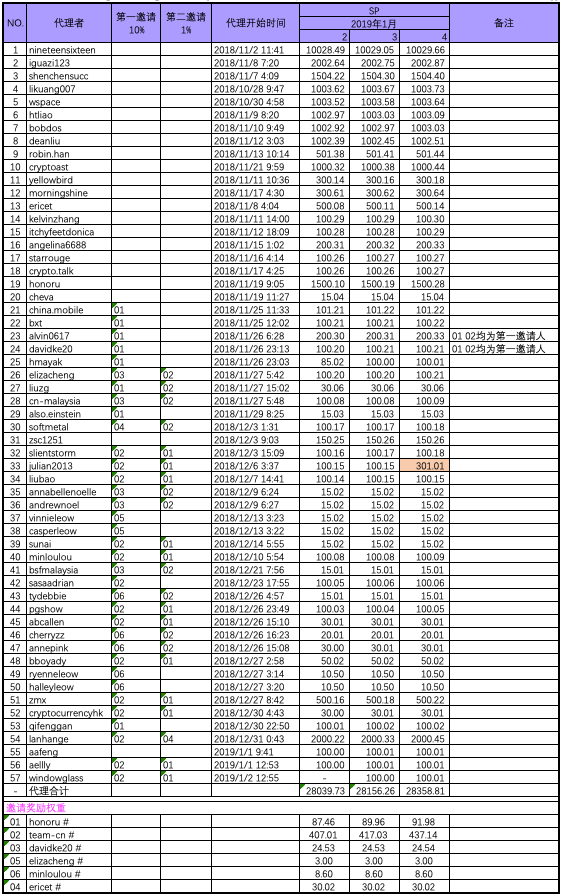 目前,代理成员除了分享Cnstm所有股权外,亦将获得Cnstm每日分红(最高达9%年利率)和10倍点赞力,大家快来支持Cnstm吧!
想要代理?
代表们最多可获得综合高达75%的年化收益率!
100SP | 代理
500SP | 代理
1000SP | 代理
2000SP | 代理
5000SP | 代理
特别感谢@shenchensucc @nineteensixteen @wspace @likuang007 @ericet @honoru @htliao @bobdos @deanliu @yellowbird @kelvinzhang @itchyfeetdonica @robin.han @angelina6688 @starrouge @crypto.talk @morningshine @chev @cryptoast @china.mobile @bxt @alvin0617 @davidke20 @hmayak @elizacheng @vinnieleow @casperleow @liuzg @cn-malaysia @also.einstein @zsc1251 @slientstorm @julian2013 @annabellenoelle @andrewnoel @minloulou @softmetal @liubao @sunai @bsfmalaysia @sasaadrian @tydebbie @pgshow @abcallen @cherryzz @annepink @bboyady @ryenneleow @halleyleow @zmx @lanhange @cryptocurrencyhk @qifenggan @iguazi123 的支持!
Yesterday ,@julian2013 have increased the agent for cnstm, thank you!
Cnstm is a community fund jointly established by members of the STEEM Chinese community. Cnstm is committed to promoting the development of Steem blockchain protocols, the innovation of decentralized applications (Dapps) and the construction of related ecosystems (especially the cn zone). This is our aim and we hope that more friends will come together to advance.

cnstm Headline plan「2019-01-03」
In order to support the creative enthusiasm of the cn area, we decided to launch the cnstm headline plan. For the good article found in the community, cnstm will upvote a certain percentage. At the same time, the article maybe also can appear in the cnstm.org , getting more exposure. If you want to be discovered by us as soon as possible, please add the "cnstm" label or "
@cnstm
" in the comment area of the post.
The Cnstm incubation project wherein has been officially unveiled yesterday. You can download the experience on www.wherein.io (android is supported, ios is expected to open the test within one week), wherein not only does not charge the beneficiary, but also for wherein Dapp The high-quality post cnstm will give 10%-20% likes, everyone will try it out!
@honoru's proposed headline article has been running for two weeks, and the results are OK. We started to switch to official operation. Cnstm will regularly select a good author of the cn area to sing for two weeks in a novel, essay or writing that he publishes every day, with a weight of up to 50%! The first issue recommended @yune88, cnstm has been continually praised for two weeks, the second edition recommended @c-next, its Emeishan series novel written in cn area is very good, from today cnstm began to support @c-next .

Cnstm has 57 agents, and the total number of SP is 28489.250 ,The value of the upvote is 0.65 USD.
Cnstm is owned by the agent members and shared by all members. The token issuance of cnstm use the BTC POW to prove your contribution to the fund. Currently, 439,200 tokens have been issued, and the total number of tokens is expected to be 21 million. Cnstm supports the Steem Chinese community project and community. In the near future, we will fully support the community incubation project Wherein, and all members of the subsequent Cnstm will also share some of the benefits of Wherein.
Cnstm hopes that the projects and communities in the cn area will be well developed and will support the quality projects in the cn area. Currently, support has been provided for @cn-curation @team-cn @cn-activity, and more communities and projects will be supported in the future.
At present, in addition to sharing all the shares of Cnstm, the agent members will also receive Cnstm daily dividends (up to 9% annual interest rate) and 10 times the praise, everyone come to support Cnstm!

---
Posted from Steem中文社区 : http://cnstm.org/blog/2019/01/04/cnstm-daily-58-cnstm%e6%97%a5%e6%8a%a5-%e7%ac%ac58%e6%9c%9f/
---