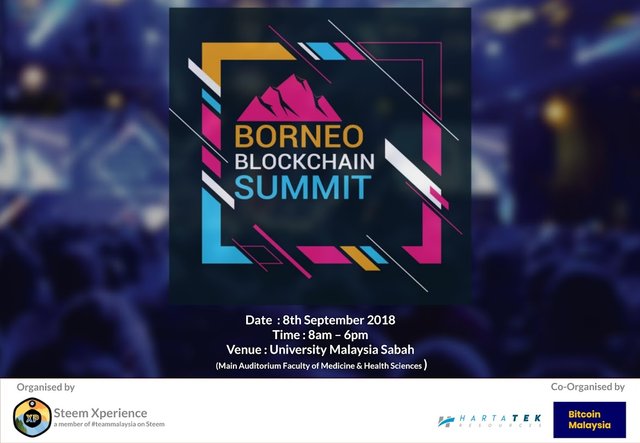 It was 11:25pm on the 7th of September, I was attending a drinking session organized the night before the event to network with the organizers and the speakers before the summit itself. As I was talking with the appointed MC of the event, He told me: "So are you ready for panel moderation tomorrow?". What. The. Fuck? I wasn't informed of this, I wasn't even informed to be part of the organizing committee of SteemXP! It shouldn't be a problem in normal cases when it comes to speaking engagements or dealing with the public had I got enough time to prepare. The problem is this will literally be my first time moderating an expert panel. Literal experts of the industry, not your average high school speakers. It will be going to be an exciting weekend for me.
I attended the inaugural Borneo Blockchain Summit held in Kota Kinabalu Sabah on the 8th of September 2018. It was organized by a newly formed SteemXP initiative from Malaysia by local advocates of the Steem Blockchain. The Speaker lineup was more than impressive, especially given that it is the first time such an event was held and with the objective they had. To which I can say is a novelty especially in the South East Asia region.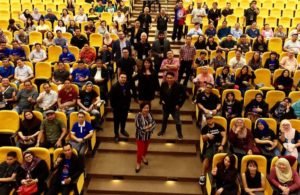 Original Image by SteemXP, YB Jennifer Lasimbang in center.
Inaugural Blockchain Conference
Borneo Blockchain Summit is organized with a single purpose of letting participants understand and ask questions in regards to the blockchain technology, the many cryptocurrencies that exists around it, questions about ICO and investments. With no bias on any particular project or "investment opportunity" whatsoever. This is the first cryptocurrency related conference that I've attended that doesn't do any bait and switch, Which has become a norm here in the region.
In many sense, Borneo Blockchain Summit Is a pivotal event for blockchain space in East Malaysia, especially in Sabah. For one, unlike other events. Borneo Blockchain Summit did not end the event of a sales pitch, most talks and meetups are biased towards getting a product sold or worse, promoting some sort of MLM scheme. BBS is different. And from my observations the participants feel it too. If anything else, they are uncomfortable that the sales pitch never came. It's funny actually, that the average person got so used to the product-shoving atmosphere here in Malaysia when it comes to Cryptocurrency and Blockchain space that they did not expect BBS to actually not throw a curve-ball and say "Come invest in this new coin/project/opportunity". Although this phrase was said by the MC as a joke and opening at the beginning of the event.
However, I'd say that the overall response has been extremely positive.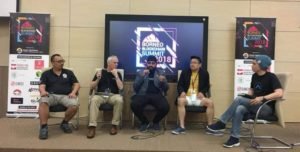 Expert Panel during the event. Moderated first time by myself. From left: Simon (Steem), Anthony (Invech), Harpreet (Blocklime), Jason (BitcoinMalaysia)
How about reception?
One thing I've noticed about the general participants is that the public perception on cryptocurrency still mostly about trading and mining with little understanding of underlying tech and its potential. This presents both as a challenge and opportunity for those already in the space. Sabah and Borneo region is indeed a great potential for crypto revolution. The staggering amount of the unbanked and underbanked in the rural, even urban regions makes for an environment fertile for tech leapfroging. A farmer in rural Keningau doesnt need to "apply" for an account to acquire a Bitcoin wallet. Herein lies the advantage against other fintech solution.
The organizers - SteemXP, are users and advocate of the Steem Blockchain as well as the many Dapps built with it. The fascinating thing is that none of them are paid employees nor have any commission ala MLM style to advocate Steem. I happen to be a user on Steem too. This website from which I originally post this article does not monetize from ads or anything else, but with Steempress, a steem tool that lets you connect your Wordpress articles to the Steem Blockchain, where i can get upvoted and receive rewards in cryptocurrency. Obviously this is interesting to people in and out of the Blockchain industry. Steem is leading the way in grassroots crypto adoption evident throughout Borneo Blockchain Summit. Teammalaysia, the decentralized community where SteemXP is built from, is the grand example. It is the fastest growing initiative that draws in blockchain enthusiast from people who aren't even from tech background.
The support by local startups are obvious. Even as an inaugural event, Speaker lineups from BitcoinMalaysia, Blocklime, Sinegy, Invech, DDE, and even renown international figure Luke John from Fortifex and Pandu Sastrowardoyo from Blockchain Zoo. Borneo Blockchain Summit is sure to receive attention of greater Crypto industry in ASEAN region. I look forward to this event growing into multi-day conference where all the experts gather. It's not that far fetched in my opinion.

Potential
With endorsement by local State Education Deputy Minister YB Jennifer Lasimbang, Borneo Blockchain Summit will enter public zeitgeist even if as an inaugural event. In fact she had challenged the organizers to make this an annual event. if this where to happen, Borneo Blockchain Summit might as well be the leading blockchain conference in the whole of Sabah of not Borneo itself. Possibly rivaling East Malaysia if we can collaborate with Indonesian and Philippines potential partners due to the central proximity of the area. There are massive untapped potential when it comes to implementation, education and investment in the area for the Blockchain Industry. People are hungry to understand the technology better, and with more efforts, SteemXP will easily be the regional experts. There are too many scammers and MLM in the region that needs to be put into place.
TeamMalaysia the line into penetrating the grassroots adoption of the cryptocurrency and blockchain, especially Steem Blockchain where users don't need any capital "investment" and is so user friendly that anyone can immediately benefit from. Startups in the ASEAN region should not ignore what is happening in this scene here.

---
Posted from my blog with SteemPress : https://kristiankho.com/blockchain/borneo-blockchain-summit/
---
---


Kristian Kho [Ian] is a 24 year old freelancer with a passion for steem and a deep desire to be a better person in every aspect. I aim to express any and all my thoughts on things that I find interesting as well as using this platform as a self-development log.
I am a part of #Teammalaysia, a decentralized community initiative that aims to empower local creatives and content creators specifically in Malaysia to create content through the Steem Blockchain.
If you want to stalk me, check out my other social media accounts too!